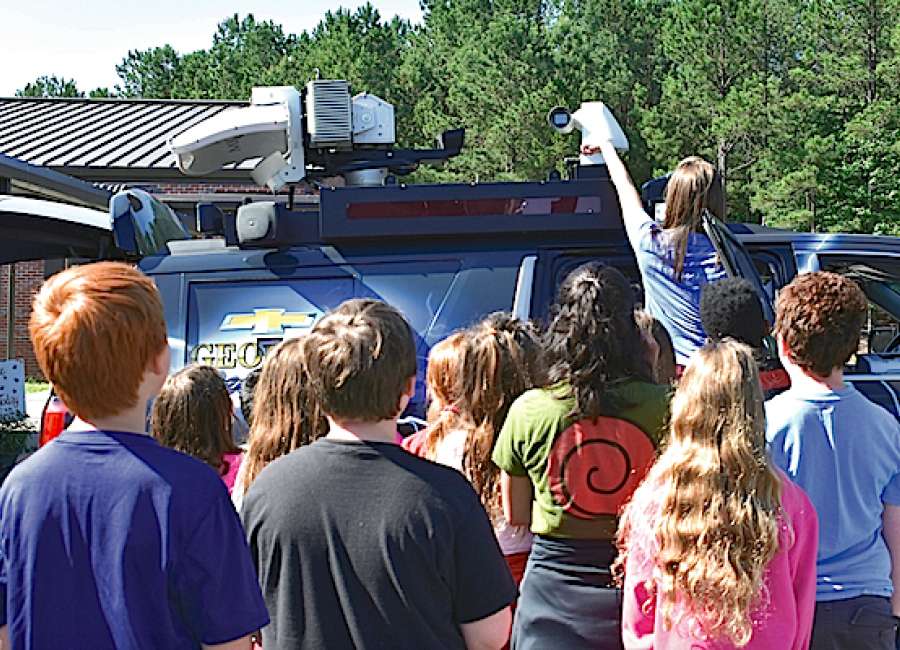 – By MADELINE SCHINDLER, madeline@newnan.com
Students at Eastside Elementary in Senoia eagerly gathered around the Chevy Weather Lab to hear CBS 46's Ella Dorsey talk about how meteorologists track storms and other inclement weather patterns.  
The opportunity Wednesday was one coach's idea to relate physical education to science.
Coach Tim Manley and Assistant Principal Jim Fowler contacted CBS 46 for someone to speak to students about weather and to provide weather-tracking demonstrations.
"Mr. Fowler and I jumped at the chance to bring these children something new," Manley said.  
By relating meteorology to physical education, Manley hopes to pique his students' interest in science through a familiar topic.
"Weather is pertinent, not only to curricular needs, but it is about safety and weather awareness," the coach said. "If one child can get from any of this, from any of the curriculums or any demonstrations… if one child can go home and tell folks, 'Hey, let's get a weather radio,' ... if we can start them out here, just in the meteorological aspect of 'Hey, this is the difference between a warning and a watch, this is what you do in a storm, this is what you do to prepare for a storm.' That moves the curriculum from being hypothetical to real and applicable."
For the past decade, educators have stressed STEM— science, technology, engineering, and math—programs on the state and national education level.
"What they are trying to do is make science more applicable," Manley said. "I started a fishing program, teaching children the basics of casting. We addressed a little bit of boat safety—life jackets, preservers, and stuff like that."
From his original fishing program, Manley has incorporated other activities to teach students applicable science and math skills.
"The more I dove into the—no pun intended—fishing curriculum and the STEM curriculum, the more information was ... readily available," he said. "From my studies on this, and it's been quite intense, I don't think (any) one has tapped into or tried seaming the two, seaming physical education and science."
Manley said that he hopes this "cross-curricular" program will cater to all students' learning styles, regardless of skill set.
"So many times children sit in class and learn on a piece of paper, and it's theoretical knowledge. It's hypothetical knowledge," Manley said.  
Instead, the goal for Manley's program is for students to apply their knowledge to situations, whether it's understanding how predation within ecosystems can determine the best fishing lure to use or understanding how weather impacts safety.