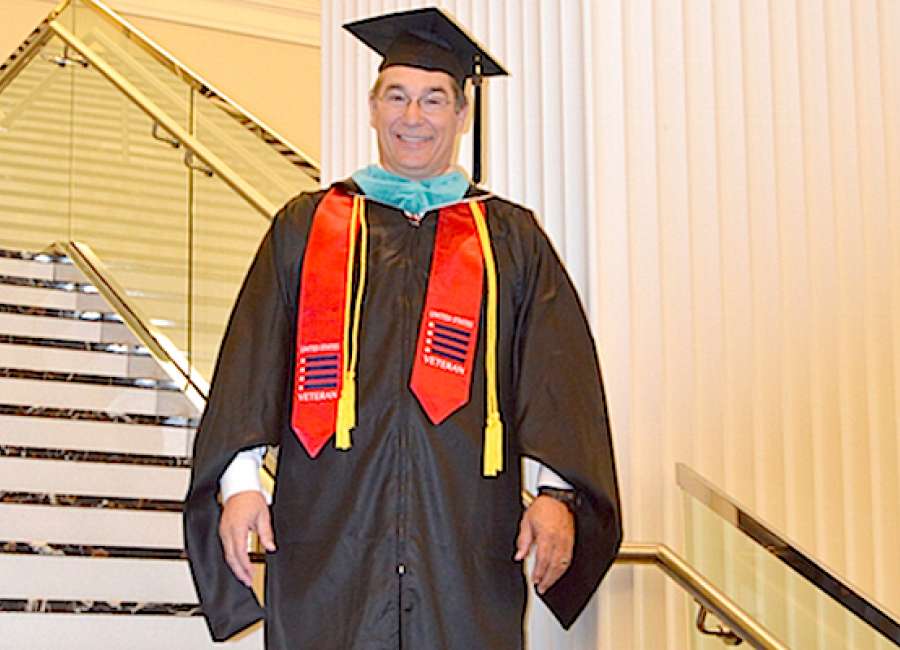 When Officer Brian Hodges left the police department 25 years ago, he was frustrated.

After enlisting in the Army at 17, Hodges believed joining the police force was a natural fit. But after a few years on the beat, he grew discouraged with his work.
Oftentimes, cases he believed were rock solid might be dropped by the district attorney's office. Weary of watching a revolving-door system of justice, Hodges eventually bailed and spent the next 12 years in the world of civilian work.
However, his desire for public service remained intact and he eventually jumped back into law enforcement, joining the Newnan Police Department 13 years ago.
"I'd always loved police work, but I needed a fresh perspective," Hodges recalled.
That's where continued education came in. Flash forward to two weeks ago, and Hodges was among 471 recent graduates of American Public Education System –  a for-profit, online learning institution that is composed of American Military University (AMU) and American Public University (APU).
But for him, the quest of higher education isn't just for resume-building.
"What you learn from the academy and the streets can never be replaced by college," he said. "But the biggest thing that college opens is a broader understanding about why things work the way they do."
Hodges was always interested in continuing his education, but the work schedule of a police officer left little spare time. With 12-hour rotating shifts, getting to class on a campus was impossible.
"I had reached a point where I couldn't afford not to work, but online college provided an opportunity that gave me a chance," he said.
In 2009, Hodges enrolled at Central Georgia Technical College where he picked up an associate degree in criminal justice.
Based on his pleasant experience of online learning, he then pursued a bachelor's degree for criminal justice at Thomas University. In 2014, he graduated with honors prior to beginning his quest for a master's degree in public administration.
This time, Hodges chose to attend American Public Education where he studied alongside people from across the country, including those serving overseas and even employees of the Pentagon.
"I was so impressed with the great mix of professors and students and their level of knowledge," Hodges said. "I graduated with honors and, considering the company, that made me feel great about myself. Those guys are superstars."
The rise and flexibility of online colleges has opened up doors for Hodges and other police officers, give them opportunities never afforded in the past. As a result, many in the department are pursuing their own degrees.
"Without a new perspective, you learn the hard way about community relations," he said. "One of the biggest movements in law enforcement now is community policing, which is really a way of looking into the past to move forward.
"But as police, we have to understand things aren't always black and white – there has to be common, middle ground."
For over 40 years, Sgt. Betsy Brantner Smith has been active in police culture. After serving 29 years as a member of the Naperville, Ill. Police department, Smith is currently a police trainer and has authored hundreds of articles for law enforcement, government and civilian publications.
When Smith began her career in law enforcement as a teenager in the 1970s, she said most departments were looking for two kinds of recruits – former military and big, athletic males.
"They were searching for those who were in shape, taking orders and not being afraid of danger," she recalled.
But in the mid- to late-1980s, Smith said the shift toward education began to take hold, citing programs such as the "LEAP" program where police officers were reimbursed for college education. But according to Smith, the culture of higher learning wasn't immediately embraced by many police.
"There was a lot of resentment from a good share of cops who didn't understand why an education made you a better policeman," she said. "But over time, the focus on education never really diminished, and many departments began requiring 60 hours of college credit or a bachelor's degree."
Over the course of her career in law enforcement, Smith recalls working with officers who had degrees in engineering, biology, psychology and even accounting.
The ongoing interest in continued education among law enforcement is a byproduct of officers who see the importance of a broader understanding of not only police work, but how the world operates at large.
"A great cop knows a little about everything, and having a degree shows that you can set a goal and be successful," she said. "When police talk about wanting to be a profession, this goes along with everything else in private industry. If you want to be in management, you need a master's and pursue those kinds of things."
For now, Hodges says he's content with his current education, and is happy to see others in the department forging their own paths as well.
"It's exciting to see more officers taking this direction and seeing people getting involved in programs," Hodges said. "We're very fortunate to work for a department who openly encourages us to pursue secondary education."
****
Clay Neely: clay@newnan.com, @clayneely