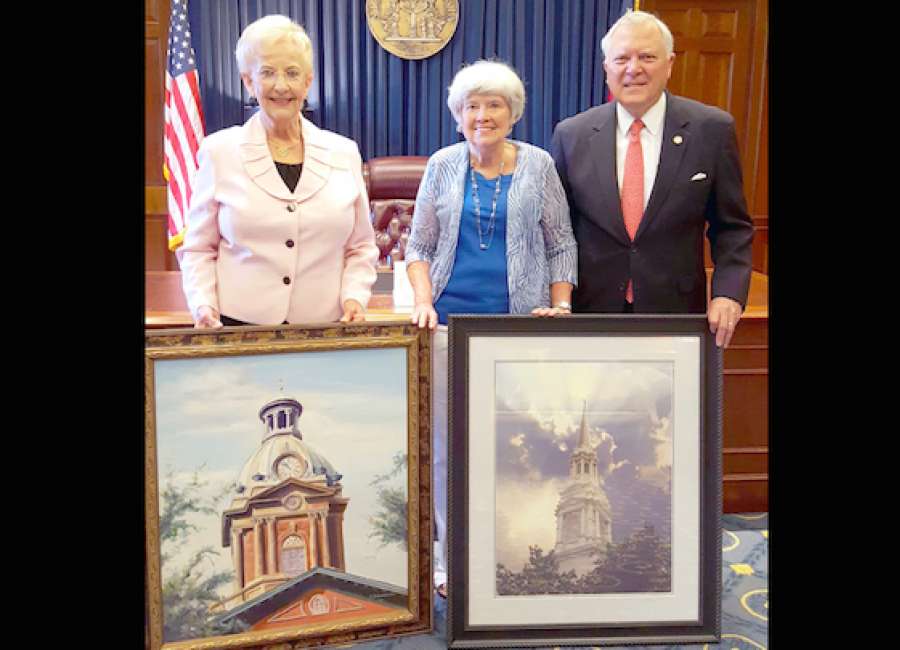 Three local artists, including former Newnan Coweta Art Association board member Bette Schumann, were honored with the opportunity to display paintings depicting Newnan at the Georgia State Capitol building.
Bette Schumann, Donna Massey and Denise Marsh, all Coweta County artists, entered a contest sponsored by the Georgia Council for the Arts. The women were recognized among hundreds of artists across the state. The annual exhibit at the state capitol includes works thought to capture the essence of local communities. 
A painting of Newnan's historic courthouse was submitted by Bette Schuman. The work is owned by the Morgan family of Morgan's Jewelers. With the exhibit now completed, Schumann visited the Capitol building and was photographed with Georgia Gov. Nathan Deal. The photo was posted to social media by friends and co-workers of the artist, who has served as a teacher at Central Christian School for more than 20 years. 
"Mrs. Bette Schumann, our 6th grade teacher at Central Christian, has been bestowed a great honor," the Facebook post read. "Her artwork was chosen to represent the state of Georgia and was displayed at our state capitol. Congratulations Mrs. Schumann! We are proud of you!"
Barbara Omerod, president of the Newnan-Coweta Art Association, said she and the local artist's organization board members are "thrilled and delighted" the work was chosen.
"We advertised the contest to Newnan Coweta Art Association members, and Bette submitted her painting of the Newnan courthouse," Omerod said. The work, she added, was also used in the marketing materials for Newnan's Art and Architecture program this year. 
"Bette has done a lot to support the art association and the historical society," Omerod said. "She is a principal artist in the community."
Schumann has been awarded numerous local and regional honors for her paintings depicting both people and landscapes. The artist noted on her website that she "enjoys painting to record the memory of a special place, or to represent something of beauty that God created." Schumann also enjoys capturing the personality of the subjects of her portraits. 
"The painting was done for the (courthouse's) 100th anniversary," explained Schumann. "It was actually done before the renovations."