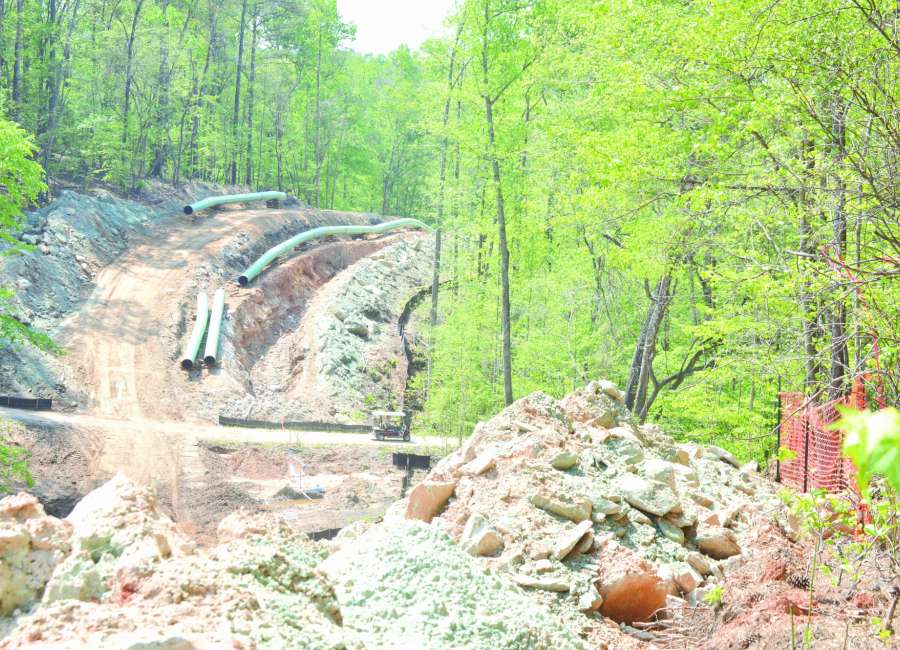 When an agency has to take property by eminent domain in Georgia, under the state constitution, the "taking" agency must pay the property owner before actually taking the property – even if the agency and the property owner can't agree on a price.
If the parties have to go to court, the taking agency pays its highest offer to the property owner and the final settlement is worked out later.
But that's not what's happening for property owners along the path of the new gas pipeline being built by the Transcontinental Gas Pipeline Company – better known as Transco.
Cowetans who were forced to give 50-foot easements for the Dalton Expansion pipeline and didn't reach an agreement with Transco haven't received a penny, though they watched the trees that had been removed from their property be hauled off to market in logging trucks.
The property owners will be paid, eventually – once the condemnation cases wind their way through federal court.
But for now, attorneys for property owners in Coweta, Bartow and other Georgia counties along the pipeline route are suing to have the federal court ruling overturned.
Excavation work on the pipeline project is currently stopped as Transco and the contractor for the project, U.S Pipeline, work to comply with erosion and sedimentation control rules. Transco voluntarily agreed to stop trenching work while the Georgia Environmental Protection Division investigates alleged violation of environmental rules. Welding of the pipeline itself continues.
On Thursday, new rolls of straw wattles – net bags filled with straw that trap the dirt in rainwater runoff – were seen at the pipeline construction site on Boone Road, and workers could be seen placing the wattles. The tell-tale green-blue of grass seed recently applied by hydroseeding was also visible along the construction zone.
Pre-empted from state rules?
Transco claims that, as a project cleared through the Federal Energy Regulatory Commission and built under the Natural Gas Act of 1938, Georgia's eminent domain laws don't apply to the 115-mile Dalton Expansion project.
"We are actually pre-empted from state processes related to condemnation," Transco spokesman Christopher Stockton said Friday. "Our cases are heard in federal court, which requires that we post a bond based on the appraised value of the easement."
In a court order issued Nov. 10, U.S. District Judge Eleanor Ross wrote, "The Eleventh Circuit holds that federal condemnation procedures are governed exclusively by federal law."
However, the Natural Gas Act states that the practice and procedure in any eminent domain proceeding "shall conform as nearly as may be with the practice and procedure in similar action or proceeding in the courts of the state where the property is situated." The act also states that the eminent domain/condemnation proceedings can go through federal or state courts.
The Natural Gas Act is "telling the federal court, 'Listen, you may have authorization for this, to be the arbiter of this dispute, but whenever you can you need to apply the same policies and procedures as a state would,'" said Catherine Landry, vice president of communications for the Interstate Natural Gas Association of America. The act is very clear in that, she said.
Ross' order included a summary judgement granting condemnation and a preliminary injunction allowing immediate access before compensation is paid.
Instead of ordering Transco to pay the property owners at least the appraised value, the court required to the company to post a surety bond equal to double the appraised value of all the properties being taken by condemnation.
"Judge Ross ruled that the 'state practice and procedures' provision of the Natural Gas Act no longer applies in federal court," said Harry Camp, an attorney representing property owners in Coweta and Bartow counties. "As a result, she found that Georgia law is unavailable to the landowners and further, that federal law does not require pre-payment. She exercised further discretion in not obligating Transco even to post a cash bond in the amount of the estimated compensation."
"We certainly do want to make sure that people are fairly compensated," said Stockton. "It's not in anybody's best interest to go to court… it is our goal for people to feel as if they are being treated fairly."
No good faith requirement
According to court documents, in many of the negotiations with property owners, Transco was seeking conditions that would not be allowed under eminent domain.
Some of Transco's easement offers sought easements for multiple pipelines and a waiver of future legal claims for keeping the easements clear.
The court order says that the court will not adopt those requirements, but that that courts have found there is no requirement that companies negotiate in good faith for easements or right-of-way. The taking agency only has to show that no agreement was reached. In fact, courts have found that the Natural Gas Act doesn't require any kind of negotiation between the taking agency and property owners.
Tim Glenn and his wife, Chrissy, said that when a Transco representative first came to talk to them, they were told the pipeline would take up just four feet of their property. The agreement they were presented with contained a damage clause relieving Transco of responsibility for things being damaged, Glenn said. Even the Transco representative said he wouldn't sign that part of the agreement. That's when the Glenns decided to hire a lawyer.
"I just don't trust them. Everything they told us was a farce," Glenn said.
"I'd like to get this judge down here and let her look at it," he said. Because the taken property is an easement, and not right of way, "I've still got to pay taxes on it," Glenn said.
One of the Glenn's sons is in a political science class at West Georgia Technical College, and one day the class was discussing eminent domain. When he told the teacher what was happening to his family, at first she didn't believe it. His teacher had never heard of property being taken before money was paid, Chrissy Glenn said.
"When Harry (Camp) told me all this, I said, 'This can't be real,'" Tim Glenn said.
There were several large hardwoods on the section of the Glenns' property that is now a pipeline construction zone. Glenn's father has a sawmill, and Glenn has made furniture out of hardwood planks, including his kitchen table and coffee table.
Since those trees had to be cut down, Glenn wanted to use the wood. When he asked for them, Glenn said he was told he couldn't have them, because the condemnation was going to court. He called a friend who works at a commercial sawmill and asked the value of his taken timber. He was told it was approximately $2,400.
The Glenns understand the need for the natural gas pipeline, and aren't against the use of eminent domain. Far from it.
"That's the way of the world. You have to have eminent domain. I believe in it," said Chrissy Glenn.
"But we'd like for it to be done right," said her husband.
Waiting for things to be fixed
The Wigglesworth family took a deal from Transco for a strip of easement along the back of their 10-acre tract.
"We were afraid if we went to court we would end up losing," said Stacy Wigglesworth. They were worried about having to pay Transco's legal fees.
Their pond has been the biggest concern. Ever since the torrential rains on April 5, it has been muddy. It's gotten muddy in the past after heavy rains, but always cleared up in a few days, she said.
But now it's been two and a half weeks, with no improvement in sight. The pipeline construction is at the top of a hill; the lake is at the bottom. On Friday, there was a single layer of non-reinforced silt fence running along the edge of the construction. Wigglesworth said she doesn't know how long it's been there.
A few days after Wigglesworth and her neighbor complained, a floating silt barrier was placed on the lake. They were told that Transco would hire a dredging company to fix the lake.
Wigglesworth is worried about the effect the silt will have on the extensive stock of fish that the family keeps in the lake. And the way it is now, she won't be letting her children swim in it.
"With stuff draining into it, I don't know what's in the pond. I don't want to expose my kids to it," she said. "Once it's cleared up, we'll probably take some water samples."