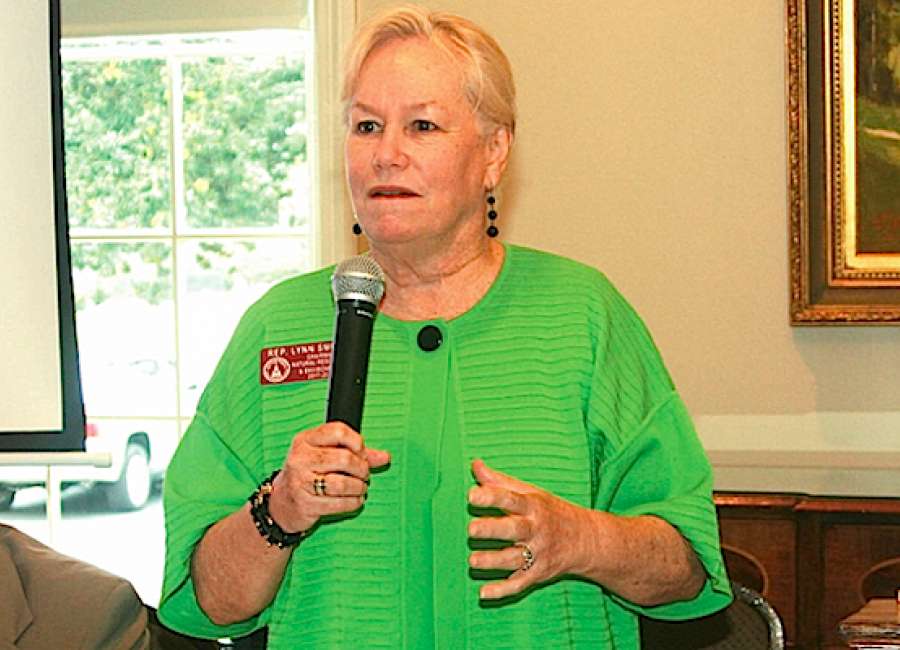 The population in Coweta will increase by 30,000 people within the next 10 years, according to data presented at the Pancakes & Politics Breakfast on Wednesday morning at the Newnan Country Club.

Chris Clark, president and CEO of the Georgia Chamber of Commerce, provided legislative insights from the session as well as moderated the panel by Coweta delegation members – Sen. Matt Brass, Rep. Lynn Smith, Rep. Josh Bonner, and Rep. Bob Trammell. Rep. David Stover was not present.
Clark said the Georgia chamber tracks data to know what is in store for the state. Coweta's current population is 140,000, but with the 30,000 population increase, the 0-24 age bracket will grow by eight percent, according to Clark.
"Schools must be ready," Clark said. "This growth is lower than rest of metro region, with the exception of Fayette County."
Clark said the 25-44 age bracket will  grow over a quarter in Coweta, which is higher than the expected growth for Atlanta. The 45-64 age bracket will grow by 11 percent, and retirees will increase by 64 percent, which will impact health care, social services and the workforce.
"There are 42,000 people employed in Coweta, and 10,000 of those jobs will have retirees within the next 10 years that will have to be replaced," Clark said. "We will need to concentrate on keeping people and replacing them. In seven years, Coweta will need 6,000 more health care workers. There will be a big need for health care, which is why it's important to recruit and retain young employees."
Clark said the aging senior population in Coweta is higher than the rest of the region.
"Great change is happening here, as long you manage it," Clark said.
Turning his attention to the recently completed legislative session, Clark said he "felt it was a successful session, but maybe not as successful as we had hoped for." He explained, "We went in with proactive, achievable goals."
Clark said 300 bills were tracked for the the session, with the usual number being 230.  Tax bills were prevalent, and the main issues that were addressed were legal environment improvement, critical issues in health care and issues with schools' achievement levels in Georgia.
Clark said a bill passed to protect the boards of nonprofits and banks from "frivolous" lawsuits.
Tax incentives for people who want to build or renovate businesses in downtowns was also passed. Clark cited downtown Newnan as being an important "hub in the community."
A taxation bill was introduced that came out of the house for sales tax regarding online merchants. Bonner said the bill will level the playing fields for online merchants and brick-and-mortar stores that are competing.
Clark talked about the film industry and how it positively affects Coweta and Fayette Counties. Clark said most post-production of films filmed in Georgia is done in Los Angeles.
"Bills were introduced to encourage productions to do their music and post-production of films in Georgia," Clark said. He said more films may be coming to Georgia because of the recent abolition of film tax incentives in Texas.
Legislation to help chronically failing schools in the state was also developed.
Coweta has only one chronically failing school, which is Ruth Hill Elementary, according to Brass. Brass said Coweta County School Superintendent Steve Barker stated the system is doing everything it can to help the school.
Brass was a co-signer of Senate Bill 3, an education bill, that he hopes will pass next session.
"The biggest part of it was going to be on the accreditation side," Brass said. "When you come out of high school, you're credited in certain area. So when you walk on job site, you have something that backs up qualifications."
Clark described Coweta delegation as having "seasoned and freshmen members that work together."
Smith, who is also the chairman for the Natural Resources & Environment Committee,  worked to protect private property rights when it comes to stream buffers, a strip of land adjacent to a stream that cannot be disturbed.
"What troubles me in the state of Georgia, is the emotional argument gets one a lot," Smith said. "What we're not seeing are private, property rights and we're walking all over them."
Trammell, who is also the vice chair of the House Democratic Caucus, said he focused on making Georgia more military-friendly. "Military bases are important to Georgia," Trammell said.
Tramell said he toured military bases in Georgia to talk to commanding officers and generals to see what their needs were.
This session was Bonner's first year.  He said he spent time learning how the process works, but did sign a bill to update adoption laws. The bill did not pass the Senate.
"The bill would have updated the adoption laws, which haven't been updated in about 15 years," Bonner said. "In the state of Georgia, it takes longer than most states to adopt a child. We have more than our fair share of children who need to be adopted. I hope it progresses the next session."
The next session will begin in January.