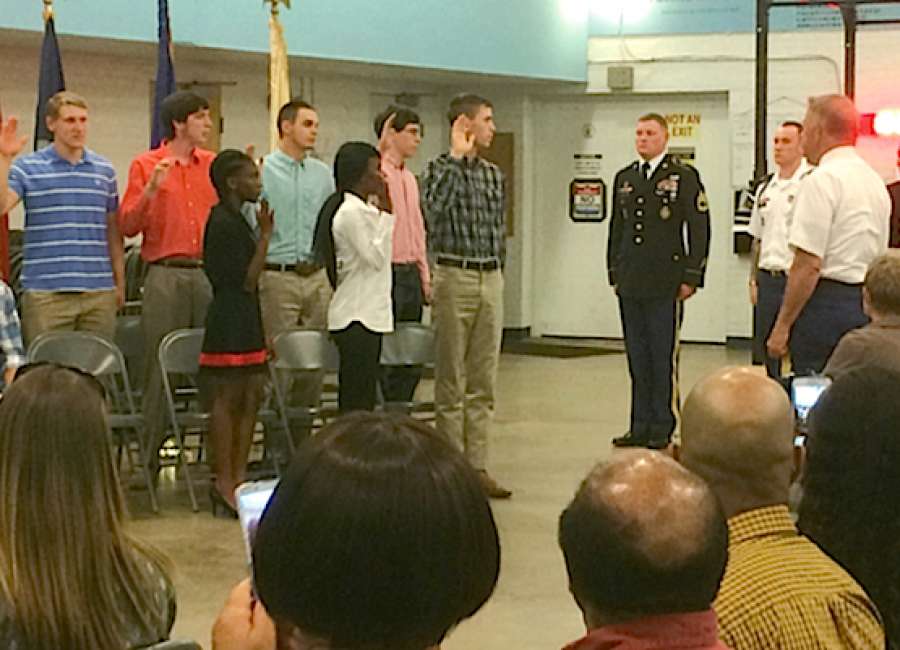 Newnan High School held its inaugural Military Enlistee Celebration Night at the Newnan National Guard Armory recently.

The event honored NHS students who have pledged to serve in the armed forces. One senior, Andrew Lewis, had an even bigger reason to celebrate: He has been awarded a full U.S. Naval Reserve Officer Training Corps scholarship to Auburn University.
"We had nine students commit to serve in one of the branches of the Armed Forces and celebrated one senior receiving a four-year, full ride with an ROTC scholarship," said John Garner, a history teacher at NHS who organized the event.
Garner was recently named one of the Veterans of Foreign Wars 2017 Teachers of the Year for the state of Georgia.
"It was great having members of the local VFW and American Legion, local recruiters, as well as
family and friends come out and witness this special time in the lives of these young men and women," Garner said.
In addition to Lewis, enlistees honored at the event included:
Kentez Henderson, Lamirra Henderson, Breon Smith, and Destiny Strong, U.S. Navy; Nathan Baytes, Aaron Blickhan, Sacha Ellis and Deaven Payne, U.S. Marine Corps; Trenton Citarella, Kyle Golden, Roman Shoemake and Jacob Stone, U.S. Army.
Col. Paul Longgrear was keynote speaker for the event. Longgrear served two tours in Vietnam with Special Forces. He was wounded five times and received a Silver Star, two Bronze Stars for Valor and a Combat Infantry Badge. After leaving active duty, Longgrear served another 15 years in the U.S. Army Reserve.