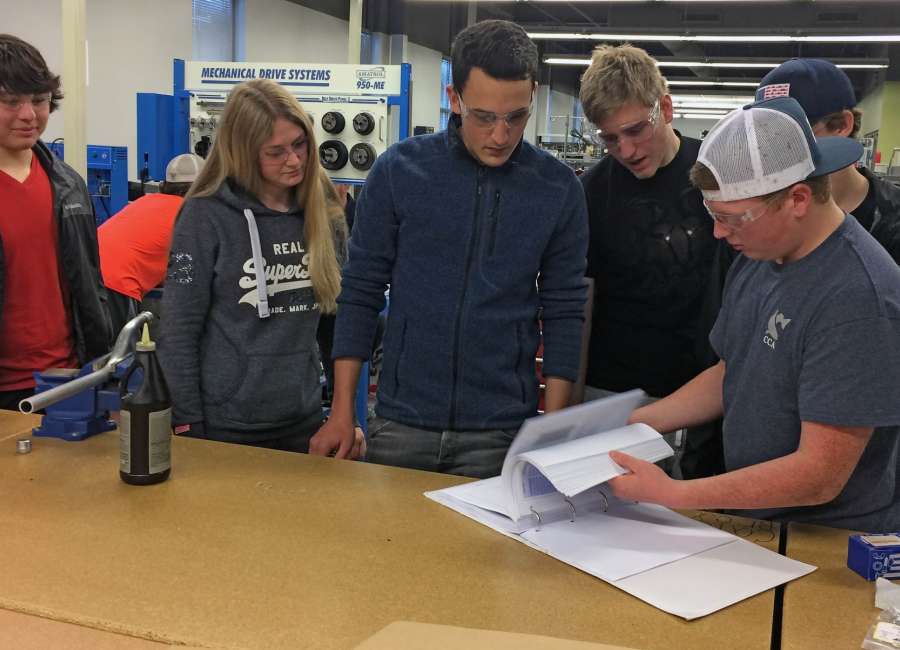 – By COLTON CAMPBELL, West Georgia Technical College
Coweta County students in West Georgia Technical College's German-style apprenticeship program got some pointers this week from actual German apprentices.
Three German exchange students who are attending classes at West Georgia Tech's Carroll Campus this month visited the Central Education Center, speaking with the students enrolled in the program, known officially as the Georgia Consortium of Advanced Technical Training (GA CATT).
"We were very excited to have some actual German apprentices visit our program and speak with some of our students," said Mark Whitlock, Central Educational Center's CEO. "We received some great feedback on their program in Germany and how it's influenced their lives and careers, and it's re-energized our students and instructors on what we're doing here."
GA CATT allows students to begin their apprenticeship in 10th grade with a combination of traditional high school classes, technical college manufacturing courses and apprenticeship modules that will pay $8 per hour. By the 12th grade, students will spend 80 percent of their day learning at the manufacturing site, earning $12 per hour.
The corporations taking part in the program are Grenzebach; E.G.O. North America; Yamaha; Kason; Yokogawa; Winpak; KCMA (Kawasaki); and Groov-Pin. The companies work in conjunction with the Coweta County School System and the technical college to ensure the curriculum is relevant to the employment needs facing each company.
The Coweta County Development Authority, along with Georgia Institute of Technology's Georgia Manufacturing Extension Project and Center for Young Worker Safety and Health, serve GA CATT in an oversight and advisement role. Those entities also played key roles in bringing the various stakeholders together to make the program a reality.
Whitlock said students who are selected for the program will leave high school with a high school diploma, an associate degree and a German apprenticeship certification. While in high school, they will be "earning a salary but also learning skills" that will lead to a job immediately after graduation.
"Students who complete GA CATT are expected to enter the workforce after high school with an average yearly salary of $40,000," Whitlock said. "And that's with no debt whatsoever."
The unemployment rate in German for people aged 15-24 is 7.1 percent, compared to the United States' youth unemployment rate for the same age range of 13.4 percent.
"We've found, and we've been told, that Georgia manufacturing lacks a robust source of skilled workers like industrial mechanics, electricians and machinists," Whitlock said. "We hope that we've created a model that can be scaled to more communities in Georgia where school systems, technical colleges and local industry can work together to fill that need."
Right now, the program is offered in only one area – industrial mechanics – but partnership members want to see development in additional fields, with an automotive mechatronics program most likely to come next.