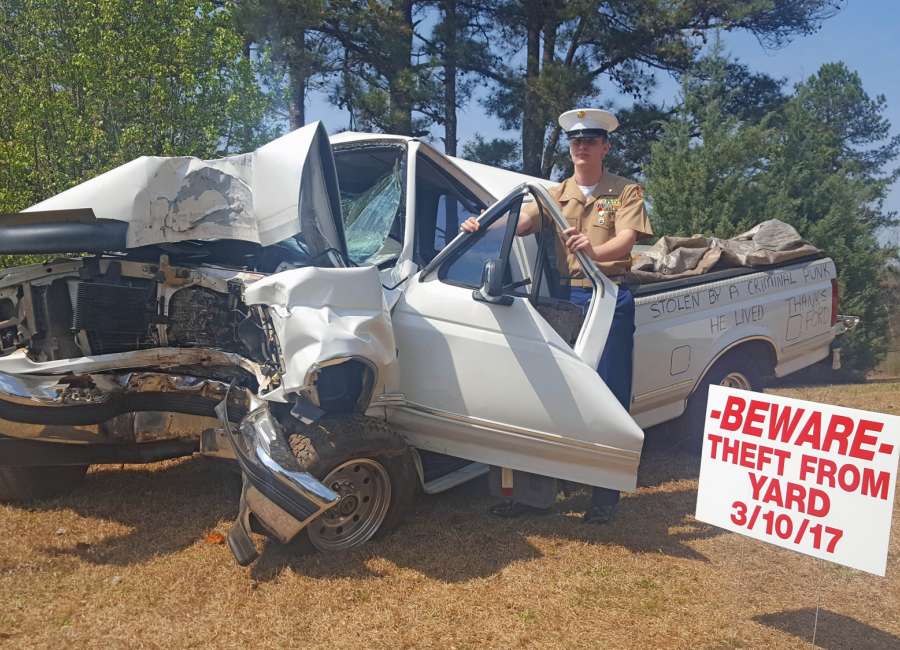 Last week, motorists on Bob Smith Road probably noticed the wreckage of an F-150 pickup truck resting in a front yard.
The totaled truck belonged to the Peterson brothers, Nate, 17, and Nick, 14 – two students at East Coweta High School.
At first glance, one might assume it's a lesson regarding the dangers of teen driving, but a closer look at the wreckage reveals the true story.
"Stolen by a criminal punk," was scrawled along one side of the pickup truck. A yard sign indicated the date of the theft.
On the night of Friday, March 10, Nate had just parked the truck, locked it and had gone inside for the evening.
"I guess my brother might have gone to get something out of the truck and forgot to lock it back," Nate said.
At some point between 10 and 11 p.m., the truck was taken from the Petersons' yard. The next morning, the brothers woke up shocked to find their truck missing.
About an hour after the theft, the truck was involved in a serious accident only four miles from their home. 
Emergency rescue personnel arrived to the area of Railroad Street and Reese Road in Turin to find the truck had collided with a large tree.
Members from Coweta County Fire Rescue worked to remove the driver from the vehicle before he was flown to Atlanta Medical Center to be treated for his injuries. 
Troopers said the man driving the truck suffered from a broken leg.
The morning after the truck was stolen from their yard, Nate recalled the phone call he received from the police.
"He said there was some good news and some bad news," Nate said.
The Fallout
"Frankly, I think they handled it better than we did," said their mother, Paige Peterson.
As a parent, Paige was furious. The truck was not just a means of transportation, but a symbol of what hard work and saving money could achieve.
Growing up, the brothers were taught that only hard work could provide all the things they wanted. While birthday and Christmas gifts were inevitable, the other 363 days of the year meant chores and saving their money for a rainy day.
In elementary school, the brothers began dreaming about getting a car someday. While visions of Mustangs and Corvettes initially danced through their heads, it didn't take long for reality to kick in.
No matter how much they saved, an exotic sports car was not in their immediate future. However, it didn't stop them from working toward the goal of automobile ownership.
"They chopped wood, cut down trees, cut the grass, cleaned gutters, laid sod – anything we considered a task that we could hire someone to do, we paid them about a third of that cost," Paige recalled.
"We taught them to save a little, tithe a little and spend a little. It all adds up."
Soon, the boys had saved enough money to purchase a 1995 F-150 pickup truck for $5,500. It was purchased on Nate's 15th birthday and the family began making some repairs on the truck.
For two and a half years, the boys enjoyed having the truck, and with Nick's 15th birthday only days away, he was looking forward to learning how to drive with the Ford.
A Dialogue
For those who stopped to get a closer look at the wreckage, it was an awe-inspiring glimpse into what should have been a fatal accident, Paige believed. 
For her, displaying the truck was a way to send a message to nearby residents about staying vigilant about home security.
"It was a unique attention-getter," Paige joked. "We don't live in a subdivision or have homeowners association meetings, so it was the only way we could get the word out to  our neighbors about what happened."
The mangled pickup truck certainly did the job.
On the first day, Paige recalled a fire truck stopping immediately, believing an accident had just occurred.
"They cracked up laughing when I explained what had happened," Paige said. "They remembered the accident and suggested putting a tarp on the truck along with the yard sign, otherwise, they would probably get phone calls all day regarding an accident on Bob Smith Road."
In the days that followed, cars slowed down and many stopped to walk around the truck. The front end of the truck that absorbed the blow of the accident still smelled like the pine tree that stopped it.
People were amazed to learn the driver survived.
"While we bought it to be a safe vehicle for our child, someone else's child was in the truck that night," she said. "It's a one in a million shot that someone could survive that."
And while the wreckage on display was initially meant to serve as a warning to neighbors, another lesson quickly dawned on the family.
Many stopped to talk with the family. One nearby neighbor is a retiree who offered to stand watch at night for the Petersons. Another is a member of AAA and generously offered to have the truck towed at no charge.
"We were so angry at first and just wanted people to know what was happening in our neighborhood," she said. "But through it all, we met so many kind people and it really began to show us how many great people live around us."
On Wednesday, the family sent the truck off to be salvaged.
"It served its purpose," she said. "It was an eyesore and it could have caused someone to get injured. It was time to move on."
The Lesson
Both brothers are currently members of the Marine Corps Junior ROTC program at East Coweta High School.
Nate is currently the battalion commander and captain of the rifle team. He holds a 3.8 GPA. He's been nominated for the Naval Academy, Air Force Academy, West Point and the Merchant Marines.
Nick is only a few weeks away from turning 15, but now has nothing in which to learn to drive.
"But you know what, life is full of tough times, and we haven't raised boys who can't recover," Paige said.
"Having money helps you be prepared and recover a lot faster than not having it. It's a lesson I think many grown adults still don't understand."
In the age of GoFundMe accounts and donations, many have offered to donate money, but that's not how the family operates.
"This is just a life lesson," she said. "With so many people in great need, a vehicle is a want – not a need. There are far better things for people to donate their money towards."
A mangled truck that was meant to be a warning about the dangers that lurk in the night, has instead shared the lesson of what's really important and who remains standing beside the family after such a nasty experience.
"Ultimately, I think that truck saved me from a sour heart," she said.
"There are far greater losses to be had in this world, and that's what we have to keep in mind," Paige said. "It's just a 20-year-old truck, but someone's son is still alive because of that. The Ford did what it was supposed to do."
****
Clay Neely: clay@newnan.com, @clayneely