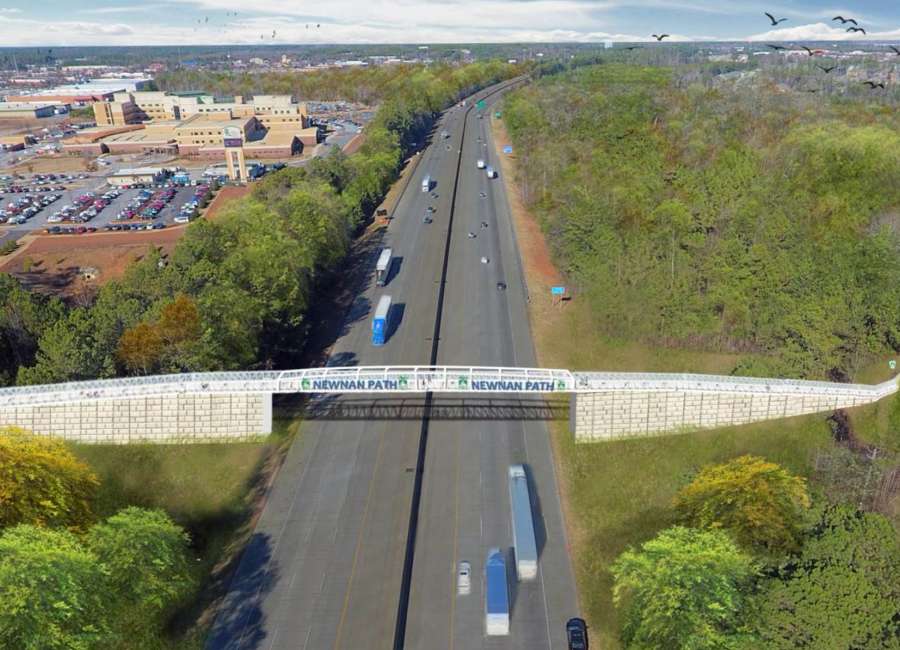 A proposed multi-use trail system designed to connect the many areas of Coweta County is now a little closer to becoming a reality.

On Tuesday evening, nearly 150 supporters and residents gathered at the Newnan Centre for a public meeting where plans for the proposed trail system were unveiled, including the name – LINC.
LINC is not an acronym, but simply a way of showcasing what the feature can do for the community, according to Greta deMayo, principal owner at KAIZEN Collaborative.
"We chose the name 'LINC' because you have all these connected pieces and links getting you to different locations," deMayo said. "The idea is naming these spurs for the places they go like the hospital, fairgrounds or downtown."
Ed McBrayer is the executive director for the PATH Foundation, a nonprofit group which helps assist cities and counties looking to embark on a trail project. His group has overseen the development of many successful trails, including the Silver Comet Trail in Atlanta and Carrollton's GreenBelt.
McBrayer discussed the possibilities for keeping Newnan connected on a path system. The primary, and preferred, system is a greenway trail – a path fully removed from any nearby roads, around 10 to 12 feet wide, and constructed of concrete.
Where greenway trails aren't possible, a shared-use side path is. These paths are generally closer to the road, and separated by at least five feet of trees and landscaping.
One of the primary drivers for creating a path system in a community is not only the added health benefits that come from a more active population, but economic opportunities. A path system serves as an economic driver for many companies looking to keep and recruit younger talent, according to McBrayer.
"We want Newnan to be prepared for the future," he said. "There's been a 20 percent drop in 16-year-olds getting their driver's licenses and (who) don't want to be dependent on cars. If they can find a place like Virginia Highlands here in Newnan, that's good for employers."
One of the primary challenges in planning the trail system was finding a way to connect the many residential areas to downtown Newnan, according to deMayo. Her group has partnered with PATH to help design the proposed trail system.
"There is a great division created by a highway, which keeps pedestrians from downtown Newnan," she said.
Without altering downtown Newnan, the trailhead would start near the train depot on East Broad Street and wind its way east on Murray Street, through C.J. Smith Park and crossing I-85 near Cancer Treatment Centers of America.
From there, the trail would help connect Piedmont Newnan Hospital, the Newnan Centre and Whitlock Park.
Finding a way to cross Highway 34 was a big challenge for the group, deMayo said. To avoid having pedestrians encounter traffic, the group decided on a low bridge that would lead pedestrians into Whitlock Park from under the highway.
On the west side of Newnan, the proposed path would connect Oak Hill Cemetery, through the University of West Georgia campus, down to Newnan High School and through Carl Miller Park before ending at the Coweta County Fairgrounds.
The westside spur would also help connect downtown Newnan to Lambert Field and Evans Middle School.
In total, the proposed system in Newnan would be approximately 25 miles. Using Carrollton as an example, the cost from start to finish was $800,000 per mile.
"Carrollton is a great model to look at," McBrayer said. "They had many different corporations to sponsor different stations of the trail, and it took five years to complete."
One of the primary functions of McBrayer's organization is to help local organizers obtain funds from both public and private sectors.
Local governments can allocate money from their budget and use special purpose local sales tax funds or impact fees to get things started. In most communities, money is also derived from organizations like hospitals and developers.
"It's a cobbling effort to find the pieces," McBrayer said. "Once that gets started, everyone wants to participate and a community finds ways to get it built."
To address the needs of security on the trail, McBrayer cited several solutions, including Paulding County where their portion of the Silver Comet Trail is patrolled by the Paulding County Sheriff's Office from daylight to dusk every day – a practice commonly associated with safe trails.
"We don't like to light paths," he said. "You want police to enforce laws that say you can't be out there at night."
In Paulding, the sheriff's office utilizes smart cars, all-terrain vehicles, utility-terrain vehicles and bicycles to patrol the 18 miles of the Silver Comet Trail.
"But the thing about trails is they secure themselves," McBrayer said. "Everyone has a cell phone, and people are out there all the time. It's not a place where perpetrators want to be."
The next step for the LINC will be collecting public comments and presenting their master plan to the steering committee. All public comments are due by March 27.
Once it's finalized, the plan will be submitted to the city council and county commission for adoption.
McBrayer said it's critical for the master plan to be adopted so developers can be influenced to give easements and work together to make connections happen.
The cost of the study conducted by PATH and KAIZEN was approximately $49,200. The cost was split evenly between the city and county.
Janette Higgins is a resident of Summergrove and said she was impressed by the presentation. As a mom and avid jogger, she thinks having a family-friendly place for people to meet and exercise is a desirable trait for any community.
"There aren't a lot of places to run unless you're in a neighborhood, but even in Summergrove, you're sharing a sidewalk with people walking dogs," she said.
As a local member of the Moms Run This Town running club, having 25 miles of car-free paths would eliminate the need to travel to Peachtree City.
"And it looks beautiful," she said. "They're taking these unused areas and making them usable. It's a really exciting thing."
For those wishing to make a comment regarding the proposed trail, the city requests all email correspondence be addressed to: thelinc@cityofnewnan.org
****
Clay Neely: clay@newnan.com, @clayneely