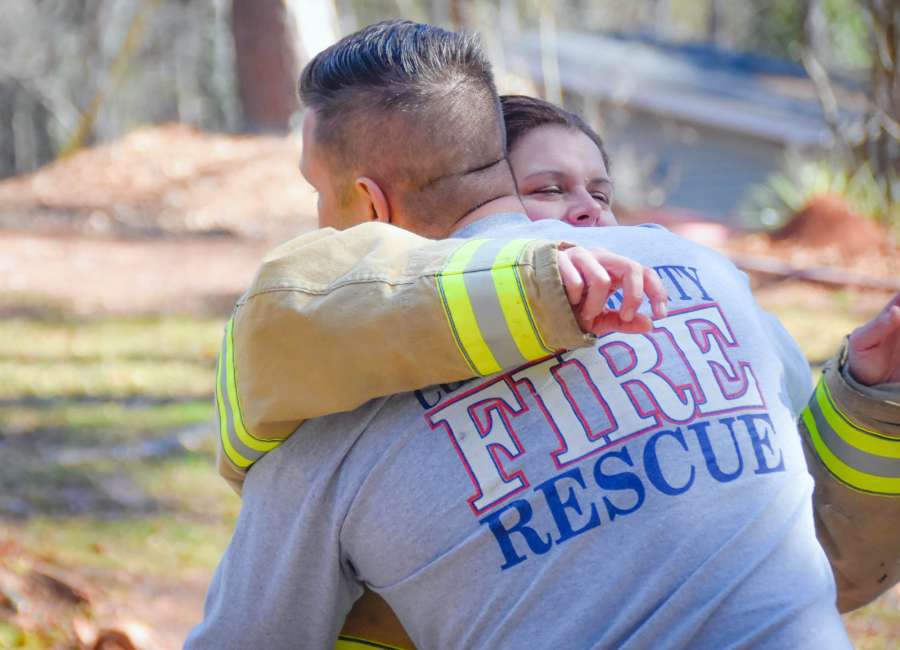 It's been an emotional and busy week for members of Coweta County Fire Rescue.

Following the unexpected passing of Firefighter Michael Norton on Thursday, firefighters were summoned to battle a house fire on Friday morning.
"That was his shift," said Captain Mark Griffin. "They came to work this morning without him."
A 17-year veteran of the department, Norton passed away on Thursday, less than 24 hours after responding to a structure fire.
Norton's passing marks the first line-of-duty death in the history of the Coweta County Fire Department. The nature and cause of the fatal injury has not been determined yet.
Just one day after his death, members from the fire department responded to a house fire on 37 Derring Drive, just off Franklin Highway.
Along with Griffin, many firefighters from Thursday's shift held over to help out.
"We didn't want them to be met with that challenge," Griffin said. "But they jumped right back in. It's automatic."
Because of that, two crews worked the house fire on Friday. It was an emotional rescue at first, when it was believed the homeowner was inside the burning building, according to Griffin.
"The biggest priority was making sure no one was inside the house," he said. "The neighbor believed the homeowner was home since her car was still there."
Once the fire was knocked down inside the home, firefighters entered to confirm no one was home. No one was injured and the fire was extinguished without incident.
The cause of the fire is still under investigation by the fire marshal's office.
"I think so many citizens don't realize we see death and tragedy in other people's lives, but when it happens in our lives, we have to deal with both," Griffin said. "That's what's so hard about all this."
Several hours later, firefighters arrived at Station 1 to prepare for an escort to the Georgia Bureau of Investigation Crime Lab in Atlanta to bring the body of Norton back home. Helicopters from Atlanta media buzzed overhead, waiting for the convoy to leave the station.
In an open bay, members of the fire department and sheriff's office gathered to hear a prayer delivered by Chief Pat Wilson.
"This is not an easy task," Wilson said. "I'm thinking about everyone in our department during this difficult time and praying for our continued safety."
Along their journey, many surrounding fire departments paid their respects on overpasses as the procession made its way back to Coweta County, where it rolled down Greenville Street into downtown Newnan before finally arriving at Higgins Hillcrest Chapel Funeral Home.
On Sunday, Norton's family will receive friends at South Metro Ministries from 5-8 p.m., with Monday's funeral service also being held at South Metro Ministries at 11 a.m.
In lieu of flowers, the family asks that donations be made to the National Fallen Firefighters Foundation at www.firehero.org.
****
Clay Neely: clay@newnan.com, @clayneely