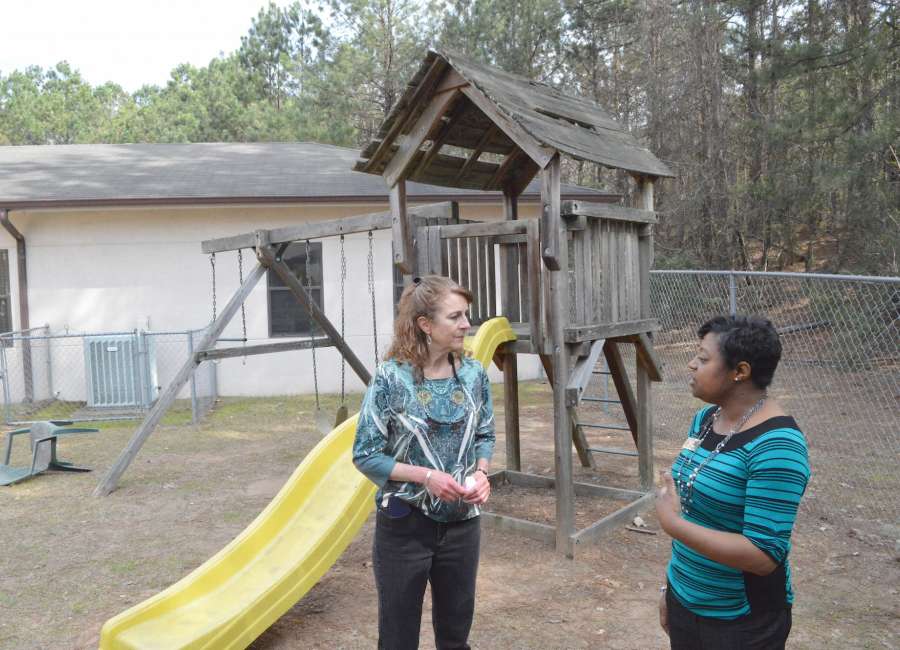 When local children are in foster care, they get to visit with their parents or other relatives at least twice a month, and usually weekly or more often – especially younger children.

Often early in a case, the visits must be supervised by Department of Family and Children's Services staff, and that's done at the DFCS office, either in two visitation rooms or at a small playground in a courtyard at the DFCS building on U.S. Highway 29.
The two visitation rooms were recently refurbished by volunteers with We Foster Coweta, with the help of community donations (see sidebar).
Now the playground needs help.
Coweta DFCS Director Gretchen Cleveland thinks the playground has a lot of potential. Right now, it's just a swing set that has seen better days and needs restoration, cleaning, and at least one new swing. There's a gazebo with a carpenter bee problem, a tiny playset for babies, a few shrubs with some sprawling blackberry vines, and some flower pots full of weeds.
Cleveland would like to see a picnic area and some pretty landscaping. We Foster volunteer Vicki Betts envisions a mural painted on the main outer building wall.
"We're ready for volunteers," Cleveland said. As the weather continues to warm, she thinks families will enjoy visiting out on the playground, especially if it's a more pleasant place to spend time.
Cleveland said that the department has a small amount of money that can go toward the upgrade, but lots of volunteer labor will be needed, as well as donations. Perhaps a Scout troup or someone else handy will work on the swing set, and a group could do landscaping. There's also the carpenter bee problem.
We Foster Coweta will oversee the project, but volunteers are needed to come up with a plan for the improvement and coordinate specific projects, as well as to do the hands-on work.
To get involved or for more information, contact Cleveland at 404-272-6532 or email WeFosterCoweta@gmail.com .