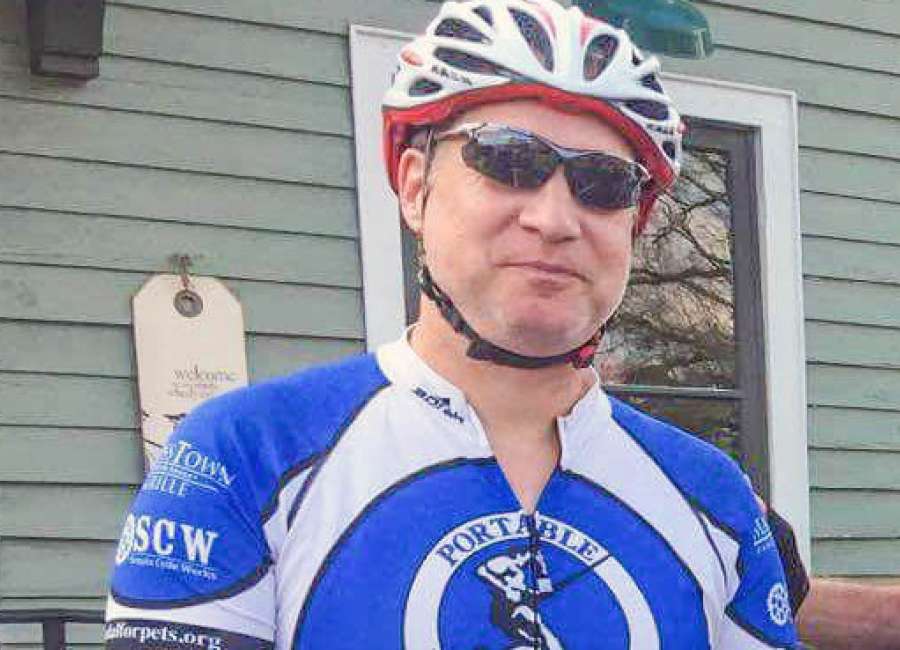 Cyclists are demanding answers after a fellow rider was struck by an angry driver who then drove away.
Phillip Miles was participating in a group ride with three other riders on Thursday night when the incident occurred. Arlinda Adams was one of the riders traveling with Miles on the 32-mile evening ride out of Senoia.
When the group was climbing a hill on Gordon Road, riders heard the sound of car horn approaching the group. As a small, red car passed them, the driver yelled at the group as he continued to honk his horn, according to Adams.
While annoying, it's par for the course for many cyclists who endure unhappy motorists on a frequent basis.
So, when Adams heard a car horn approaching from the distance again, she had a good idea it was the same driver. However, she wasn't ready for what happened next.
According to Adams, she was only 30 feet away from Miles who was leading the small group down Johnson Road. As the horn grew louder, Adams knew it was the same driver and watched as the car whizzed past her and headed directly towards Miles.
The car showed no signs of slowing down and was traveling at least the speed limit, Adams recalled.
"I thought, 'This can't be happening,'" she said.
The car clipped Miles in his side with its passenger side mirror and sent him flying down toward the pavement, according to Adams. As the driver made it clear he wasn't stopping, another rider attempted to follow and record the tag number.
Adams called 911.
Several nearby witnesses stopped to help the group. Miles, who is also a paramedic, helped keep his group calm and advised how to help him until an ambulance arrived. He was taken to Atlanta Medical Center to be evaluated for his injuries and was released later that night.
At the scene, Corporal Chris McEntyre with the Georgia State Patrol spoke to witnesses and caught a lucky break when he discovered Miles was using a video recorder on his bicycle at the time of the accident.
The mirror that hit Miles was also left behind.
McEntyre said the group was properly illuminated and traveling in accordance with traffic laws when the incident occurred. Based on the description of the car and the mirror, he believes the car is a 2009-2014 red Honda Fit.
Authorities are currently on the lookout for a car matching the description.
According to Ty Ridgeway, owner of Senoia Cycle Works, this kind of incident is rare, but terrifying when it does happen. His shop serves as the local hub for many cyclists, and the impact of Miles' story has been resonating among enthusiasts.
"The first thing people want to know is how he's doing," Ridgeway said. "Now that we know he's going to be okay, I think we're all wondering what's going to happen to the driver."
To Ridgeway, an incident like this isn't an accident or a joke gone wrong.
"It's a death threat – it's attempted murder," he said. "It's a 4,000-pound vehicle against a 15-pound bike – metal versus flesh – and it frustrates me to see things like this happen."
The local cycling community is a large, but tight-knit community who are familiar with the dangerous possibilities that loom on the road. In his work, Ridgeway hears no shortage of close calls and bad behavior when dealing with those who aren't thrilled to be sharing the road with cyclists.
Despite the frustration shared by some motorists, the law supersedes any complaint about coexisting with bikes on the highway.
"We're both legally allowed to be on the roadway," he said. "A bike is a vehicle, just the same as a car. If you don't respect that, you're breaking the law."
Mutual respect, he believes, is the only way things can possibly change.
"I think the primary concern is that in recent years, if the driver of a car kills another person in a car, that's vehicular manslaughter, but if you hit a cyclist, the rules are different," he said. "We're both vehicles, and we're more vulnerable. Why aren't they being punished to the fullest extent? Change has got to start from the top."
Putting a face on the victims of road rage and violence directed towards cyclists is one way Ridgeway and other cyclists believe might decrease similar incidents.
"This man is a father, a husband and a good friend to many," he said. "He's also a first responder and spends his life helping other people. This driver has now taken someone off the streets who would be willing to do anything to help him if the shoe was on the other foot."
****
Clay Neely: clay@newnan.com, @clayneely