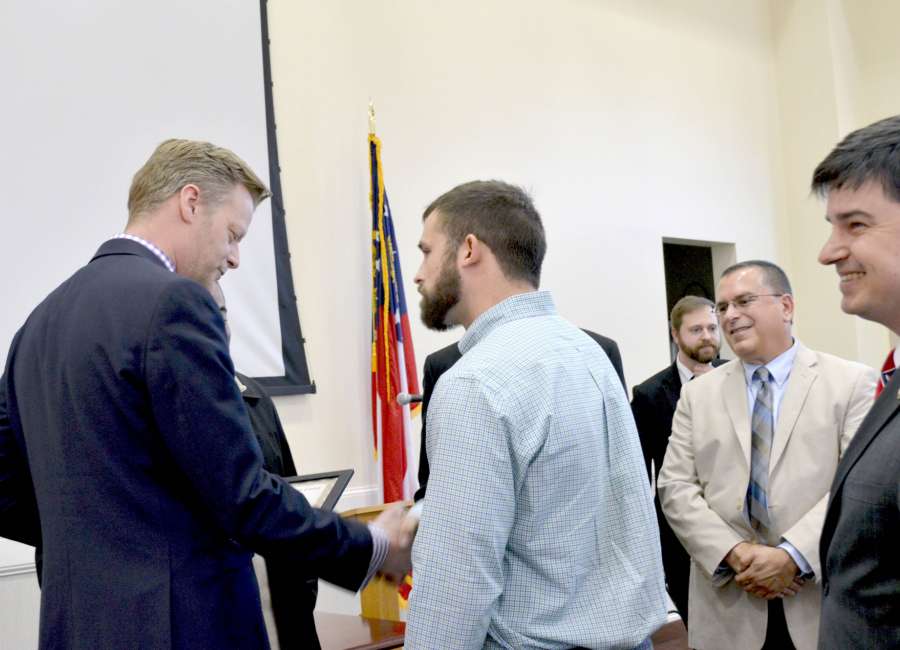 Coweta's Veterans Treatment Court has graduated its first participant.
Cameron Stroud, who served as a U.S. Army scout, is the court's first graduate. Stroud served in the Army from March 2011 to August 2015 and was an E4 Specialist. He received numerous medals including a good conduct medal and Global War on Terrorism Service Medal.
Stroud was honored Thursday at the court's first graduation ceremony.
Veterans Treatment Court handles both felony and misdemeanor cases and covers the entire five-county Coweta Judicial Circuit. It was the third "accountability court" in Coweta County, joining Drug and DUI Court in November 2015. The newest accountability court, Family Treatment Court, began last fall.
Veteran's Court is designed to help participants achieve total abstinence from alcohol or drugs, achieve stability and mental health and have a more satisfying, law-abiding life, said John Mazzone, coordinator for the Veteran's Court.
"As a veteran myself, I'm keenly aware that our service members do not always come back from their tours of duty with their mind, body and spirit intact," Mazzone said. "That is why our court exists – to help our members gain control over their minds, body and futures."
Stroud was in the court's misdemeanor track, which is a minimum 12-month program. The felony track is 18 months, minimum.
Joe Wyant is the judge for the court.
"The fact Cameron is our first graduate is perfect," Wyant said. "He has never wavered. He came into our program ready to be successful. He knew what he wanted before he got there. If we had anything to do with it, I'm happy we could be of help. He mostly knew what he wanted."
Wyant said the court will point to Stroud as a beacon for other court participants. "Thank you for your dedication, and your fidelity to your program, your sobriety, your family and your business."
New State Senator Matt Brass, R-Newnan, a U.S. Navy veteran, was the speaker for the graduation.
Brass challenged all the court staff to always treat participants as individuals, not as a number.
"If we can treat that individual, treat those special needs, then we can help that individual."
He also challenged friends and family. "You know your individual. You know when he's hurting. So always be honest with him. Always be ready to support him at a moment's notice, because you never know when that moment may come."
U.S. service members take an oath to defend the nation against all enemies, foreign and domestic. "There's nothing more domestic than ourselves," Brass said. "Don't be your own enemy. Be honest with yourself and always be willing to ask for help. The struggle may never end, but don't ever give up and don't ever be scared to ask for help."
In boot camp, "you learn to fail, because you learn how to get up and overcome that failure – and you've done that today," Brass said to Stroud.
He urged everyone in Coweta who cares about the community to help the court, with their time or finances.
Stroud thanked everyone who was there to support him and offered specific thanks to his family. His family and the community will reap the benefit of his success.
"I made a lot of poor choices along my life's road," Stroud said. His problems weren't as severe as some others, but they were severe enough to make him realize he needed help.
"It took the law to tell me that. I couldn't get out of my own way to see for myself," he said.
Stroud said he would like to publicly apologize to the community "for the danger I put them in for the many years I've been an alcohol user. A lot of people don't think about when they go to a bar or at their home they decide to take a drink, maybe one or three too many. When they get in a car they are not just putting their own life on the line, they're putting everybody in the car and on the road in jeopardy."
Stroud said it was a wake up call to realize how many times he could have blacked out or run off the road and wreaked havoc on someone else's family.
"Lord knows I've caused plenty of havoc in my own house. And this program was a good step for me," he said.
The Veteran's Treatment Court is currently in need of more mentors, said Jennifer Barnett, Accountability Court coordinator. Mentors are a support system and friend for participants. The time commitment can be whatever the mentor wants it to be.
Male mentors are needed for male participants, and females for female participants. Mentors must be military veterans. Barnett said. Ideally, she'd like to pair up participants with mentors in the same branch of service, but as of right now, there aren't enough mentors for that. There are currently nine participants in the Veterans Treatment Court, most of them on the felony track.
Barnett said she's going to miss Stroud. "He's been the ideal participant," she said. She hopes he'll come back and lead some of the group meetings.
To become a mentor or for more information, call 770-683-0205, email jbarnett@coweta.ga.us or come by the accountability court offices at 51 Perry St. in downtown Newnan.