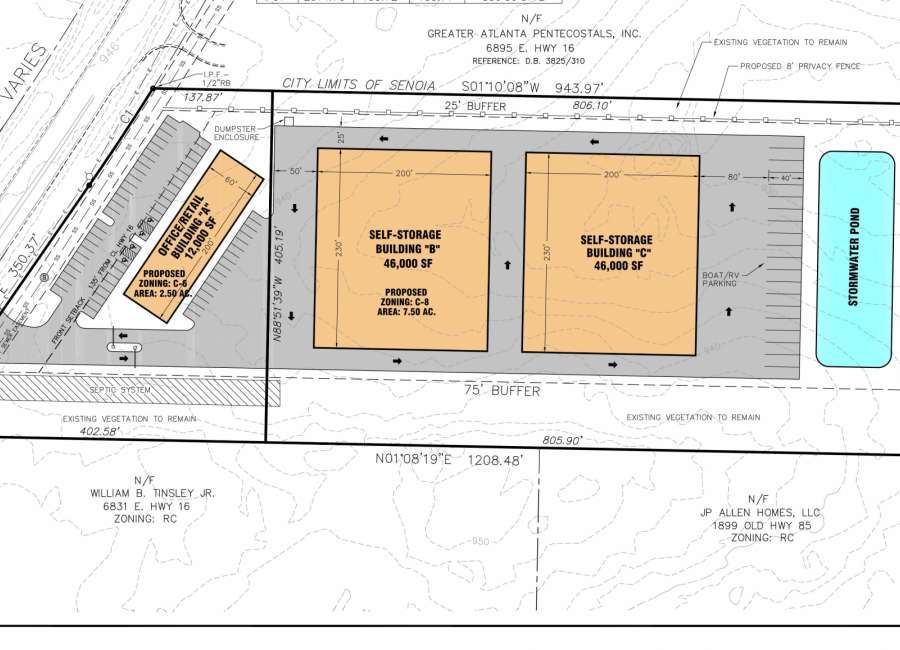 A small commercial center and self-storage facility has been approved on Hwy. 16, just west of the Senoia city limits.

The Coweta County Board of Commissioners voted Tuesday to approve rezoning of the 10-acre tract, which is adjacent to Greater Atlanta Pentecostal Church, between the church and Coweta Charter Academy.
The front 2.5 acres was zoned C-6, Commercial Minor Shopping District, for a 12,000-square-foot office/retail building. The building is expected to contain several suites, according to the planning department report.
The back 7.5 acres is zoned C-8, Heavy Commercial, for the self-storage facility. The site plan shows two storage buildings of 40,000-square-feet each.
Engineer Neal Spradlin, representing applicant Thomas Humber, said that the front commercial building would block 90 percent of the view of the storage units.
The commissioners also approved a buffer variance for the side of the property adjacent to the church.
In other meeting business:
• A second signal light will be added to the pedestrian crossing at Northgate High School. There's currently a traffic signal for the pedestrian crossing, but school representatives worry that drivers leaving the northern driveway to go south on Fischer Road may not see the light, said County Administrator Michael Fouts. The second light will be placed near eye level of motorists. The cost for the new light is $2,500, and the county will be reimbursed by the school system for the cost.
• The commissioners voted to remove a condition on the building at 2236 E. Hwy. 34, which was formerly The Fish Garden store. When the building, a former home, was rezoned in 2000, it was conditional for a fish store. The Fish Garden is now closed, and the owners of Mulch and More next door want to update the building for offices.
• A request by Lauren Ohmstede for a conditional use permit and variances for a kennel at 1214 Welcome Road was withdrawn by the applicant.
• The Coweta County Fire Department has applied for a $1.8 million "Staffing for Adequate Fire and Emergency Response" (SAFER) Grant through the Federal Emergency Management Agency.
The grant, if awarded, will provide 75 percent of funding for new personnel for two years, and 35 percent for the third year. After that, the county will be responsible for 100 percent of the personnel costs for the employees hired using the grant.
The additional personnel would allow the fire department to add two additional ambulance units, for a total of nine ambulances.
• Bradbury Road will be closing for approximately 90 days for replacement of the bridge at Yellow Jacket Creek. The closure is set for March 13.