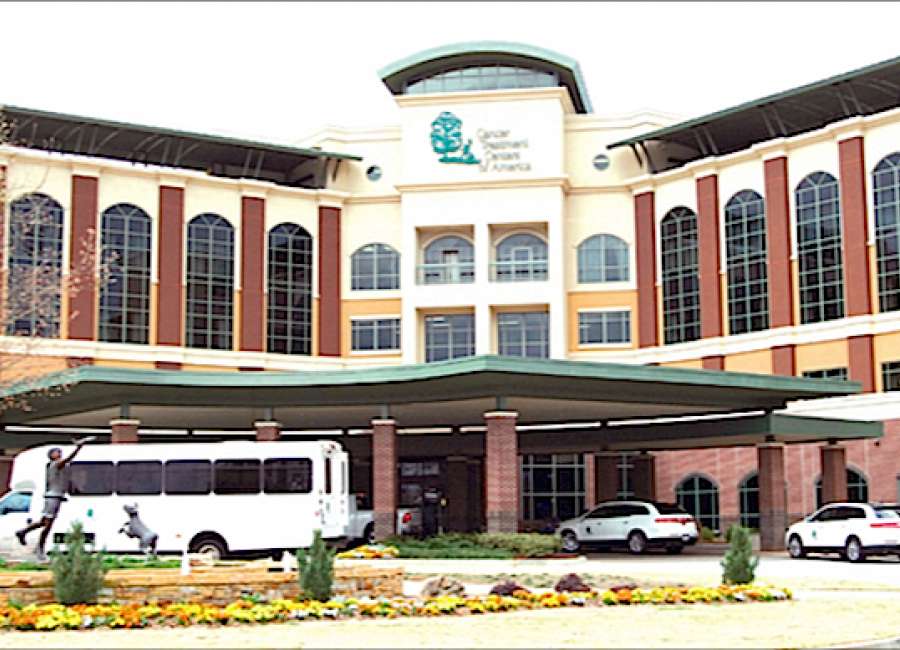 The American Cancer Society has predicted that 1,688,780 new cancer cases will be diagnosed in 2017, and though the majority would agree that the research and treatment of the disease is invaluable, it is clear that cancer is a multibillion dollar industry.
In fact, it is estimated that by 2020, the cost of cancer care will increase to $156 billion per year.
In Coweta County, the battle against cancer has taken on a new focus: patient choice. With both a for-profit specialty treatment facility and a nonprofit hospital cancer care option available in Newnan, health care officials have begun to question if the local community truly has a need for the two comparable practices – and if patients are actually being given the choice to decide between the two.
"This is about patient choice and access," Ray Williams said of the recent Senate Bill 123 currently being considered by the Georgia General Assembly. Williams is a lobbyist for the Cancer Treatment Centers of America, located in Newnan.
The bill, sponsored by Sen. Hunter Hill, R-Atlanta, proposes a reassessment of regulations placed on the cancer center before construction of the local facility. Georgia adheres to a certificate of need program in health care. Before a health care facility can be constructed, expanded or any substantial medical equipment purchased, officials in Georgia's Department of Community Health must first issue a certificate of need.
Building of the cancer center in the county was approved in 2008, but the certificate of need involved a compromise. In order to justify need within the community for the large facility, legislators and hospital officials agreed the specialty health care operation would be classified as a "destination cancer hospital." The distinction included specific and restrictive regulations such as allowing the facility a maximum of 50 inpatient beds in addition to a 35 percent limit of cancer patients residing in the state.
"We accepted a compromise that allowed us to build in the state," Williams explained. "I think what we are seeing now are the unintended consequences of that compromise."
Williams argues that, since opening for business in 2012, the Cancer Treatment Centers of America (CTCA) in Newnan has grown exponentially, and the original limitations are now forcing the hospital to turn away a number of Georgia patients.
"It wasn't the intent of the general assembly that we would have to turn patients away," said Williams. "I don't think legislators involved at the time had any concept that nine years later, after four years in business, we would be at the point of denying patients treatment."
Williams and other cancer center representatives maintain that the sole intent of the company's continued requisition to change regulations is to allow local patients access to care. Community hospital officials across the state seem to view the for-profit cancer center's persistence as a way to find more revenue in the facility's own back yard.
In fact, the organization's efforts to persuade legislators in the 2015 General Assembly were met with opposition from representatives of both the Georgia Hospital Association and the Georgia Alliance of Community Hospitals. The two leading advocates for state health care systems were angered further when the private cancer hospital made a regulatory attempt at reclassification later that year.
"As they have done in other states, Cancer Treatment Centers of America is now trying to change the agreement they made when they entered Georgia. While they say this is about allowing Georgians to have a choice with regard to care, the fact is that it is about improving their corporate bottom line," said Monty Veazey, president of the Georgia Alliance of Community Hospitals.
Further, advocates for community health care argue that, as a for-profit hospital, CTCA is already able to pick and choose which patients will be served. The cancer center has been accused, on numerous occasions, of accepting only those patients willing and able – often through health insurance – to pay a high rate for cancer care. This particular screening process threatens community hospitals that, as nonprofit organizations, cannot pick and choose well-paying patients.
"In picking and choosing patients, they do direct harm to Georgia-based hospitals, many of which are nationally recognized for excellence in cancer treatment," Veazey said.
State health care representatives have noted that, if CTCA is able to expand the number of patients the facility can accept in Georgia, the majority of the well-paying and insured treatment seekers in the state would be persuaded to receive care from the specialty cancer center. This could potentially leave community hospitals with the vast majority of uninsured and underinsured patients. Without revenue to purchase equipment, hire specialists and offer exceptional care, local health care providers would be forced to close, or, discontinue a variety of services currently provided.
"As hospitals across our state work tirelessly every day to provide quality care while managing increasingly difficult financial challenges, it is simply not the time to make changes that could result in the unintended consequence of closures, reductions in service and loss of access to care," Veazey said in a letter addressed to the Georgia General Assembly in regards to Senate Bill 123. He added that allowing the cancer center access to more local patients could have "a devastating impact on these critical locally owned and operated institutions and the communities they serve."
Ethan James, senior vice president of government relations for the Georgia Hospital Association, contends that the "patient's right to choose," as it relates to CTCA, does not actually exist — at least not where uninsured and underinsured patients are concerned.
"No hospital competes for the uninsured," James said in a recent interview. "If you are a Medicaid patient or an uninsured patient, CTCA may not actually be a choice for cancer care."
Recently, CTCA officials have provided funding for a campaign in support of Senate Bill 123. Known as SpeakNowGeorgia, the campaign, which includes both radio and television commercials, features consumers including current and former patients and volunteers at the cancer center.
Television and radio announcements include a depiction of a fictional Georgia restaurant in which diners are denied service due to the proprietor's reaching a predetermined limit of customers from Georgia.
"A lot of people don't know that there is a restrictive law out there. Cancer becomes relevant when it becomes relevant," explained Kristin Schaner, director of communications and public affairs for the Newnan cancer center. Schaner maintains that the promotional messages and website are part of a public awareness campaign meant to educate readers and advocate for patient access.
James said a more accurate commercial might have included a patron requesting service at the restaurant without, or having only a portion of, the money needed to pay for a meal.
"What happens if you show up with no money at any restaurant," James asked. "You won't be served regardless of the restrictions the restaurant has."
Newnan's cancer center should stick to its original agreement with the state, which was created specifically to allow the facility a place in the local community, according to James.
"The community long ago invested in their local hospitals," James added, explaining that the nonprofit health care facilities in the area offer comparable treatment options, expert physicians and advanced technology.