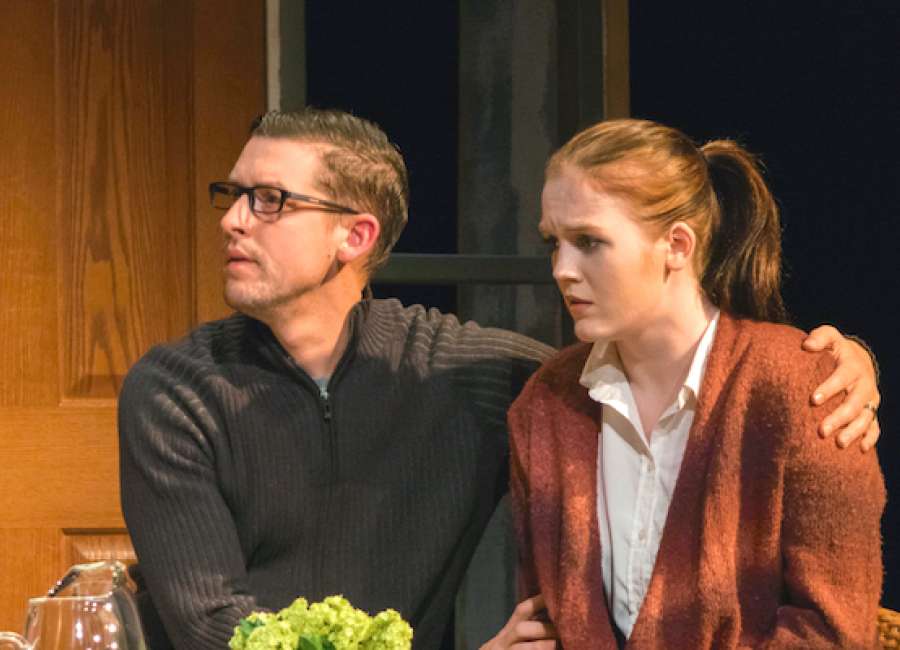 'A Kid Like Jake' by Daniel Pearle
Out Front Theatre
999 Brady Avenue, Atlanta
Runs through Feb. 26
Tickets: outfronttheatre.com
One of Paul Conroy's early and urgent missions when he founded Out Front Theatre was bringing the concept of universality to audiences.

"Priscilla, Queen of the Desert" – with its sparkly sets, catchy songs, touching storyline and happy ending – drew rave reviews and sold out shows as the LGBTQIA company premiered in October. Out Front's second offering, "A Kid Like Jake," reaches for a different kind of universality.
A cast of four helps tell the story of Greg (Justin Dilley) and Alex (Lauren Megan McCarthy), a couple desperate to place their young son in the right Manhattan school. Facing fierce competition for each available spot, they must decide whether to emphasize what makes Jake "different" – that he may be transgender – to gain an edge with prestigious schools where diversity is a priority.
While every parent may not have a transgender child, all parents can relate to the struggle to determine just how far we'll go to ensure our children's success. And that's the kind of relatability Conroy is aiming for.
"I think 'A Kid Like Jake' may be a common story to some, but it is told through a perspective that is not the norm," says Conroy, the theatre's producing artistic director. "Parents who may or may not have a child from the LGBTQIA community can look at the piece and connect with it like any parent could. Am I making the right choices for my child? How do I know who my child will become and how my choices will impact them? These are universal parenting questions that this show addresses."
Stay-at-home mom Alex seeks guidance throughout the application process from Judy (Lisa Boyd), head of the preschool Jake attends. Greg's uncertainty rankles Alex – who also is dealing with an unexpected pregnancy – and tensions rise among the three as Jake's behavior deteriorates and the list of acceptable schools shrinks.
The child never appears in the play, which allows the story to unfold from a strictly adult perspective.
"Looking at a story of who we are on the inside from the viewpoint of the people who birthed and raise us as opposed to a first person perspective reaches new horizons of understanding," Conroy says.
Only four actors are featured in the performance. Kasie Marie Slay, who plays the nurse, also appears in an unexpectedly beautiful dream sequence which adds depth to the emotional appeal of the show.
"Without a doubt, this is a show that will make you think and talk," Conroy says. "I think the universality of the piece speaks for itself. Everyone who sees this show is going to take something different away with them. It's not a production that you just let wash over you. It's impossible to say for certain what each audience member will take away from it, but I think that shows the power and the beauty of the piece."
Conroy, former artistic director at Newnan Theatre Company and general manager at Serenbe Playhouse, says Out Front will continue its mission to entertain and educate its audiences by telling stories of the LGBTQIA community from a variety of vantage points.
"We don't want to tell the stories only when they are popular or easy or expected," he says. "For however many years we into the future we can exist, we will continue to evolve with the LGBTQIA community and movement. But we will never forget the stories that came first. We believe having a strong mission will help us find our identity with local audiences and artists and hopefully add to our longevity."