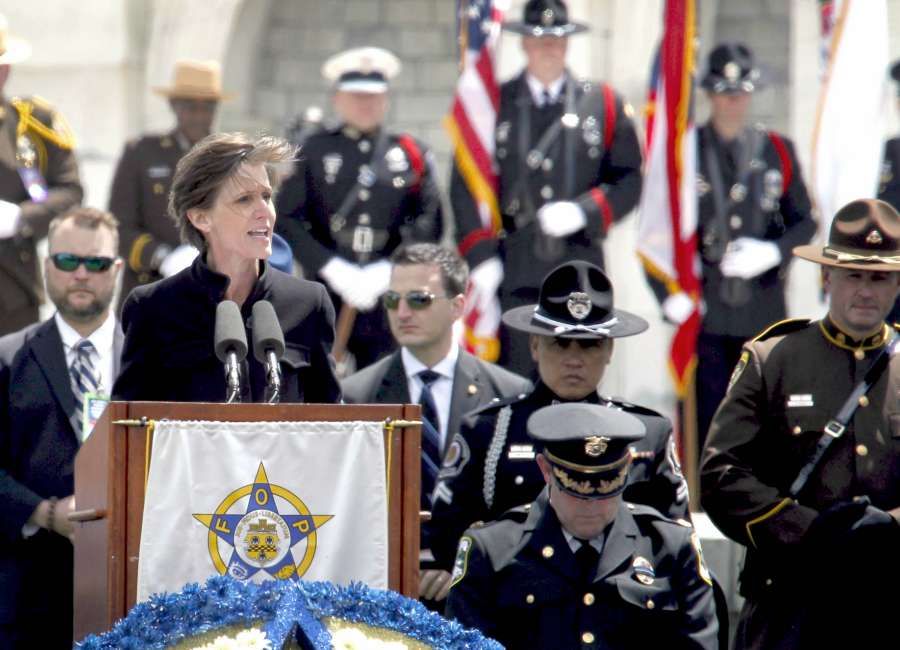 Sally Quillian Yates, the acting attorney general fired by President Donald Trump on Monday, has ties to the local area.

Yates grew up in Atlanta. Her family tree includes an early Coweta County settler, a governor from Meriwether County, a longtime Coweta Circuit judge and several Methodist pastors who served churches in and near Coweta County.
Trump fired her Monday, accusing her of betrayal and insubordination.
Yates, who was appointed by President Barack Obama as deputy attorney general in 2015, publicly questioned the constitutionality of Trump's controversial refugee and immigration ban and said the attorney general's office would not defend it in court.
Yates' firing came hours after she directed Justice Department attorneys not to defend the executive order, saying she was not convinced it was lawful or consistent with the agency's obligation "to stand for what is right." Trump soon followed with a statement accusing her of having "betrayed the Department of Justice by refusing to enforce a legal order designed to protect the citizens of the United States."
Jimmy Glenn, vice chair of the Coweta County Democratic Party, said Yates' actions were discussed at a meeting of the county committee Monday. 
"Relief was expressed that the Department of Justice, under the leadership of Sally Quillian Yates, chose to not to defend an executive order deemed unlawful and outside of the department's responsibilities," he said.
"Later in the evening, shock was expressed that President Donald Trump has brought 'The Apprentice' style of management into the executive branch," Glenn added.
Glenn noted that during Yates' 2015 confirmation hearing, Yates said, "I believe that an attorney general or deputy attorney general has an obligation to follow the law and the Constitution and to give their independent legal advice to the president."
Yates' statement was in response to a question from Sen. Jeff Sessions, Trump's nominee for attorney general. The Senate Judiciary Committee voted 11-9 Wednesday to send Sessions' nomination to the full Senate where he is expected to be confirmed by the end of this week.
Brant Frost V, chairman of the Coweta County Republican Party, said he felt Trump acted properly, describing Yates' actions as "a publicity stunt," claiming that Democrats had more skill at grandstanding.
He said attorneys general have a responsibility to advise the president, but also to step down if they cannot fulfill their duties.
"She could have quietly resigned. She could have quietly stonewalled," he said.
Frost also said he hopes Yates will be a Democratic candidate for governor next year. Georgia Republicans would paint her as a politician that refused to keep potential terrorists out of the country, he predicted.
However, political reporters in Atlanta who have covered her for years say she has never made public any political leanings and that she is generally respected by leaders in both parties in her home state.
 
"Like many Georgians, I have the utmost respect for Sally Yates, but I fully support President Trump's right to make this type of personnel change in light of the fact that he is trying to protect Americans," said Sen. David Perdue, R-Ga. 
Trump named longtime federal prosecutor Dana Boente, the U.S. Attorney for the Eastern District of Virginia, as Yates' replacement. Boente was sworn in privately late Monday.
Trump said his order had been "approved" by Justice Department lawyers. However, the department has said the Office of Legal Counsel review was limited to whether the order was properly drafted, but did not address broader policy questions, according to the Associated Press.
While growing up in Atlanta, her father, John Kelley Quillian, served on the Georgia Court of Appeals from 1966-1984. His father, Joseph Dillard Quillian, served on the Georgia Court of Appeals and on the Georgia Supreme Court.
Yates' mother, Xara "Mickey" DeBeaugrine Terrell Quillian, was born in Greenville. Mickey Quillian was the daughter of Joel Hood Terrell, son of Judge James Render Terrell and nephew of Gov. Joseph Meriwether Terrell, both of Greenville.
The step-grandmother of the judge and governor was Huldah Boozer Russell Terrell. She came to Coweta County in pioneer days where she married her first husband, John B. Russell, part of a large movement of Scot-Irish people who came from South Carolina as Coweta County was opening to settlers.
The Quillian family is peopled with lots of lawyers and Methodist clergy. Judge A. Quillian Baldwin, who was chief judge of the Coweta Circuit when he retired last year, is, like Yates, a descendant of Asbury W. Quillian, who was once a pastor in Carrollton.
A file on one Asbury Quillian, who was a minister in the United Methodist Susquehanna Conference stated, "The Quillian family produced over a dozen Methodist ministers, many of them quite prominent, starting with … James Quillian (1793-1869) of the North Georgia Conference."
Family members who pastored in the local area include J. W. Quillian, who was pastor at First United Methodist Church of Newnan in 1906-1907, and Henry Milton Quillian, who pastored Luthersville United Methodist Church and Prospect, now renamed Allen-Lee United Methodist Church in Lone Oak in 1895.