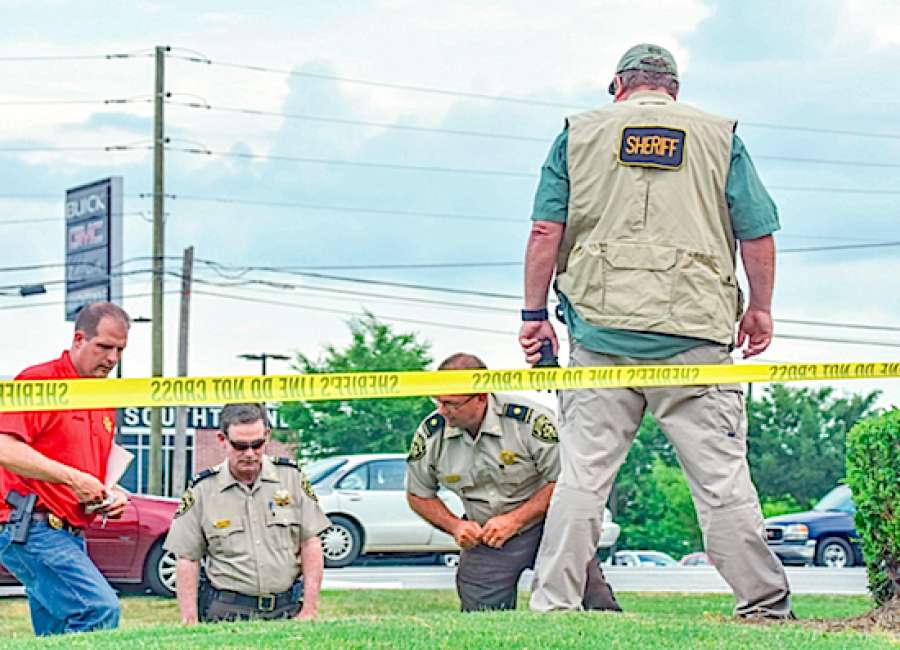 Across the state of Georgia, all law enforcement officers employed by the state are enjoying a 20 percent raise in their paycheck this week.
The boost in pay proposed by Governor Nathan Deal last year will provide raises for 3,300 state troopers, Georgia Bureau of Investigation agents, prison guards, parole officers and natural-resources rangers.
The raises, the governor said, were the result of watching some of the state's best-trained officers leave for higher pay at other agencies or for local police departments.
However, many of Georgia's sheriffs claim they are witnessing the same talent migration on the local level.
Coweta County Sheriff Mike Yeager says he has seen several deputies leave for jobs at the state and federal level after the county has spent a considerable sum to train and certify them to serve and protect locally.
The sheriff's office currently has eight people in the police academy in Columbus - the largest number it has had in the academy at once, Yeager believes. The patrol division has also been testing a number of applicants who are already state certified, many who are also leaving smaller agencies that can't match what Coweta is offering.
"I talk to sheriffs in smaller counties whose jail officers make $9 an hour and deputies make $10.50. Frankly, I don't see how they're making it," Yeager said. "Sure, public service work may not pay the best, but these people have passion for it, and we need to find ways to ensure better pay so we don't lose them."
Finding A Way
In 2016, Coweta County undertook a nine-month compensation study to evaluate positions and salaries of employees. It was the first compensation study done since the 1990s, according to Patricia Palmer, Coweta's community and human relations director.
In the end, consultants determined that 2 percent of current county employees were getting paid more than comparable employees in similar counties. Fifteen percent were getting paid less than they should, and the other 83 percent were within the salary range that the consulting company recommended.
According to Palmer, 911 communicators, corrections officers and deputies were a primary focus.
"We wanted to make sure that our salaries would benchmark against other communities," said Palmer. "We wanted to compare competitively and remain competitive in order to maintain and recruit quality employees."
Prior to the study, the starting salary for a state certified deputy was $32,961. Now, the starting salary is $40,199 – a 22 percent increase. Detention officers went from $29,000 to $35,700 annually, and the raises brought the average pay in the sheriff's office to just under $36,000.
County Administrator Michael Fouts said the study stressed the need to retain and recruit quality employees.
"We haven't undertaken a task like this since the early 1990s, and there have been significant changes in the scope of the role law enforcement since then," he said. "We had to take that into consideration along with the nature of public safety and what it has evolved into."
In the city of Newnan, police have seen incremental raises in pay since 2012, according to City Manager Cleatus Phillips. Using the same compensation study team, the city discovered its pay of police is in range with other areas the same size as Newnan.
Comparing the city with areas like Peachtree City, LaGrange, Douglasville, Griffin, Stockbridge and McDonough, the consultants determined the average salary of a police officer was $1,133 higher in Newnan.
A policeman in Newnan can start off between $34,922 and $54,143, depending on experience.
At Georgia State Patrol Post 24, Sgt. Mike Adcock is also concerned about the numbers regarding recruitment and believes the recent move by Deal will help get the ranks of his post back up to where he would like.
Addressing The Need
The post is down to nine troopers despite being responsible for covering Coweta, Heard and Fayette County. It's a little less than half of the 15 troopers that Adcock believes are needed to adequately cover the region.
"Those counties are growing, and we certainly need more manpower," he said. "We're hoping that the pay increase will help move us forward into changing that."
But while things are looking better in Coweta, the average starting salary for a deputy sheriff in Georgia is around $29,900 while detention officers start at $25,300, according to the Georgia Sheriffs' Association. With the 20 percent increase, the starting salary of a Georgia State Patrol trooper will now be 55 percent higher than a typical deputy sheriff in Georgia.
"The bigger areas who have the budget and resources, they are able to address the issue of losing personnel to state and federal agencies," said Terry Norris, executive director of the Georgia Sheriffs' Association. "But for those other areas where you have the $10- and $11-an hour employees, it's a phenomenally sad occurance to see."
Following Deal's announcement last year, the Georgia Sheriffs' Association adopted a "local law enforcement compensation reform" effort to continue the conversation about pay and resources for officers who aren't employed by the state.
The association plans to push for legislation during the current session of the General Assembly which would ensure that all local police, deputies, detention officers and sheriffs would receive minimum salaries competitive to the ones offered to state employees.
A few of the strategies proposed by the association include a minimum starting salary for police, jailers and deputies, a special sales tax dedicated exclusively to funding salaries and benefits, and a state income tax credit for full-time corrections officers who earn less than $40,000.
However, Fouts said such a broad move might not be the best plan, and each county should be allowed to tackle the issue in a way that works best for it.
"I would caution legislators on setting a standard across the board," he said. "You can't look at salary alone. You have to look at other factors such as the cost to the local government. Self-governance is a very important aspect of all of this."
First Responders vs. Support Agencies
While Norris said he appreciated Deal's efforts, it directly benefits a relatively small portion of the law enforcement community.
"The state law enforcement agencies that (Peace Officers Standards and Training Council) recognizes such as GBI, State Patrol and Department of Natural Resources, is comprised of around 1,600 people," he said. "When you talk about how many make up local police, county deputies and sheriffs, it's a combined 28,000."
In 2016, state law enforcement agents made a little over 21,000 arrests, according to the Georgia Crime Information Center, while police and deputies made 408,000 arrests.
"It's no secret that local law enforcement are always the first on the scene and are the first responders of law enforcement," Norris said. "While we appreciate everything that state law enforcement does, they are support agencies. They don't answer 911 calls. They support local enforcement once something is discovered."
And while pay is certainly an issue for anyone considering a career in law enforcement, the current political climate isn't making things any easier, according to Yeager, who chairs the state council.
In 2016, Georgia experienced approximately eight line-of-duty deaths for peace officers – placing it 4th in the nation just behind Texas, Louisiana and California.
"Don't get me wrong. We're very grateful for the raise that Deal gave to troopers and for the recent raise we saw in Coweta," Yeager said. "But across the state, many counties and cities aren't as fortunate as we are, and the discussion needs to be started."
****
Clay Neely: clay@newnan.com, @clayneely