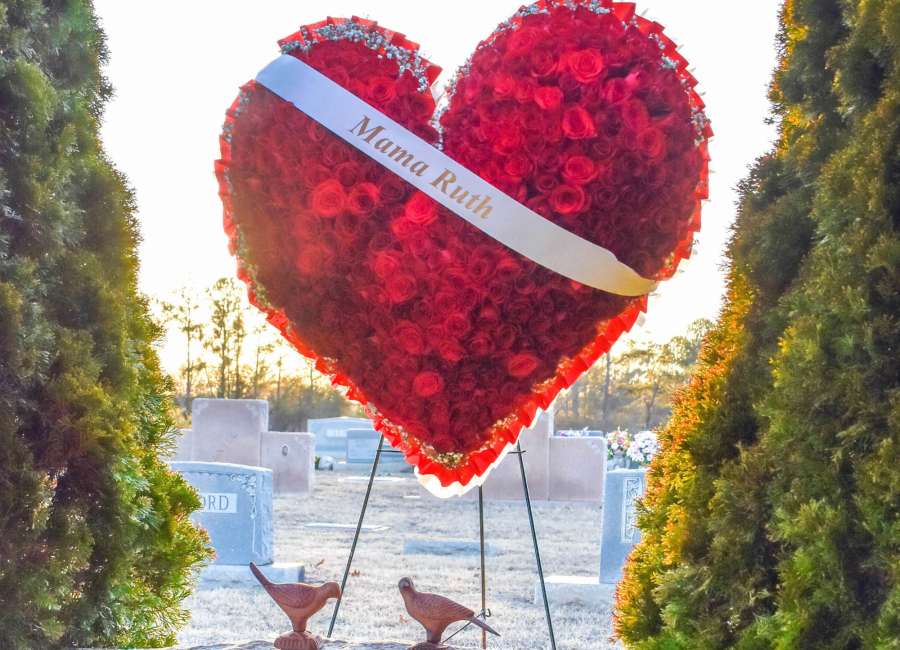 Hundreds filled Central Baptist Church on Thursday to pay tribute to Ruth Musick Jackson, known best as "Mama Ruth" to friends, family and fans of her son, country music star Alan Jackson.

Jackson, 86, passed away peacefully last weekend in her Newnan home – a place immortalized by her son throughout his career.
As the five Jackson children spoke about the long and well-lived life of their mother, they recounted how elements of music, humor, love and compassion for all people helped lay the groundwork their upbringing.
And while the occasion marked the passing of the Jackson matriarch, to the family, it also symbolized a long-awaited reunion between Mama Ruth and her late husband, Joseph Eugene "Daddy Gene" Jackson, who died 17 years ago.
"They were truly one," recalled daughter Carol Jackson Glover, as memories shared of Mama Ruth were interwoven into those of Daddy Gene. "I can think of no better tribute to them other to live a life just like theirs."
Connie Jackson Davis expressed her gratitude for having parents like Daddy Gene and Mama Ruth whose marriage gave their children a model of respect, doing their best and seeing the good in all people and events in life.
"She taught us to do our best, and not be like the rest, and they both were our best role models," Connie said. "We're so very grateful that they will be together in heaven again."
The oldest sister, Diane Jackson Dawson, recounted her mother's love for all animals and finding the value in all living things.
"She knew every person had a story to tell and was worth hearing out," she said. "She treated everyone with the same respect in a time long before schools were integrated and courts enacted more laws to try to tell us what she already knew."
Cathy Jackson Wright echoed the same sentiments – citing the quality upbringing she and her siblings enjoyed. The Jackson home was a place where where music was omnipresent and singing was "as natural as breathing."
"Home has always been special to us – having the same home as the one we grew up in," she said. "Alan offered to buy or build them a new house, but they declined every time."
The independence granted by the Jackson parents helped the children grow up with pride and dignity, Wright said.
"It was a real 'Leave it to Beaver' type of upbringing, and there was no favoritism," she said. "They didn't meddle, and we were blessed to feel the trust our parents had in us."
The youngest sibling, and last to speak, was Alan Jackson. In his remarks, he acknowledged his love for music probably originated in the personal songbook of Mama Ruth – often singing the songs of a post-World War II America during their childhood.
In their household, the Jackson children were witnesses to a relationship between man and wife that showed infinite love, patience and dedication.
"We look back and wonder how they raised such good kids," he said. "They were just good people who knew how to do the right thing. It's not about money or your career. It's how you lived your life. They're good people, and that's what trickled down to all of us."
Seventeen years ago, Alan attended his father's funeral and marveled at the turnout. A mechanic by trade, Daddy Gene wasn't a superstar or a celebrity, but he seemed to enjoy a life of happiness and success many would envy, according to the singer.
During his father's service in 2000, he sang a song personally written for him. On Thursday afternoon, he repeated the honor for his mother with a special song written only the day before.
In the past, Jackson has sung for presidents of the United States and at the funeral for country legend George Jones. However, the occasion of his mother's passing was "the toughest gig yet," he said.
After singing "Where Her Heart Has Always Been," he was joined by the rest of his siblings in a performance of "I Want To Stroll Over Heaven With You." Son-in-law Lamar Wright closed the service with a rendition of "Beyond The Sunset."
"We know that each of you were in her life and she loved you all," Wright said.
****
Clay Neely: clay@newnan.com, @clayneely