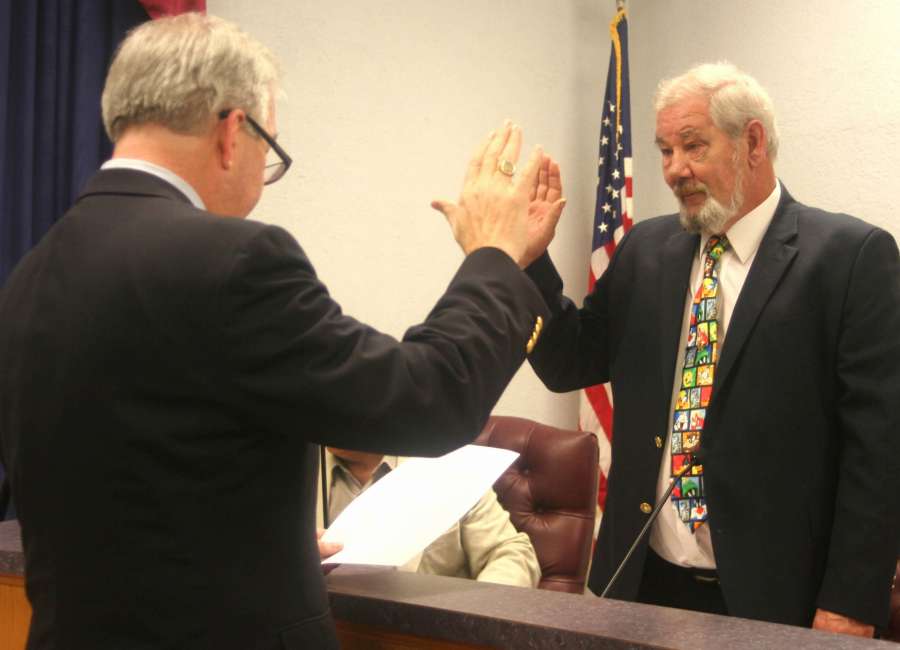 Mark King has an appointment next month to get training for his new job as a member of the Grantville Council.

King received congratulatory handshakes from his fellow councilmen after he was sworn in and officially filled an empty seat at Monday night's council meeting, even though one member of the council opposed his appointment.
King was appointed by the council earlier this month to replace Councilman David Riley, who resigned effective Oct. 31 after serving one term that began January 2014. Riley said he and his wife had sold their house and moved out of the city.
Councilman Leonard Gomez nominated King, which received a second from Councilman Willie Kee. Councilwoman Ruby Hines was opposed to King's appointment and nominated Grantville resident Rolf Docterman.
King said he is "honored to be on the council."
The council approved King to attend the Georgia Municipal Association's 2017 Newly Elected Officials Institute and Training in Macon Feb. 23-24. The training focuses on the legal, financial and ethical responsibilities of city officials.
The Georgia General Assembly passed legislation that requires all persons elected since 1990 as members of a municipal governing authority to attend and satisfactorily complete the training, according to the Georgia Municipal Association website.
In other business:
The council approved the memorandum of understanding between the State Road and Tollway Authority and the city which allows law enforcement and administrative personnel to use Peach Passes, so they're exempt from toll payments.

The council authorized the Historic Preservation Committee to apply for federal grants.