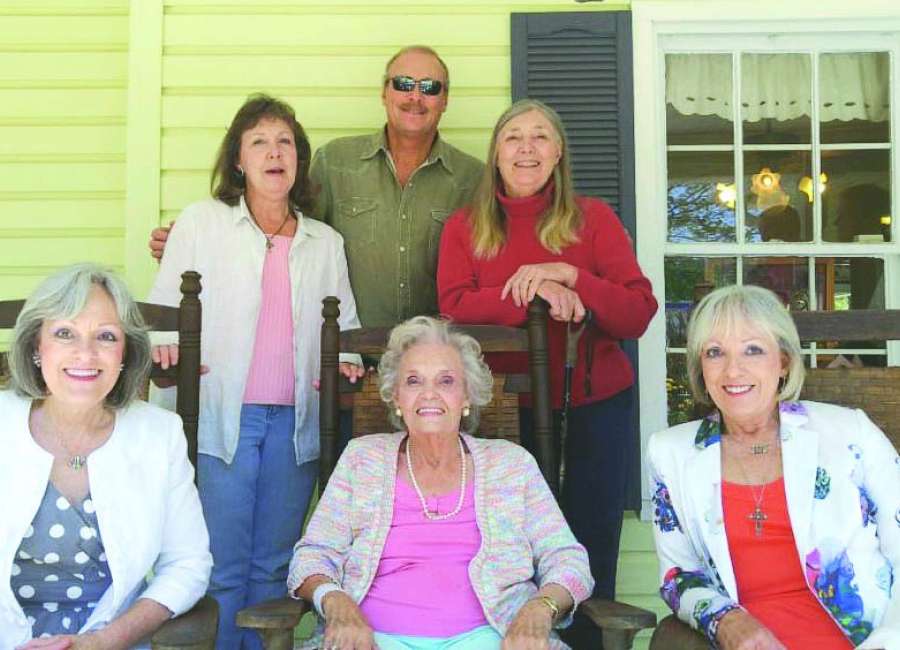 Ruth Musick Jackson's story was told in a country song when her superstar son, Alan, recorded "Home" in 1990 on his debut album, telling about his parents and their home that began as a tool shed. 
On Thursday, each of her five children will tell stories about their mother at her funeral service. 
"Mama" Ruth Jackson passed away Saturday at the age of 86. 
After Ruth Musick and Eugene Jackson eloped when Ruth was 16, they moved into that tool shed on Franklin Highway. As their family grew, so did the home. 
When Alan, the youngest, was 2 years old, Mrs. Jackson took a job in the cafeteria of nearby International Playtex. 
Childhood friend Elizabeth Beers, who had been the maid of honor at the Jackson's wedding, was working at Playtex at the time and got her the job, Beers said. 
Jackson then moved to Elm Street Elementary School, where she was a beloved cafeteria manager and dietitian for 22 years. 
"She was one of the neatest women I've ever seen," said Nelda Boren, who taught first grade at Elm Street in the '70s. Boren remembered Jackson talking about singing and water skiing. 
And oh, the food. "She could take the simplest material that she had and make the best food out of it," Boren said. 
"She was always telling us stories about Mr. Eugene and the things that they did," Boren said. "I thought it was great that she cooked like she did and, at the same time, could sing like she did and spend time with the kids and water ski and get to the river."
Her cinnamon rolls were particularly famous. 
"One of the things I remember that was just so beautiful… they would come on the PA and say 'Mrs. Ruth has just baked some hot cinnamon rolls. If you have a minute, come on in and get a quick cup of coffee and one of her cinnamon rolls,'" said June Rutledge Duncan, who taught at Elm Street for approximately 20 years. 
"I remember how much it meant to everybody at that time," Duncan said. "You'll never know how much something like that encourages you, when you're striving, you're working hard. You're loving being with the children, but it was just something special for you."
With those cinnamon rolls, "You just think, right away, she loves me," Duncan said. 
"She was a wonderful person. She was just like a mom at the workplace and we just loved her to death."
Jackson was always very supportive, Duncan said. "You sensed that she was always there to help. She wasn't there just to cook food." Duncan particularly remembered that kind, listening ear after her husband died. 
The schoolchildren were fond of her, too. 
"All the children loved her and they sensed the love she had for them," Duncan said. "She cooked like our mommas used to cook. They felt her love through the food."
After Duncan heard of Jackson's death, she pulled out the cookbook that Ruth and Alan Jackson published in 1995, "Who Says You Can't Cook It All," and started looking through it.  
After Eugene and Ruth retired, they enjoyed traveling the country with friends and members of the Coweta Creek Jumpers Camping Club. As Alan's country-music career skyrocketed, their world suddenly included evening gowns and tuxedos, limousines and award shows, according to Jackson's obituary. 
After Mr. Jackson's death, Ruth Jackson and daughters Diane Dawson, Carol Glover and Cathy Wright, both Carol and Cathy's husbands, and one non-family member, David Kinrade, formed a family bluegrass and gospel band, the Straynotes. 
Ruth Jackson's stepmother, Vera Ellis Musick, was a classically trained pianist and had a great influence on Ruth and the family with their appreciation of music. She was responsible for a lot of good things in young Ruth's life, according to Beers. 
Ruth and her father moved down the road from Beers in 1940. Ruth's mother had died and Ruth and Elizabeth, known then as Beth, became close friends. 
Beers decided to attend Newnan High School instead of Sargent High School. After she graduated and got a car, several friends, including Ruth, wanted to go to Newnan High as well, so Beers would drive them. 
And it was in a history class at NHS that Eugene Jackson winked at Ruth Musick, Beers said. Ruth's parents would only let her double date, so Beers recalled many double dates with the young couple, who were very much in love. Eugene had graduated and had a job, but Ruth was just 16. 
"One Friday, Ruth said, 'Would you like to go with Eugene and me to get married?'" Beers said. "I don't know how she slipped out of the house in a 'getting married' dress."
The group met at the Greenville Street home of Erva Lee Copeland, who had set everything up. 
After Alan became a superstar, people would love to come by and see the home where he grew up. 
Beers did tours in Newnan and had several people ask if they could tour the Jackson home. "I asked, and she said sure," Beers said. 
She remembers one woman admiring a plant by Jackson's back door. Mrs. Jackson grabbed a shovel and dug up a potion of it for the woman to take with her. 
"She delighted in it. She was so happy to share," Beers said. 
Thursday's funeral will be at 2 p.m. at Central Baptist Church. Visitation will begin at 12:30 in the church fellowship hall.