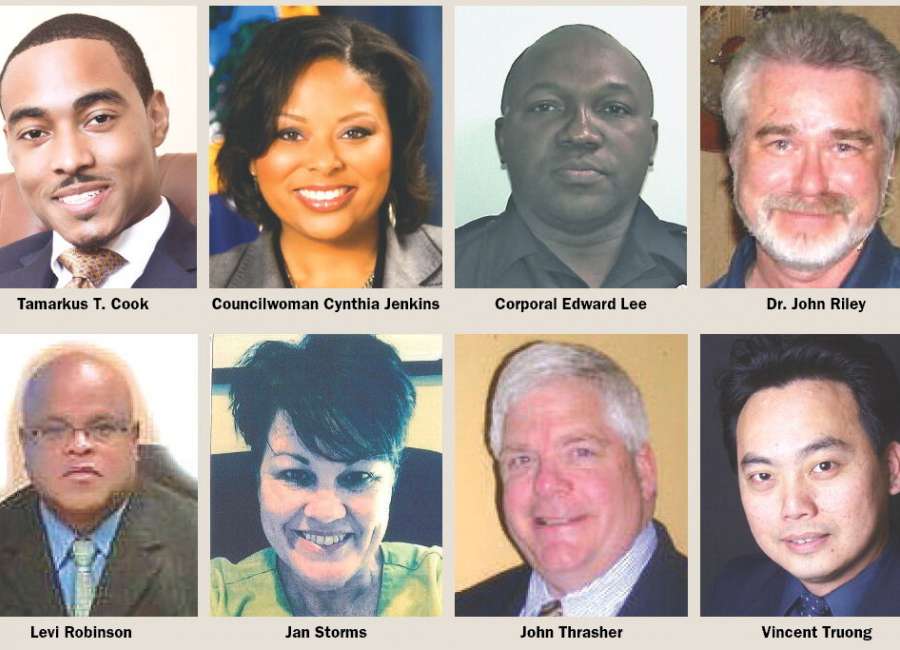 One of the highlights of the civic year in Coweta County is the announcement of the Citizen of the Year, and the nominees for 2017 have been announced.

The nominees are Tamarkus Cook, Cynthia Jenkins, Edward Lee, John Riley, Levi Robinson, Jan Storms, John Thrasher and Vincent Truong. The award is designed to honor an individual with outstanding leadership and citizenship within the community, someone who has demonstrated exemplary vision, civic pride and a strong commitment to a better Coweta.
Nominations opened in October.
The winner will be announced when the Kiwanis Clubs of Coweta host the Citizen of the Year dinner on Thursday, Jan. 26 at 6:30 p.m. at the Coweta County Fairgrounds at 275 Pine Road in Newnan.
Tamarkus Cook is the senior pastor of Saint Smyrna Baptist Church in Newnan. After graduating from Morehouse College and entering the world of corporate banking, Cook answered a call to the ministry.
He is a graduate of the Gupton-Jones College of Funeral Service and serves as director of community and client services for Sellers-Smith Funeral Home in Newnan. This August he will enter the master of divinity program at Emory University's Candler School of Theology.
Cook is a member of the Emerging 100 Black Men of Atlanta, the NAACP, the Coweta County School Board Community Advisement Board, the United Way Community Advisory Board, the Newnan Development Authority Board, the National Baptist Convention USA, the National Baptist Convention of America and the Morehouse National Alumni Association.
Cynthia Jenkins, a graduate of East Coweta High School, earned her bachelor of science degree in architecture from the Georgia Institute of Technology.
Serving on the Newnan City Council since 2004, she is currently mayor pro tem. Jenkins founded the Newnan Youth City Council and also works for affordable housing in Newnan. She has worked with the community on efforts to turn the historic Howard Warner High School into a community center and to renovate and improve Lynch Park and Lynch Park Pool.
Jenkins was honored as Professional Woman of the Year in 2001 by the Neweta Chapter of the National Association of Negro Business and Professional Women's Clubs, Inc.; Unsung Hero in 2003 by the Coweta Press Club; and was the Coweta/Fayette Chapter of Omega Psi Phi Fraternity's 2004 Citizen of the Year. Jenkins is the owner of C.E. Jenkins Construction.
Corporal Edward Lee serves as community relations officer with the Newnan Police Department.
Since taking the job in 2015, Lee has initiated three programs aimed at youth: Guitars Not Guns, an eight-week program that provides foster children and at-risk youth with an alternative to violence through guitars and music lessons; tennis lessons offered through an NPD partnership with the Southern Crescent Tennis Association; and the Explorer program, which gives youth an opportunity to develop an interest in law enforcement and improve leadership skills, citizen engagement and teamwork.
Lee has also worked with One Roof, Meals on Wheels, Bridging the Gap, Habitat for Humanity, Special Olympics and the Babies"R"Us Safety Day car seat check. Lee is also a veteran who proudly served in the U.S. military.
Dr. John Riley is the senior pastor of Macedonia Baptist Church in Newnan, where he has served for 20 years.
He has been active in the development of youth in his church and in Coweta County, including leading yearly youth retreats to enrich young people's spiritual lives. For 17 years, he has assisted Newnan High with its annual spring musical, and Riley and his wife have accompanied Newnan High students on trips with the drama team and other activities.
Riley holds weekly Bible studies with residents at Wesley Woods, and he regularly visits the hospital and rehab facilities of Coweta. An accomplished musician on the guitar and other string instruments, he has held several educational seminars about the instruments in Coweta and surrounding counties.
Levi Robinson is the founder of Advanced Technology Logistics, Inc. in Newnan, recognized as one of the industry's fastest growing small businesses providing an array of services in administrative and medical support, information technology, logistics, training and professional services.
In 2015, Robinson was named Small Business Owner of the Year by the Atlanta Tribune, and he was a finalist for the Newnan-Coweta Chamber's Small Business of the Year Awards in 2013, 2015 and 2016. A retired U.S. Army-Airborne Infantry soldier, he was a finalist for the 2015 Minority Vetrepreneur of the Year Award from Vetrepreneur magazine. Robinson also founded the Sharpsburg Stallions Youth Football.
He is an advocate for diversity in the business and youth community and aims to be a role model for young, disadvantaged males in Coweta.
Jan Storms is a hospice nurse in Newnan and serves as clinical service coordinator for Affinis Hospice.
A single mom for many years, she returned to school to become a registered nurse. She has been involved in her children's schools as well as other activities in the community.
The coworker who nominated Storms said, "Jan has a friend that has a grown son that is special needs and can't be left alone. Communication can be difficult with this young man, and it is hard for others to care for him … on several occasions this mother has been able to call for Jan to stay with him and she accepts without hesitation."
The coworker noted that Storms has even donated her kidney to someone in need.
John Thrasher, a Realtor with Josey Young & Brady Realty, is a past president of the Newnan-Coweta Board of Realtors.
He currently serves as treasurer of both the Newnan Cultural Arts Commission and the Newnan-Coweta Historical Society and is active in the Newnan Rotary Club and Newnan-Coweta Chamber. Thrasher chairs Global Achievers and has played a leadership role in cultural exchange activities between Newnan and Coweta County and communities in Scotland, England, Ireland and China. After graduating from UGA's Terry College of Business, he joined Georgia Power, where he supported outreach to the state's education system.
He moved to Newnan in 1990 and was named director of Georgia Power's Shenandoah Environment & Education Center. He was instrumental in establishing the University of West Georgia Newnan Center program.
Vincent Truong is the owner of Newnan's Dynasty Restaurant and an associate broker with Keller Williams Realty Atlanta Partners in Newnan.
He served as 2016 president of the Newnan-Coweta Board of Realtors and supports community groups including the Newnan/Coweta Boys & Girls Club and Habitat for Humanity. Truong came to America in 1981 and became an American citizen in 1984, graduating from Jonesboro High and then the Georgia Institute of Technology, where he majored in architecture and specialized in restaurant and residential design. He has been an active volunteer with the Newnan-Coweta Board of Realtors for the past five years, serving as a director or on committees, including serving as local director of technology.
He volunteers at Taste of Newnan with Main Street Newnan and is part of the Young Professionals Network.
A dinner buffet will precede the announcement of the winner. Tickets are $350 for corporate tables with preferred seating, $250 for tables of eight, and $30 for individual tickets. Tomorrow is the deadline for reserving individual tickets. Tickets can be purchased at SouthTowne Motors of Newnan, Lindsey's Inc. Realtors, Toyota of Newnan and the Newnan-Coweta Chamber of Commerce.
For more information, call Walt Gutierrez at 770-502-1333 or Nancy Walden at 770-596-6428.