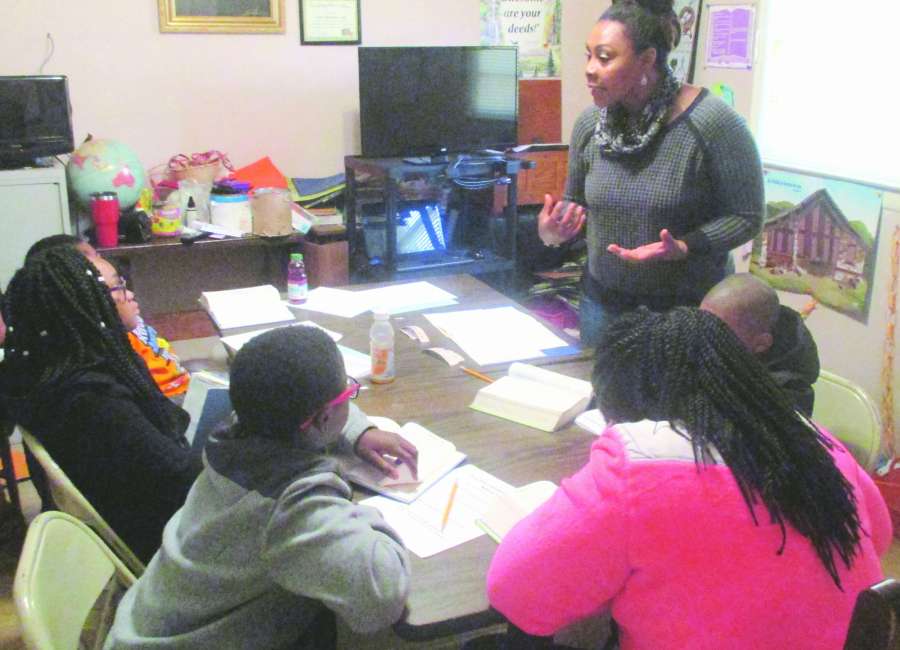 Vacation Bible School – it's not just for summertime anymore.
There was lots of camo at Clark Chapel United Methodist Church on Friday morning. Using the theme "The Armor of God – The Belt of Truth," a Bible Boot Camp was held at the church.
"The purpose of this is to train all children to be warriors for God," said Melissa Martin, the event's director.
Because of the theme, usual Bible school titles were replaced with military designations. Martin was the staff sergeant, and Alphonso Smith, the pastor, was the drill sergeant. In addition to pastoring, Smith is also a Coweta County commissioner.
Teachers of the graded classes – platoons – were platoon leaders. 
"We need to be trained in the truth, and the belt of truth helps us stand against Satan's lies," said Kesavia Smith, the pastor's wife and one of the platoon leaders.
The mini-vacation Bible school at the church in Luthersville was an outgrowth of a longtime project by Clark's United Methodist Women. Gwen Brown said the United Methodist Women have been distributing school supplies at the start of school for more than 10 years.
Methodist Women member Johnsie Reeves said members of the missions group realized last year that there was a need for a change. She described overall efforts to get school supplies to students in August as "saturated."
Lots of different groups give supplies in August, but Clark members became aware there was a need when the second semester got underway. 
"They would be starting over in January," Reeves reflected.
The women looked for a way to replenish empty bookbags as the new year began, Reeves said. The Bible Boot Camp brought children together for a morning of fun and learning during their break from regular school. The event ended with distribution of bags with age-appropriate supplies in them.
The Methodist Women at Allen-Lee Memorial United Methodist Church in Lone Oak helped with the bookbag effort, and the Allen-Lee congregation was represented at Friday's wintertime Bible school.
"It is a lot in the hours we have, but we're going to try to squeeze it all in," Martin said as the Bible Boot Camp got underway. 
She told the youngsters there would be a time for Bingo and for arts and crafts.
She also urged recruits to listen to the platoon leaders as Bible truths were taught. 
"We're going to ask some questions, and you might win a prize," she said.
The program included breakfast and lunch. Jaelin Bussie, 4, let out an involuntary "mmmm" during breakfast as he enjoyed a pancake with syrup. 
"That's really, really good," he said.
While winter Vacation Bible Schools are a new thing in this area, they are not completely new. A Lutheran ministry in Texas has offered a winter VBS for a couple of years, reaching out to Chinese-Americans at the Chinese New Year.