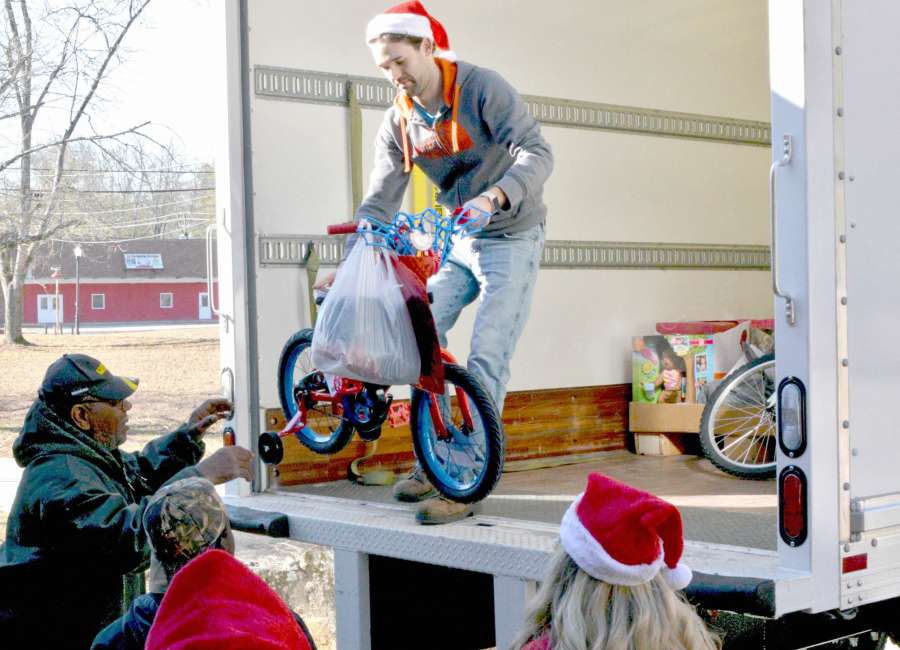 Every November and December for over 30 years, a small group of local elves – and dozens of Cowetans – work together to bring a bountiful Christmas to hundreds of local foster children, as well as the senior citizens under the care of Adult Protective Services. 

It's The Joy Project, and it's not just about toys. 
Each child gets three toys, as well as clothes: two full outfits, shoes, pajamas, and a coat. And it's all brand new. 
"We give nothing used at Christmas," said Frances Smith, adoptive mom and former foster parent, who has been running The Joy Project for around 15 years since its founders, Nadine Gaddy and Kathy Broadwater, retired from the Division of Family and Children's Services. 
Each child fills out a wish list with up to three toys. High dollar items such as game systems and computers aren't allowed. 
The wish lists go out to local individuals, churches, and companies, and shoppers get to work. "We never have a shortage of anything – anything," said Smith. 
"I want to thank the people of Coweta, because they are good," said Alma Duke. Duke spent 30 years as a bookkeeper with DFCS, and has been working on The Joy Project for 15 years. 
"They take care of our kids. We even have people that help our children from Peachtree City," Smith said. There are certain people who give large numbers of gift cards every year, including gift cards for iTunes and GameStop. One woman who lives in Atlanta and has no children buys $1,500 worth of gift cards each year, she said. 
For many Cowetans, it's part of their Christmas tradition. 
"There are some people who, if they don't hear from me within a certain period of time, they call and say 'Where is our letter?'" Smith said. 
"It is the highlight of our year," said Ingrid Kimbell of Yokogawa. "Everybody is so excited," she said. People are coming up to her in the fall and asking if she has the names and the wish lists yet. 
Some employees will cover a child's entire wish list. Others will band together, or sometimes a certain department will sponsor a child. This year was the biggest yet, said Jason Hahn of Yokogawa.
"This is what Christmas is all about," said Penny Yokoya of Yokogawa. A group from Yokogawa came to deliver a truckload of presents. 
When The Joy Project first started, some foster children were having to sleep on the floor at the DFCS office, Smith said. 
Gaddy and Broadwater "knew the kids had no Christmas. And there was no money allotted for it," Smith said. "It started with them collecting gifts at DFCS."
Over the years, the gift collection got bigger and bigger, and before long, "we had to start trying to find a building," Smith said. 
These days, a building is always donated, and Newnan Utilities always turns the power and water on for free at whatever location is chosen. 
And the collection has expanded from just foster children. It also includes the "child protective services" cases through Coweta DFCS. Those are situations where the children are still with their parents but DFCS is involved because there are some problems. Usually the family just needs a little help. 
Adult Protective Services has legal custody of senior citizens and disabled adults at risk of abuse, neglect or exploitation. 
"One lady brought me some beautiful lap blankets and other things to give to the elderly," Smith said. 
She recalled that one elderly lady didn't have a specific Christmas wish. "She just wanted someone to give her a gift," Smith said. Any gift. 
As the gifts come in, Smith and the other volunteers – nearly all of them members of her family – pack each bag individually. The items go into a large black trash bag so that the children can't see what's inside. 
"We work together as a  family. We all help each other. And I think that is why it works so well," she said. 
The gift bags are sorted by case worker, and each case worker comes to pick them up and deliver them to families. Every bag has to be signed for – and every gift card has to be specifically signed for. If a foster child is getting a bicycle – and there was an entire room of bicycles this year – sometimes the foster families will come pick it up directly, instead. 
The lists keep coming in, as new children come into foster care – until just a few days to go. 
"It's right up to Christmas. We will probably be working until Thursday," Duke said last week. Because the caseworkers give out the gifts, they need at least one day to do it. 
Some Coweta children are in foster care placements far from home, so the caseworkers deliver the gifts on their monthly visits. 
In addition to the items purchased specifically, there's a large stock of just-in-case extras – shoes, boxes of clothing, dolls. There are a lot African-American dolls, because there is a big need for those. 
For the past two years, one woman brought in a lot of the dolls. This year, she's doing gift cards. 
"So we've been shopping for the black baby dolls," Smith said. "If we give out of Barbies and we go to fill a list, some how, some way, the Barbies show up."
"Every time," said Shameka Smith, Smith's daughter-in-law. 
That's how it goes with The Joy Project. 
There's one woman who is on standby to buy things that are lacking. If there is a special need, such as an extra large pair of shoes for a teen boy, there are a few people who are ready to step up. 
This year, it was a set of size 14 shoes. "I don't know where they got them, but they got them. They also bought pants and shirts," Smith said. 
"Whatever we need, when we need it. It's just like somebody reads our minds, and there it comes," Smith said. "We are never short on anything. I think it's because we do the right thing and we do what's right with all of our stuff."