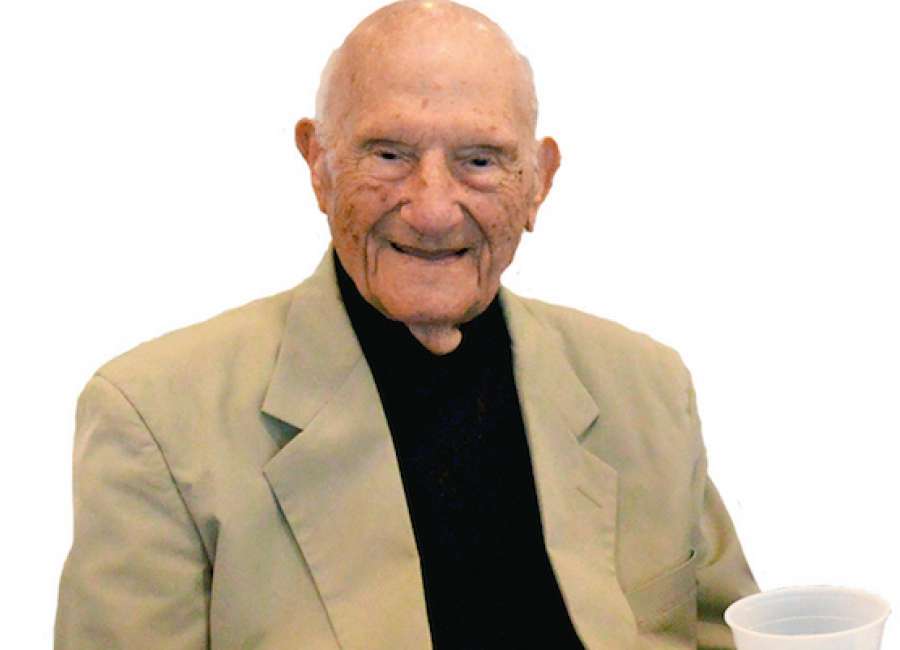 Mariano "Pops" Rotelli, who at 107 was Senoia's oldest resident and the oldest man in Coweta County, died Sunday night. 
Rotelli made international news after his 107th birthday party at the East Coweta Senior Center in October. He told reporters that he had been drinking a shot of whiskey in his coffee every morning for the past 100 years. 
The story was published by news websites and radio stations all over the United States, and was featured on news sites in Brazil and the Czech Republic. It was particularly popular with alcohol-related sites, and even merited a post on the "Food and Wine" Facebook page.
Rotelli's son-in-law Bill Tyre made the announcement at Monday night's Senoia City Council meeting. 
"I want to express our deep gratitude to the mayor and council and to staff," Tyre said. "I also want to commend the emergency response team – the EMTs, fire department and the city police department for their professionalism and kindness in response to recent emergencies. 
When Rotelli turned 100, Councilman Larry Owens, now the city's mayor, procured letters from then-Sen. Mitch Seabaugh and Gov. Sonny Perdue, congratulating Rotelli on his milestone, Tyre said. 
"He was truly a special man," said Owens. "Our heartfelt condolences go out to you."
Rotelli moved to Senoia in 2003 to live with his daughter Nancy Tyre and her husband Bill. He was born Pennsylvania, the fourth of five sons of parents who had immigrated from Italy. He and his brothers went into business together, operating a fruit and vegetable distribution company that grew to employ several hundred people, his daughter said. 
"It was beautiful. They all got along and just worked, and then they sold the business," she said. In Senoia, "he has made our life exciting," she said in October.
In addition to that morning tipple, Rotelli attributed his longevity to his attitude – and avoidance of doctors. 
"I went to the doctor three times in 100 years. He's dead. I'm still living," Rotelli said at his birthday party on Oct. 19. "Make every day a holiday. Have nothing to worry about. Live to be 100. That's it."