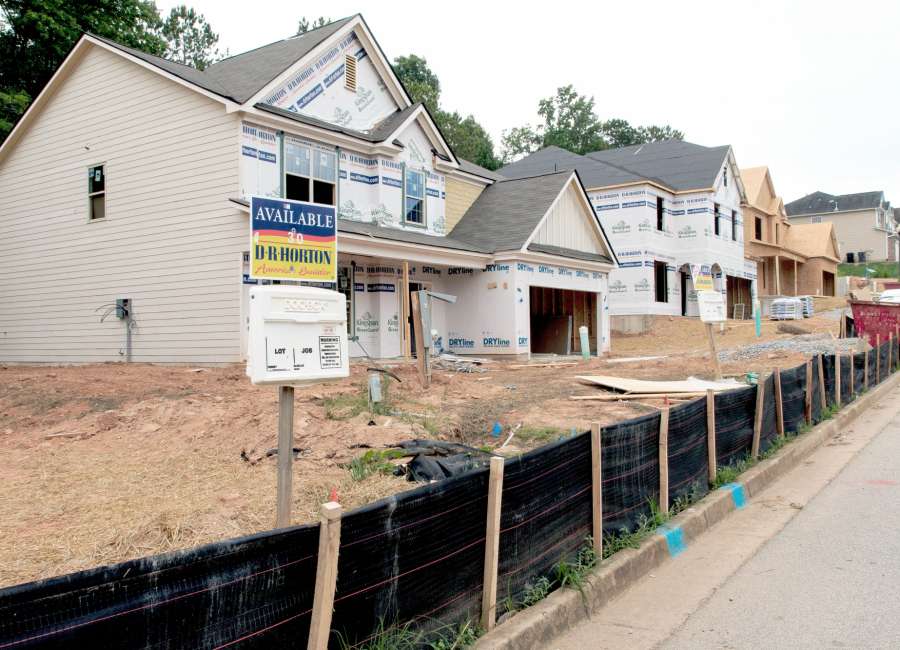 The real estate market has seen steady growth in Coweta County recently, and new construction is being seen more and more throughout the county, although home sales are not uniform.

Coweta will end the year with 844 permits for new, single-family houses, according to the Georgia State University Economic Forecasting Center.  Permits for multi-family units -- apartments, condos and retirement homes -- will total 301. That compares to 348 single-family permits in Fayette County and just 15 for multiple units. Spalding County is even more tepid with only 209 permits for new house construction and none for apartments.
The Coweta market is vibrant for one primary reason, experts say.
"New homes will be built, and the growth happening here, primarily because of the good I-85 infrastructure in comparison to other neighboring counties," said Pitts Wilson, real estate agent with Berkshire Hathaway.
The university is forecasting the local building boom will continue. It foresees 2 percent more single-family permits next year followed by an additional 3 percent on top of that in 2018. Coweta's growth is expected to outpace the rest of metro Atlanta, according to Rajeev Dhawan, director of the Forecasting Center.
"Additionally, we expect interest rates to rise steadily beginning in 2017, which could impede sales, especially as lot prices rise," he wrote in his quarterly outlook which warned of dropping permit levels next year for the region as a whole.
The increased housing supply locally hasn't prevented prices from rising for new and existing residential property.
Where it's hot
Prices for Newnan homes have increased 5.2 percent in the past year to reach a median price of $168,000, according to Zillow.com, a real estate data website which characterizes the Newnan market as "hot." It predicts prices will rise another 4.4 percent next year.
That makes Newnan's market among the strongest of surrounding cities that range from Griffin's "cool" 6.6 percent rise where prices average $95,000 to Carrollton's 7 percent jump where the median is $122,000. LaGrange prices have only crept up 3.1 percent to $99,900 while Peachtree City's 4.1 percent escalation brought the median there to $292,600. Yet, Peachtree City's market is considered "very hot" because of the level of demand.
Within the Newnan market, there are differences, too. The zip code 30263 of downtown enjoyed a 9.2 percent upward jolt to a $146,500 median price while the 30265 zip code on the eastside moved 6.3 percent to $199,700, according to Zillow. It labels 30263 as "warm"  and 30265 as "very hot."
Wilson said the reason for the recent residential demand isn't what many people think.
"The movie industry is not as impactful as everyone thinks it is, in my opinion, but I do think it helps," he said.
Wilson said new construction is springing up in Senoia and the Northgate district with homes in the $350,000-$400,000 range.
Wilson said anything in the Northgate School District is sought after diligently.
United Bank Residential Construction Specialist Yetta Richardson agrees.
"Builders want to build there," Richardson said. "Even though it's more expensive, I believe they feel it gives them more bang for their buck."
What brings people
She said an influx of people have been moving from neighboring Fayette County because of lower taxes.
"There's convenient accessibility to the interstate, and there's not a lot of new construction in Fayette because there isn't anywhere to build," Richardson said. "Most people building in Fayette are building on acreage."
Richardson said the school system is also a factor.
One of those new buyers is Sarah Wood Duncan, who moved from Fayetteville to Moreland in May.
"We wanted a better option on elementary schools for my daughter, and I wanted to be closer to work," she said. "I like the area. However, I'm not overly happy with the traffic going in and out of Newnan."
The different databases vary slightly in how they gather details and present different specifics for average prices and other metrics. Still, they all point to strong local activity.
According to Richardson, Fayetteville has less than a three-month supply of homes, meaning all the houses on sale currently would be purchased within three months at the current level of buying. The shorter the supply, the more upward pressure on prices.
Fayetteville had 214 closings year-to-date, mostly in the $350,000-$400,000 range, the banker said. Most of the sales were resales because of the shortage of new construction.
While Fayette County is short on supply, Coweta can pick up the slack. Richardson said Coweta as a whole has approximately three-and-a-half months of inventory. Most of the new inventory is between $300,000 and $500,000, but she said there is a need for more affordable housing in Coweta. She also said the price of land is very expensive because of the demand.
"The market is so saturated with high-end inventory, which makes it harder to move," she said. "The market needs more affordable housing between the $125,000 and $150,000 range. This is more affordable for the people who work in Newnan."
Richardson said the 30220 zip code, which is Grantville, had homes that were closer to this price range. She said there is some inventory there, with a four-and-a-half month supply.
"This is a great starter market for first-time homebuyers because of the price point," she said.
•••
Measuring a market's health
What Coweta zip code has the "healthiest" real estate market?
Moreland's 30259 does, according to Homesnap.com, a real estate search platform which compiles data from the computerized multi-list system licensed brokers use. The main factor is the so-called inventory of unsold houses. The smaller the better because it shows homes are selling fast and there are relatively few available compared to the buyers active in that market.
Homesnap gives grade of 97 to Moreland's market, which it characterizes as "very healthy."
Grantville, zip code 30220, comes in second with a score of 80, or "healthy."
On the other end of the spectrum is the Newnan market for the 30263 zip code, which earns a 66, or what the website considers "barely healthy."
However, another measure of health is the portion of homes worth less than the amount owed in mortgages. By that yardstick, Newnan's overall market is indeed healthy, according to Zillow.com , which estimates 0.1 percent.