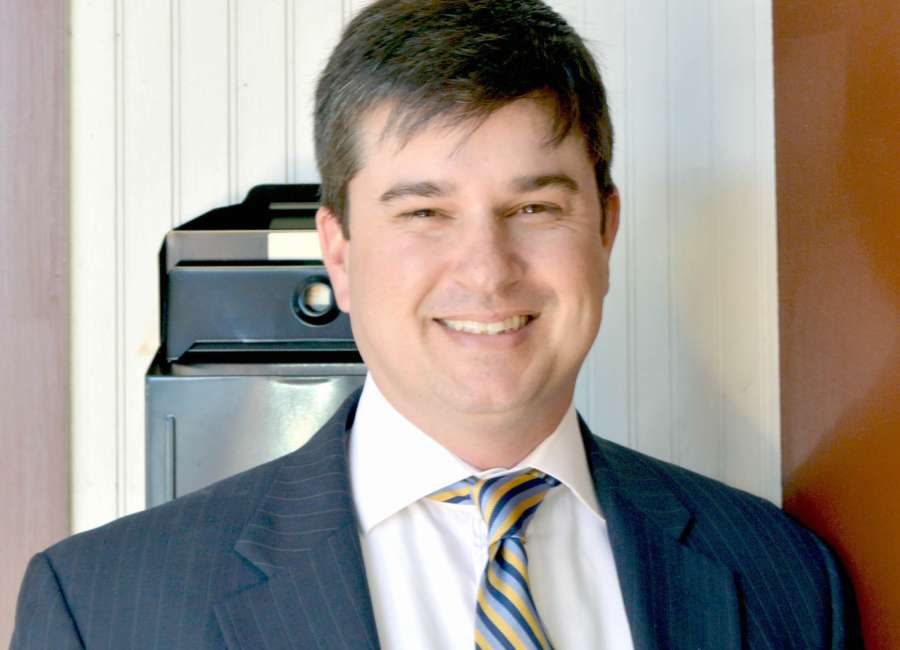 In 2011, Cowetan Matt Brass was one of several candidates in the special election to fill the Georgia Senate District 28 seat.
He didn't win. Duke Blackburn and Mike Crane advanced to a runoff, and Crane was elected. At the time, it might have seemed like bad news for Brass. But it turned out to be a blessing.
And five years later, Brass is set to take office as the senator from the 28th district.
A few weeks before the 2011 election, the chief of staff for U.S. Rep. Lynn Westmoreland approached him and asked if he would be interested in working for the congressman if he didn't win.
During the campaign, Brass had met the congressman, a Coweta resident. Brass started off as a field representative, and eventually became Westmoreland's chief of staff, commuting with Westmoreland to Washington, D.C.
"I've told Congressman Westmoreland I'm so glad I didn't win (in 2011)," Brass said.  "Being able to learn from him taught me a lot of lessons."  
As a field representative, he learned about the constituent-services side of representative government.
"When people have an issue with a government agency, that is what you do. You are their voice. You try to solve their problems," he said.
If he had been elected five years ago, he wouldn't have known the importance of that, Brass concedes. Through Congressman Westmoreland's office, he helped thousands of veterans and thousands of people with Social Security issues, assisted with passports and helped people adopt children from out of the country.
"There are so many different areas where we have been able to help people. That is probably the most rewarding part of public service for me," Brass said.
Work to get a law passed may not show results for years. But the evidence of constituent service is immediate.
"When you help a veteran get the benefits that he deserves, that's instant gratification for him and for yourself," he said.
Growing up, Brass said he was taught the power of relationships. He talks about the need for a politician to build a network and be able to use that network to benefit the people represented – whether in passing laws or helping constituents.
He began his career before joining Westmoreland's office as a golf pro. He learned a lot of lessons on the golf course, too.
"There's the customer-service side of golf and the constituent-services side of policies," he said. "On the golf course, you're really managing three or four different businesses at once."
His soon-to-be ex-boss says he is equipped to do that well.
"Matt is going to do a great job representing us in the state Senate," Westmoreland said Thursday. "He has a solid political and policy foundation from years of public service and understands that relationships are the key to getting things done.
"I have no doubt that he is going to make the 28th district proud – and me even more proud of him than I am already."
When Westmoreland announced in January that he wouldn't seek re-election, Crane decided to run for Westmoreland's congressional seat, opening up the state Senate position.
Brass worked in D.C. from August of last year until he took a leave of absence in March to run for Senate. After the campaign, he started doing more work in the district again.
He learned a lot working in D.C. One thing he learned is that he really doesn't want to be up there.
"The politics has just gotten so divided up there," he said, adding that there is a cultural bias against compromise in the federal city.
With the new president, Brass said he's hopeful things will improve. He doesn't think the political divide could get much worse.
"There is no relationship in the history of mankind that didn't involve some sort of compromise," he said. "Our nation was founded on compromise. For us to move the ball forward, we're going to have to start. You don't compromise your principles. But you can't call everything a principle and say 'I'm not going to compromise.' And that's kind of where we're at."
Legislators typically get assigned to four committees. Freshman apply for eight that they would like to serve on.
Two large electrical plants, Yates and Wansley, are in the district, so Brass has asked for Regulated Industries and Utilities. He'd like to serve on Health and Human Services because Coweta is becoming a health care destination.
He's asked for Natural Resources and Environment, and Education and Youth, as well as Veteran's Affairs. Working with Westmoreland's office, Brass had a lot of interaction with the U.S. Veteran's Administration and local veterans.
He tempers his expectations about what he can accomplish right off.
"I've been a rookie before. When you're a rookie or a freshman, your No. 1 job is to learn the system, learn the process, learn how to be effective," he said.
Other than that, some issues he wants to work on include drawing more attention to the foster care system. Over the past few years, the state has put more money and effort into the Division of Family and Children's Services.
"For me, as a conservative, pro-life Republican, if I'm going to fight to keep children alive, I want to make sure they're living well while they are here," he said.
Many pro-choice people make the argument that there is nowhere for unwanted children.
"So I'd like to fix that because I am pro-life. Not just pro-life, but pro-good life."
A good life means helping them avoid landing behind bars, which can be the fate of too many former foster children.
"Our criminal justice system is overloaded right now. I think that foster care is a small piece of that," Brass said. "Anything we can do to help keep kids out of jail, help them get a job – a good job – I'm going to be all in on it."
When working for Westmoreland, Brass thought he might run for office again, so he decided not to take the federal government health care plan. Instead, he went out on his own to get a plan for himself and his two children – and pays a lot for it.
His wife gets insurance through her work, but adding family members would be even more expensive than Brass and the kids getting their own plan.
He tells Georgians struggling with health care costs, "I've literally felt their pain. I've been through what they've been through."
Because of the new presidential administration and the unknowns about the future of the Affordable Care Act, Brass said he doesn't expect much action on health care at the state level.
But he's interested to see what Congressman Tom Price of Roswell will do as Secretary of Health and Human Services.
"I'm no health care expert by any means, but I'm glad we've got somebody like Tom Price, who is. And he's from Georgia. So anytime we've got people in leadership who understand us as a state… I think that's better for us."
Brass is excited about taking office.
"I'm a Georgia boy," he said. "I love my state, and I love the people in it. I feel like I can do more at the gold dome than I can up in D.C."