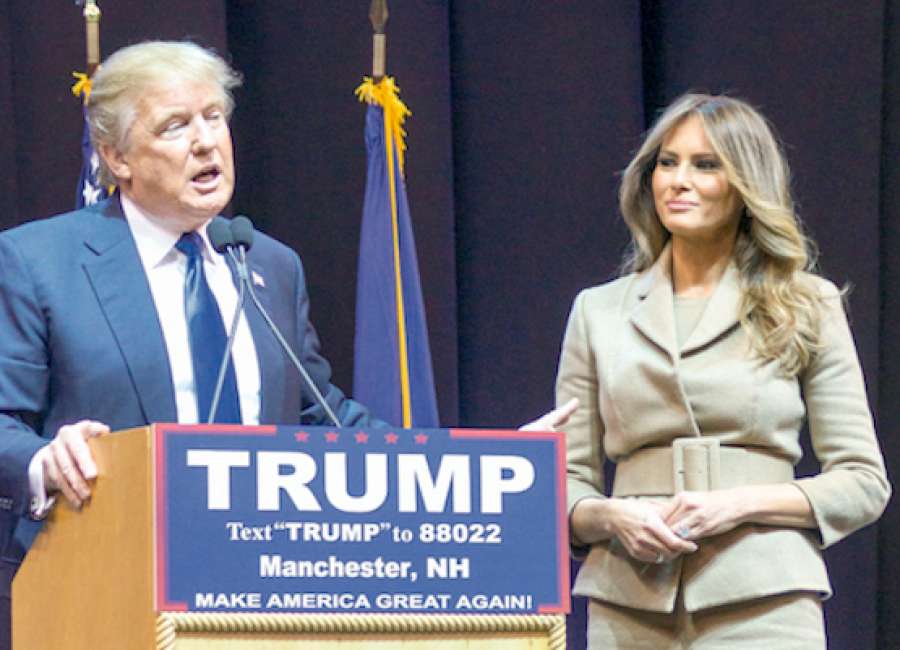 The announcement that Melania Trump will remain in New York – at least until her son finishes this school term – has raised some eyebrows, but her decision is not without precedent.

One first lady never made it to the White House during her husband's residence there. Several others – including two who had family members visit Newnan – took a social back seat at the White House, allowing others to preside at dinners and receptions.
Since Jacqueline Kennedy tackled the restoration of the White House, the first lady's role has grown. Each subsequent first lady has had a project – among them Lady Bird Johnson's national beautification efforts, Nancy Reagan's drug abuse prevention programs and Laura Bush's literacy push.
Mrs. Trump has already said her project will be to preventing bullying – with a focus on cyberbullying.
The president-elect told NBC News that his wife and son Barron are expected to move to the White House "right after" Barron's school year is completed. An Associated Press report also noted there is uncertainty surrounding the prospect of Mrs. Trump and her son ever leaving New York City for Washington.
Trump himself prompted doubt about the family's plans to fully relocate with his continued preference to return home to Trump Tower whenever possible, according to AP, although the president-elect confirmed to NBC News on Sunday that he intends to live in the White House.
Should Mrs. Trump choose to spend much of her time elsewhere and to let others handle the traditional White House hostess duties, she would join a long line of president's wives. Margaret Taylor, one of the first ladies whose kin came to Coweta, "saw nothing attractive in the surroundings of the White House," noted Laura Holloway Langford in her 1881 book, "The Ladies of the White House."
In the modern era, there is no reason to think the White House will operate much differently without a resident first lady. The East Wing's bureaucracy will keep churning along. State dinners will still be scheduled. Tour groups will be accommodated, and the White House residence will be cared for by a team of butlers, housekeepers and florists.
"The White House adjusts to its occupants, and the occupants adjust to the White House," Anita McBride, an adviser in the George W. Bush administration who served as chief of staff to Laura Bush, told AP. "It's different, but, like everything in this election, the playbook is being rewritten every single day. The role of first lady is really defined by each occupant."
There may be fewer initiatives from the first lady's office in the first few months of the administration, but McBride predicts the Trump team will nonetheless hire a staff for his wife and roll out programs eventually. For the ceremonial functions, McBride said, "What I'm hearing is that when and if needed, Mrs. Trump can get here to be able to participate in events, but he also has other members of his family who can support her in those duties."
Trump's older daughter, Ivanka, played a major role in her father's campaign. There also is a younger daughter, Tiffany, whose mother is Trump's second wife, Georgia-born Marla Maples. The president also has two daughters-in-law.
Many first ladies have fantasized about escaping the national spotlight, Gil Troy, a historian at McGill University and author of "The Age of Clinton," told the Associated Press.
"It's the unspoken expectation that the presidency is a family, and certainly a couple's responsibility," Troy said. Without his wife and youngest son in the White House, Trump "might end up missing all those little touches and all those sources of happy news that actually can boost a president."
The presidency is one of the loneliest jobs in the world, he added. "Having your spouse around can be very normalizing. … The first lady can give a little bit of wind to the political sails of a president, so they should be conscious not to lose that opportunity."
Technology is also making it easier for Melania Trump to be at the White House less – and yet fulfill traditional first lady duties.
When Laura Bush traveled, her staff was capable of working with her from afar to arrange big events, Bob Scanlan told the Associated Press. Scanlan was a florist in the White House for 13 years and worked for the Clintons, the Bushes and the Obamas.
"There were incidences where there were dinners coming up and we would take photographs and the social secretary would email them to the first lady if she wasn't in the house to see the mock-ups," Scanlan said. "With technology, it's a lot different."
"There is a certain continuity," longtime White House pastry chef Roland Mesnier told the wire service. "We had administrations where a first lady was not too involved with the run of the place because she was interested in other things" – notably, Rosalynn Carter and Hillary Clinton, he said. "It worked fine. Frankly, the social secretary knew very well how to run the place."