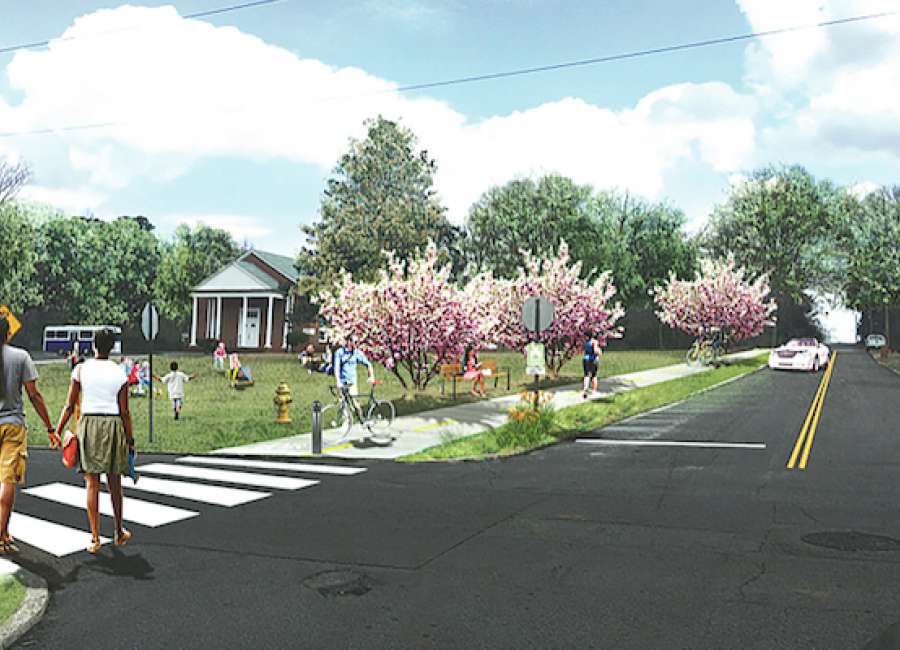 Newnan is getting a linear park, a relatively new concept that uses walking/biking trails to connect neighborhoods.

The Atlanta Beltway and Carrollton's GreenBelt are two similar projects in adjoining counties, and there also are similar projects underway in LaGrange and in the south Georgia city of Albany. The Coweta Area Trail System (CAT) is being spearheaded by a citizens' committee, and the Newnan City Council voted a few weeks ago to enter into a $49,200 contract with two firms that have planned and designed linear park projects in Georgia cities.
Members of Friends of CAT are Parks Avery, Danny Beck, Tamarkus Cook, Hasco Craver, Tony Ferguson, Michael Fouts, Deborah Kalish, Sandra Parker, Cleatus Phillips, Ginger Queener, Clint Richmond, Jim Thomasson, Sandy Wisenbaker and Jean Wyant. Phillips is Newnan's city manager, and Craver is assistant city manager. Fouts is the county administrator.
Avery said Friends of CAT has already done some initial mapping and met with the PATH Foundation in Atlanta, which has been involved with "planning with a lot of these linear parks."
PATH, formed about 26 years ago, is a public-private partnership that has raised more than $100 million for linear park projects, Avery said. The Silver Comet Trail is an example of the success of Path's approach.


"That was their first big project," Avery said. "That goes all the way into the middle of Alabama now."
Newnan's contract authorizes work with PATH and with the Kaizen Collaborative, which designs projects. Kaizen's work includes the Atlanta Beltline, an island-wide project on St. Simon's Island and projects in Rockdale and DeKalb.
Where the money comes from
Total scope and cost of the Coweta project are not yet determined.
"That's what the study is for," Avery said. The study will determine "where should it go, what should it connect," he explained, and those factors will determine the ultimate cost.
Avery said once the study is completed, there will be a cost per mile estimate for the overall project.
While much of the funding will likely come from local taxpayers, supporters are looking at a variety of sources of funding. PATH will offer help in obtaining state and federal grants.
"We're going to make ourselves responsible for raising funds," Avery said. "We'll do different kinds of things to make enhancements to the project."
Friends of CAT will undertake projects such as selling sponsorships for benches on the trail to industries, businesses and individuals.
While linear parks generally connect different parts of a community and run beside or near roads, they are a "low-stress route separate from traffic," Avery said.
"There's a small buffer, but it's off the street," Avery said. "The buffer from the traffic is really important but also the greenery and the trees."
"The idea of these linear parks has been around for quite awhile, some of it associated with rails-to-trail," said Dr. Nancey Green Leigh, a professor of planning and associate dean of research for the Georgia Institute of Technology's School of City and Regional Planning.
She pointed to the success of the High Line, a 1.45-mile trail built on an actual abandoned railroad line in New York City. The project began in 2006 with the first phase opening three years later. Work continued in phases until 2014, and the project is credited with spurring real estate development in areas near the trail.
"It's been really applauded in the world of urban design," Leigh said.
"Systems like this have been developed in major cities around the country, partly to give recreation and greenspace to folks, partly to give people a way to move around cities without directly encountering cars," Leigh said. "So many of our communities have developed in such an auto-dependent way."
Financial, societal benefits
Because linear parks get people walking and often doing other types of exercise, there is a benefit that has both a human and an economic payoff. Leigh described the linear park movement as "part of the healthy communities initiative" and projects that encourage people to be active physically "ultimately lowers societal costs and medical costs."
Dr. Ric Chambers of A Better Way Counseling in Newnan enjoys recreation. He said the paths have lots of appeal. Local people will use them, but tourists also will search for them when visiting in the area.
"It's really for the majority of the citizens," Avery said. He said linear parks are designed for the 60 percent of the population who do not feel comfortable walking or biking on a road with traffic.
Statistics indicate 32 percent of the population will not use a linear park, and 8 percent do not feel a need for one as they already run elsewhere, likely with traffic.
"This is for the moms and babies and the senior citizens," Avery said.
As with any development, there are economic factors that must be considered for a linear park.
"It has to be paid for. How that is going to be paid for is a significant issue," Leigh said.
She said some projects have used tax-increment financing, with areas designated as tax districts and selling bonds to finance work.
Leigh said linear parks, however, usually create an increase in the value of adjacent properties.
"You have this great amenity right next to your property that could make it very attractive," she said.
Many projects similar to what is proposed locally have already seen areas with shops and restaurants pop up near linear park nodes. Developers working to attract young professionals to Coweta County say those young adults likely want linear parks or similar projects.
At business-development conferences, "all they talk about is amenities now," Avery said.
The linear park itself has value as an added recreational amenity. Pointing to businesses along the Silver Comet Trail and the Atlanta Beltline, Avery said real brick-and-mortar investment connected with linear parks can add to the tax base.
The appealing aspects of linear parks actually starts with building them.
"One of these linear parks is so much less expensive to develop than a (traditional) park. You're going to get a lot more bang for your buck," Avery said.
The linear park concept connects people and communities. The routes often run near schools, libraries and shopping centers.
A major focus is "getting people out and about, moving around," Avery said. The park also provides an alternative transportation option.
Leigh recently took a trip to Portland, Ore. which has a large bicycling infrastructure. "It's amazing how many people are bicycling," she said. "It's because they can do much of that being separated from the cars."
In places with the kind of traditional development like that currently in Coweta, people who might ride a bike to work often decide they do not want to deal with the difficulties of negotiating through auto traffic.
Linear parks open opportunities for people to use their bicycles for transportation – or to walk to closeby destinations.
"That's definitely what's happened in many of these communities. People have an alternative way to get to work," Leigh said.
The fact that a linear park can result in "fewer cars on the road," Leigh said, can also be something good for planners in growing areas like Coweta. The need for more roads and more lanes is reduced when fewer cars are on the road.
There also is a human connection that occurs from multi-use parks.
"Increased interaction with your neighbors – we see that on all the trails that we've used," said Avery, an avid cross-country cyclist.
In decades past, Southerners often greeted neighbors from their porches, but the advent of air conditioning has moved people inside. The linear park offers a new venue for neighbors to connect.
"You'll never see them in your yard. You'll never see them on your street, but you'll see them on the trail," Avery said.
Potential concerns
The fact that the trails are so popular even makes neighborhoods more secure, Avery said. More people are around to see what is going on, and people often come to know each other and to keep an eye on situations that look sketchy.
Concerns about crime along trails have been a concern. Decades ago – particularly when many trail projects were first being built along abandoned railroad lines – property-rights issues created conflict.
"It depends on how the path runs. Does it run by people's back yard or front yard? They may not be comfortable with having that kind of access from strangers," Leigh noted.
A study for the Maple City Greenway Trail in Indiana, done by the Eppley Institute for Parks and Public Lands at Indiana University, concluded: "Trail opponents sometimes claim that trails promote criminal activity, devalue neighboring property and are unneeded in the community. While research conducted in many places in the country, generally, has not confirmed opponents' charges, some opponents continue to dismiss the results of national studies."
Avery said he is being approached by landowners who want the linear park to go through their land. "This will be an enhancement," he said.
Avery said education about the project tends to gain supporters, rather than detractors.  "When you show people pictures of what you're doing, it removes a lot of angst," he said.
If people do have concerns about safety, property values – or anything else, there will be two public forums as part of the planning process.
The Newnan project has lots of company in Georgia. In addition to the projects in Atlanta and Carrollton, the LaGrange Thread is planned in 20 segments totalling 27 miles.
Albany is turning an old railroad bed into a path. That project will bring Albany citizens into downtown and to the Flint River.
While linear parks have appeal across a broad spectrum of the population because of their recreational opportunities and the potential economic benefit, there may also be other – more personal – forces at work.
"Things are shifting in a certain way," Chambers, the local counselor, said. "Maybe we are tired of being divided."
Avery said Friends of CAT will be looking forward to the results of the study and then ready to take the next steps to get the linear park started.
"We're there to push it along," he said.