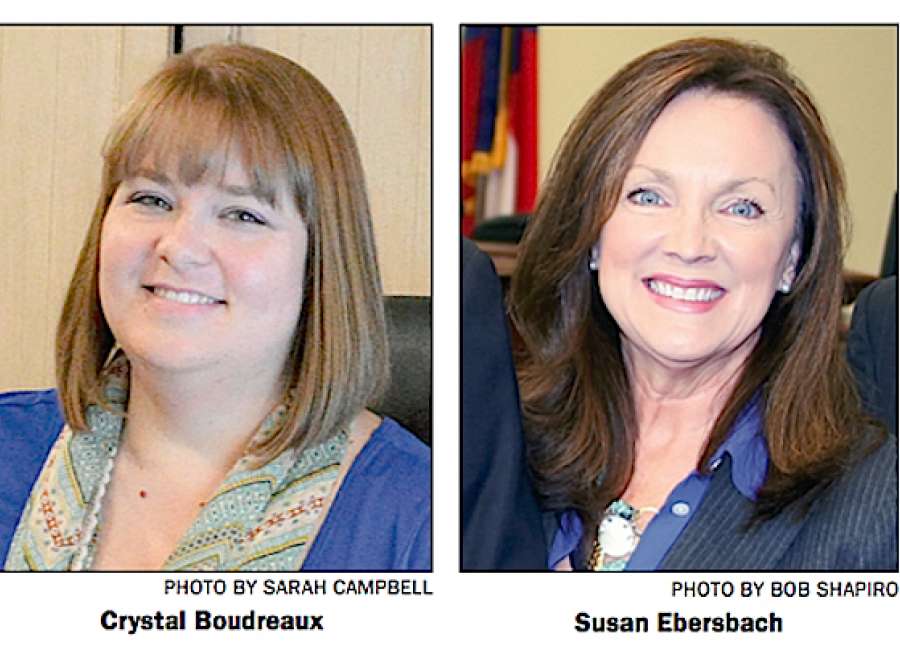 When Crystal Boudreaux first meets her young clients, "I ask most of them if they have ever had a lawyer before because they think that's kind of neat."

These clients are children in Coweta Juvenile Court who are dealing with the Division of Family and Children's Services, sometimes as young as newborns. Many of them have been removed from their homes and are in foster care or group homes. Some are still in their homes, but the state is involved through a protective order. Others are living with relatives or family friends after being removed from their homes.  
Every child in the custody of the state is appointed an attorney who serves as a guardian ad litem, a Latin term for guardians during a court case as opposed to typical guardians appointed to oversee a person's affairs long term. The guardian advocates for the child's interests and preferences.
The state has an attorney representing the Division of Family and Children's Services, and parents often have attorneys representing them.
So the children have attorneys, too. After all, they are a party to the case – the party with the most to gain or lose.
Being an attorney for a child going through a juvenile court dependency case is a job unlike any other. They're more than just lawyers.
Boudreaux has had young clients who ask if they can list her as their mentor. She has one former client who still texts her and recounts how school is going. She's taken clients to get their hair and nails done.
"On a day-to-day basis, the guardians are the ones that stay in touch with the kids. So if they need something or they have questions, we're the ones that they call," Boudreaux said, and the guardians put them in touch with who they need.
She can represent newborn babies or teenagers. With older children, she talks to them directly to find out what they need and how things are going. For younger children, she observes them, watches them play, talks to their caregivers.
She has a room for kids in her office where they'll color, play and talk. For some children, interviews go better at their home.
"They'll sit in their room and play with their toys, and they'll talk to you more. If I bring them in here, they'll shut down and stare at me," she said.
For older kids, the seriousness of an office environment can be better.
She'll also take the children out for ice cream or see them interact with other children.
"You never know how trauma or something they've been through is going to manifest itself," Boudreaux said.
The court's eyes and ears
Guardians ad litem are the advocate for a child and their voice in the system, said Susan Ebersbach, who works exclusively as a guardian ad litem in Coweta Juvenile Court. They make recommendations to the court.
"We are also the court's eyes and ears and hands" – in a way that no other lawyer is.
"As a guardian ad litem I can talk to anybody and everybody that ever touched that baby's life – the school, the pediatrician, everybody at (the state social workers office), all the doctors," Ebersbach said.
All it takes is the letter of appointment from the court.
For the guardian ad litem, there is no red tape, no worries about privacy regulations.
"Everybody involved in the process is on the same page. We are concerned about the best interests of the child," she said.
She can also talk to the judge at any time about an issue.
Seeking "normal" for their clients
Juvenile court is not as adversarial as other courts. It's more about teamwork. And a lot of what a guardian does is outside of court.
"As a guardian, I try to make sure the child is in extracurricular activities, in clubs at school. That they have as normal as possible of a life while they are in care," said Boudreaux.
She remembers having a child tell her that she wanted to go to a football game with her friends but couldn't because she was in a group home.
Things like slumber parties with friends, getting a driver's license, taking driver's ed can be very difficult when children are in state custody.
"I tried to work it out where she would be able to do some things with her friends that are a little more normal. That is what opened my eyes," Boudreaux said. "They need normal; they need positive visits and good interaction with people, the ability to make friends and have friends."
Advocates say having more foster families in Coweta would help. There are some group homes in the area they term superior, but it's not the same as being in a foster family.
At the end of September, the Coweta office of the state Division of Family and Children's Services had 129 children in foster care. There were also 79 ongoing "child protective services" cases. These are cases in which the children may be living with their parents or other family members, but the state is involved in some way. If there is a protective order case, the child is appointed a guardian ad litem.
Boudreaux said it is her understanding that there are no foster families in the entire East Coweta High School district. That means high-school age children who go into foster care would have to move to other schools. And keeping kids in the same school is a big deal for those who have already dealt with so much.
"It gives them just one thing that stays the same. They may have to sleep in a different room, but they get to see that same teacher every day, and these schools become stability for the kids."
She's seen kids come into care with only have one request – please don't move me from my school, Boudreaux said.
Boudreaux said she has to deal with a lot of people who don't trust the system.
"They don't understand the difference between a guardian ad litem and (a state social worker). They think we're all against them, that all we're wanting to do is take their children away," she said.
In her first meeting with parents, she has to explain that is not the case.
"I tell people: if you're doing what you're supposed to be doing and you're giving it your all, I will support you. I will point you in the right direction. And if you're not, I'm going to be the first person to tell you you're not doing it," Boudreaux said.
Boudreaux says that, when things get to the point that children are in foster care, parents need somebody who is going to call them to the carpet and let them know how they are hurting their children. When they don't show up to visits, for example.
"If a parent can't respond knowing that their actions are hurting their child, I think that is when (the state) has to take another step for the child," she said.
If parents don't want to do the work to get their children back, then something else needs to be done to figure out what is best for the child.
Under state law, a guardian ad litem's duty is twofold – to act as the child's attorney, and to advocate in the child's best interests. Usually, there is no conflict between those two things.
However, "if what the child wants is dramatically against their best interest, then I have a legal conundrum," said Ebersbach.
In that case, a second attorney will be appointed – one to carry out the child's wishes, and one to advocate in the child's best interest.
Having the attorney to advocate for a child's wishes is a fairly new development that came out of Georgia's reform of the juvenile code. The changes to the code took effect in 2013 and 2014.
Ebersbach said such a conflict has never happened in her nearly three years as a guardian. But it almost did once.
She had a teenage client who refused to go back to her parents.
"Not going back was against her best interests," Ebersbach said.
So, she went to Judge Joe Wyant about it. He suggested she give it a day or two before making any decisions. Teenagers can be very passionate, and sometimes after cooling off, they might change their minds.
And that's what happened.
"It was really one of our best-case-scenario outcomes," Ebersbach said. "That is where experience trumps knowing the letter of the law. And his experience was that this happens."
Helping children in a tangible way
Ebersbach decided she wanted to work in juvenile court when she was still in law school. But as she took jobs at various law firms, she always ended up working at the same one where the local juvenile court judge worked, so she was never able to practice in juvenile court to avoid a professional conflict of interest.
She took time off to raise her two sons, and became involved in Prevent Child Abuse Coweta. She learned about abused children who often seemed to not have a voice in the courtroom.
When she was ready to go back to actively practicing law, she decided to be a guardian ad litem.
"It's a perfect opportunity help them in a real way," she said.
Guardians work closely with CASAs – court appointed special advocates. CASAs are volunteers, and are assigned to one child or sibling group. A guardian ad litem may have more than 50 cases.
"We have a really good model going here because we have such a strong CASA group," Ebersbach said. "When I have a really good CASA with one of my guardian ad litem children, it's an opportunity for them to get involved in the child's life more personally, and it gives me more time to focus on the legal aspects of the case."
When she decided to be a guardian, Ebersbach went to a continuing-education course on juvenile court law, and heard a neurologist speak about the impact that trauma and toxic stress can have on a child. The doctor showed slides of the physical changes that toxic levels of stress can make to a child's brain.
Toxic stress can be sustained low levels of instability in a child's life, Ebersbach said. And these changes in the brain can affect decisionmaking when that child is a teenager and an adult.
"A lot of that is the explanation for why you have repeat offenders," Ebersbach said.
Sometimes, a guardian ad litem will be appointed to represent a parent in a dependency case. Ebersbach said every single one of her parent clients had some interaction with child welfare services while growing up.
Ebersbach said she was talking to her son about the neurological impacts on children and he said, "Mom, that is the most depressing thing I've ever heard. These children are predetermined for a life of crime and instability."
But that's not the way Ebersbach sees it.
"To me, it explains so much. If you can get to a middle schooler and say you may be predisposed to bad decision making because of this past… you can logic around it."
"I'm really big on being straightforward with children," she said.
She keeps things age-appropriate, but "these kids are wise beyond their years. You can't pussyfoot around that Momma's got a meth addiction. They know it. They've been cleaning up the mess for a long time."
She tells her young clients that the court proceedings are a way for their parents to get the best possible help. In a vast majority of cases – she estimates 90 percent – drug abuse is a big part of the disfunction in the family.
"I think it is really important that you talk to these kids as young as possible who have been living in the trenches with it," she said, noting that children tend to take the blame for their parents' problems. "I hope it helps them not to do that. If you talk about what Momma or Daddy is dealing with as an addiction, as an illness – it's not that they don't love you enough. It's that this addiction has such a hold on them."