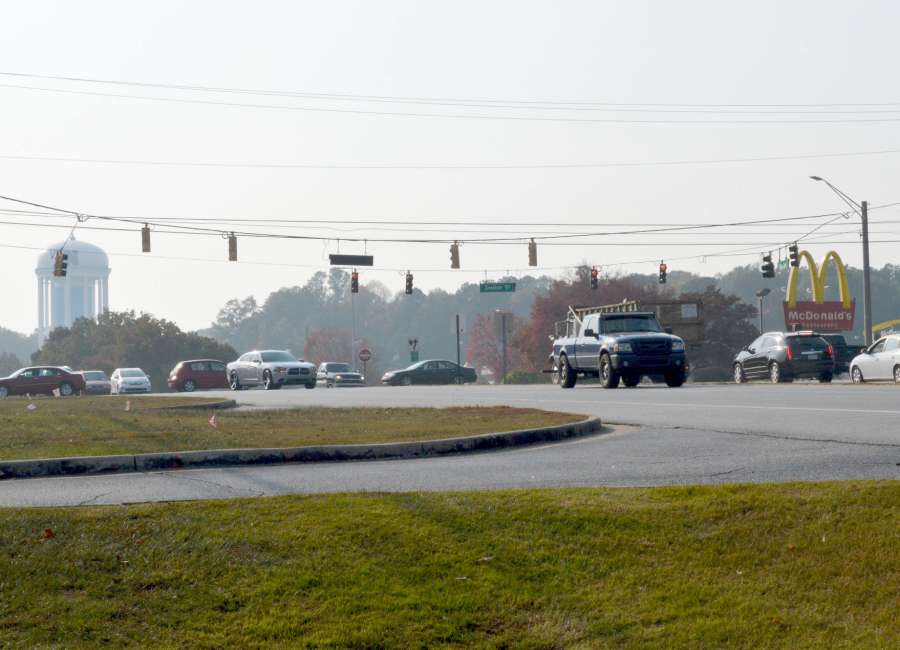 Use of fireworks in 110 of Georgia's 159 counties is now illegal, and will remain so until the drought lessens.

As smoke from wildfires in the north Georgia mountains triggered calls to local fire departments and reddened eyes of Cowetans Monday, Gov. Nathan Deal issued an executive order banning the use of "consumer fireworks" in those counties, which include Coweta. The areas of the state not affected are along the coast and southeast portion of the state.
The Georgia Forestry Commission won't be issuing permits for outdoor burning of debris such as limbs and leaves any time soon, according to Chief Ranger Terry Quigley with the Georgia Forestry Commission's Newnan office. Some permits are being issued for commercial land clearing operations.
There are no rules against campfires, but Quigley recommends against it.
"Don't get out there like a fool and try to have a campfire and go to sleep and burn your neighbor's house or your house down. It's just too dry," he said.
If you smoke, don't toss lit cigarettes – or anything else – out your window or onto the ground without making sure they are completely out.
Typically, the chance of a fire starting from a tossed cigarette is low. But these days, "anything that is burning will cause a fire," Quigley said. If a vehicle is parked on grass, even the catalytic converter can start a fire.
Until we get rain – serious, sustained rain – "just quit everything that's got anything to do with fire, unless it's a fireplace in your house."
In his 17 years with the forestry commission, Quigley said he's never seen things this dry. Even the roots are dry.
"Anything that is combustible can be consumed by the fire burning down until there is nothing left. It may burn 12 inches deep."
And falling leaves just make everything worse. For one, there's a nice carpet of dried leaves to catch fire and blow around.
When crews are fighting wildfires, they can plow or dig firebreaks that stop the fire from spreading. But "the next morning, the fire break fills up with leaves … new fuel falls and catches on fire again. You have to keep people on them constantly, day and night, to try to keep them contained."
As wildfires continue to rage in north Georgia and surrounding states, the forecast is for winds to shift today, meaning there shouldn't be as much smoke in the Coweta area. The Wednesday air forecast shows the smoke drifting farther east.
The air on Tuesday was considered unhealthy for sensitive groups in Coweta. Portions east of Atlanta had air that was unhealthy for everybody, and a larger portion of the metro-Atlanta area will have air that is considered unhealthy today.
Northerly winds in the 20 mph range are forecast for the weekend, meaning more smoke will be coming, Quigley said. Wind is also the enemy in firefighting.
The smoky air has been affecting people with asthma and breathing problems, and children can be particularly susceptible, because they breathe more air per body weight than adults, said Dr. Eugene Hurwitz with the Center for Allergy and Asthma in Newnan and Peachtree City.
"It's probably not a good idea for kids to exercise outside when the smoke is there," Hurwitz said. "It can trigger some respiratory problems even in healthy kids."
He recommends that people check the air quality each day, paying particular attention to particle pollution. You can check current and forecast air quality at www.airnow.gov.
Though they've been small, there have been fires in Coweta. There have been four fires that got out of control in the last two weeks, Quigley said. The people doing those burns didn't have permits, because no permits are being issued. So they are getting bills for the work that the forestry commission did to put those fires out. The bills tend to range between $200 and $500, Quigley said.
If people get caught burning without a permit, they're told to put it out, but are only billed if the fire gets out of hand.
"We're having two or three calls a day from people telling on other people," he said. "They're not trying to be criminal. Some of them just don't know. Or we have to believe them when they say that."
"One small little fire can turn into 10,000 acres. It's just too crazy to give it a try," Quigley said. "We're keeping our fingers crossed that we don't have anything bad here."
The Newnan office usually has four people – Quigley and three rangers. But lately, half the crew have been up north, fighting fires.
"They haven't given us any insight on when that may end – having to go up there," Quigley said. "And we're having our own fires here. All of this could happen here, at any time. And the rest of the state is dry."