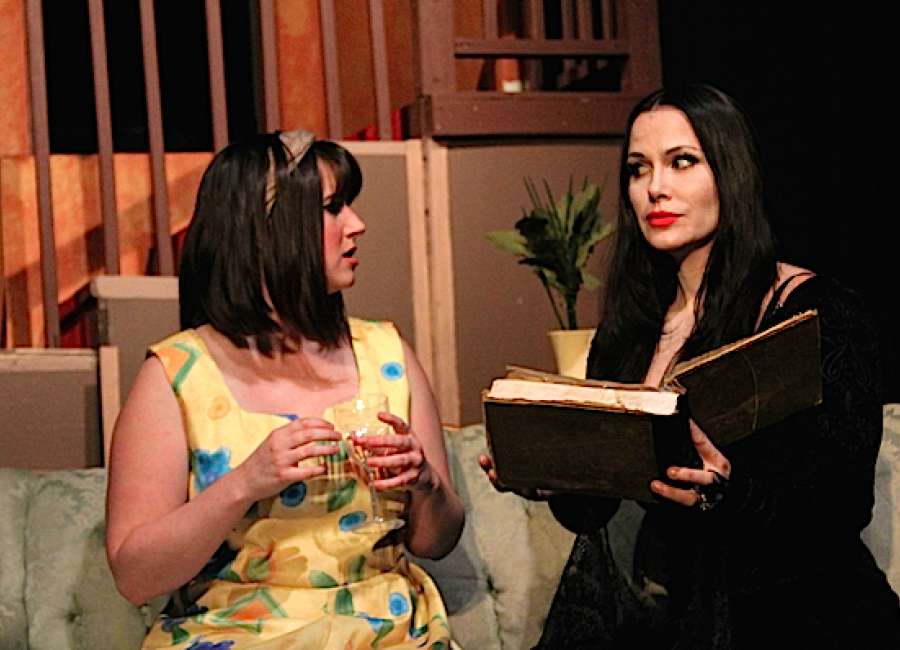 Perfect show for the season
– By Lee Woods
In the dark, a hand emerges… one solitary, disembodied hand… You know what happens next, and you can't help yourself: You snap your fingers.
That is, you snap if you're old enough to remember the opening credits from a television show of the mid-1960s- the quirky and clever Addams Family, a black and white comedy based on the "New Yorker" cartoons of Charles Addams, in which the various members of the Addams clan amuse through their macabre skew on life.
The new theatrical version is currently on view at Newnan Theatre Company. From the talents that created "Jersey Boys," these Addams sing and dance for us – yes, it's a musical. Classic television comedy, updated with song  - what could go wrong?
Well… quite a bit. The book of the show is thin; there are some zippy one-liners but they seem too few and far between. The music is catchy in the moment but never truly memorable – don't expect to leave the theatre humming your new favorite tune (Who thought it was a good idea to put two slow ballads back to back in Act Two?). Sadly missing in action are so many of the clever set pieces we all loved from the TV show: the crazy pets (remember their 'kitty cat' – the lion?), the man-eating plants, weapons and instruments of torture. Yes, we do have Pugsley in an electric chair and there's a short scene of Gomez and Lurch fencing, but it's just not nearly immersive enough. Finally, the plot itself is not nearly satisfying enough: Daughter Wednesday has fallen in love with (gasp) a normal boy, and it's a "Meet the Parents" scenario, where the grotesque Addams take on the outstandingly average Beineke family.
The cast works hard and there are some standouts. Grant Vickery is a darn good Gomez, playing the part with energy and focus (Frankly, I like him better in the role than Broadway's Nathan Lane). Emily Kimbell as the slightly neurotic, poetry-spouting Alice Beineke is in fine voice, taking her one big number and wiping the stage with it. Rachel Wise fills out Morticia's trademark gown like a pro, handling her song and dance numbers with ease. Christie Lamb as Wednesday gets a lot of stage time and never wastes a minute in what is a tough assignment: be laconic and still engaging. Ditto John Caldwell as the iconic Lurch. Charles Ferguson as Uncle Fester and Seth Moan (winner: best cast name) as Pugsley don't disappoint. I loved the energy and verve that Louisa Grant brought to Grandma. The other Beinekes- the father and son, were brought to life by McKel Terry and Braydon Lewis; they both showed the tells of stage inexperience but promise, also. All these featured actors are supported by a chorus of ghostly ancestors who are used quite well throughout the show.
Finally, I couldn't help but be disappointed in the technical aspects of the production. If you remember the TV show – and yes, every creation should be judged on its own merits, but come on, we also realize the theatrical version is marketing itself via the TV version – you remember just how much that wonderful Addams mansion was a character in its own right. So many of the fabulous, freaky details are missing or under-realized here, and that's a crying shame.
In other words, this is a big big show with a lot of moving parts. Credit must given to Director Andrew Miller and the Newnan Theatre Company for taking this beast on and frankly, succeeding more than they fall short.
Go. It's a perfect show for the season, and you will enjoy yourself. At the very least, your fingers will get a workout.
•••
A charming and entertaining experience
– By MAGGIE BOWERS, maggie@newnan.com
The first question on the minds of many locals when considering purchasing tickets to the latest Newnan Theatre Company production of "The Addams Family" is likely to be, "How much of 'The Addams Family' do I need to be familiar with in order to enjoy this show?" The answer is… none.
The original television series, which originally aired from 1964-1966, was a bit before my time and, admittedly, I never saw the somewhat-recent movie featuring a young Christina Ricci, which was released in 1991. 
My knowledge before visiting the theatre was limited to a few basic facts: The thing that looks like a small person made entirely of hair is Cousin Itt — I know this because, growing up, my mother would occasionally attempt an impression of the mop-like character. Morticia is overtly sexy, as is depicted in a variety of online images and often re-imagined in other characters seen throughout my television-watching childhood. Finally, the show, despite being about vampire-like, possibly zombie people, is supposed to be funny.
The Newnan Theatre Company is located at 21 1st Ave. in downtown Newnan and has that fun, undiscovered vibe to it, as though you've stumbled upon a hidden gem — and, in Newnan, it certainly is that. 
The production begins in song, as any good musical should, and the number performed gives the audience a rundown on the Addams' themselves. The family, though not vampires or in any way undead, are profoundly fond of all things morbid and are more than a little strange. In a very amusing way. In fact, the creepy and death-obsessed crew is, essentially, a parody of the more sinister, imagined version of the family they might otherwise appear to be. 
The Addams include a host of characters, at the root of which are: the matriarch, Morticia; loving husband and father, Gomez; daughter, Wednesday; and son, Pugsley. Following introductions, it is revealed that Wednesday (played by Christie Lamb), has fallen in love with a young boy by the name of Lucas Beineke (played by Braydon Lewis) who is, not surprisingly, an "average" fellow, meaning lacking a distinct obsession with melancholy.  
Morticia (played by Rachel Wise) is expected to be unapproving, while dad, Gomez (played by Grant Vickery) must keep the secret. However, Uncle Fester, the brother of Gomez (played by Charles Ferguson) has unwittingly become involved in the dilemma by discovering the young romance. Fester then beckons the family's dead ancestors for assistance. The family, in its apparent entirety, must stick together to allow the young couple safe passage to their ultimate goal: marriage. If Wednesday and Lucas don't succeed, or their relationship causes the family strife, the whole clan may crumble. 
The Addams family agrees to host the assumedly "normal" Beinekes for dinner, promising to be as unlike their actual selves as possible. Uncle Fester and the ancestors watch over the evening, making adjustments as needed but are unable to prevent a few minor mishaps like Pugsley (played by Seth Moan) slipping a monster-inducing elixir into the family chalice. Rather than passing through Wednesday's lips as intended, the drink is consumed by Alice Beneke (played by Emily Kimbell) and, from there, all evil breaks loose — and it's hilarious. 
Vickery is so adept at portraying a character who is endlessly full of one-liners, sarcastic undertones and a seemingly continuous song and dance routine, one might imagine the behavior is part of his daily life. He could likely have carried on the show alone — at least for a bit. 
Wise is similarly talented as the Addams' obvious leader, Morticia, and exudes her character's joyful expression of melancholy. Uncle Fester, though likely meant to be a somewhat meddling and even annoying member of the family, also becomes endearing by the end of the nearly two-hour show. Particularly when actor Ferguson sings out to his own true love, the moon. 
The performance that takes the cake, however, is an unlikely suspect, Alice. Kimbell's character goes from an oddly poetic but common housewife to a saucy and no-longer-content middle-aged married woman. Kimbell shows Alice's "true colors" while crawling across the dining table in a fit of rage before sprawling out across it in a final begrudged acceptance of her own plight. 
The cast was unified in the final scene, both vocally and in a well-choreographed dance number and the audience was abuzz with what seemed wholly positive commentary. As an added bonus for me, Cousin Itt made an appearance just before the theatre curtains were drawn closed. Little Luna Garrigus donned a wig large enough to cover her entire body, peeking out to smile at the audience just before taking a bow. Charming is the word that comes to mind, not to mention entertaining.    
•••
What: The Addams Family: A New Musical
Where: Newnan Theatre Company
When: Through Oct. 30
Tickets: 770-683-6282  or www.newnantheatre.org