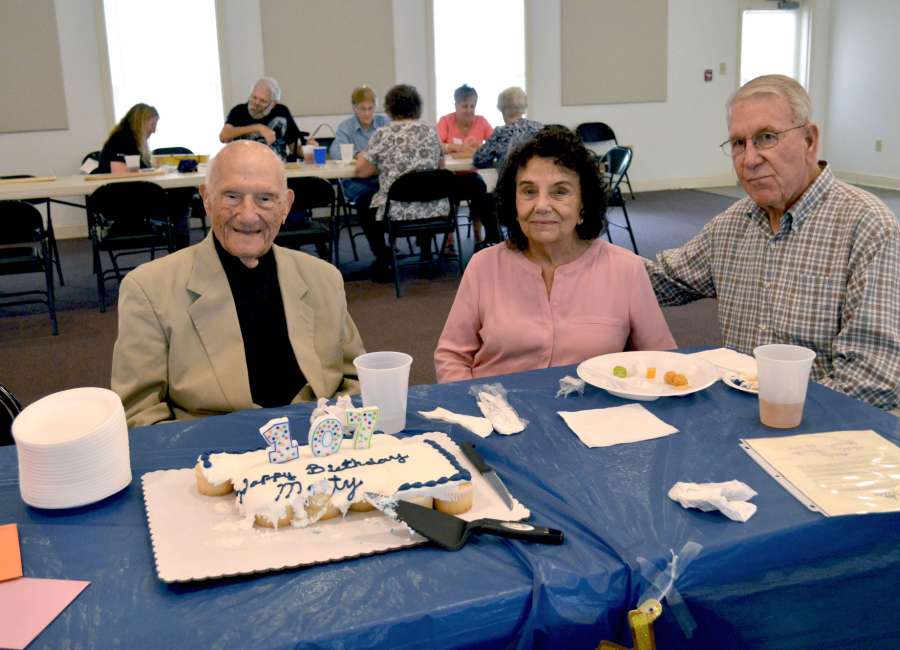 Make every day a holiday. And never worry.
That's the advice that Coweta's oldest resident, Mariano "Pops" Rotelli, had to share at his 107th birthday party Wednesday.
Rotelli, who moved to Senoia in 2003 to live with his daughter, Nancy Tyre and her husband Bill, turns 107 today.
His birthday was celebrated a day early at the East Coweta Senior Center.
"He's never worried about anything," said Nancy Tyre.
Rotelli also gives some credit to his morning libations.
"I've had a shot of whiskey in my coffee every morning for 100 years," he said at the event. "I went to the doctor three times in 100 years. He's dead. I'm still living."
He does see a doctor now, Rotelli's daughter said, but he's never had any major health problems.
Mayor Larry Owens, flanked by city council members, read a proclamation honoring Rotelli.
"During a long and productive lifetime, he has demonstrated in countless ways his dedication to the welfare of others and has earned the respect and affection of people from all walks of life and all ages," Owens read. "In his quiet way he has been a force for good and a stabilizing influence on those around him during these years."
Rotelli was born in Pennsylvania, the fourth of five sons born to parents who had immigrated from Italy. He and his brothers went into business together, operating a fruit and vegetable distribution company that grew to employ several hundred people, his daughter said.
"It was beautiful. They all got along and just worked, and then they sold the business," she said.
Rotelli's brothers have passed away, but they all lived into their 80s or 90s, she said.
Rotelli and his wife, Henrietta, had two children – Nancy and John. After his wife's death in 2003, Rotelli moved to Senoia. John, an Augustinian priest, died six months before his mother. Rotelli cared for his wife for the last few years of her life and "he took wonderful care of her," Tyre said.
In Senoia, "he has made our life exciting," she said.
Rotelli was asked if he's particular about the type of whiskey he has each morning. Whatever Bill buys, he said. It's usually Jim Beam Black.
•••
Sarah Fay Campbell, sarah@newnan.com
Facebook: @sarahfaycampbellNTH