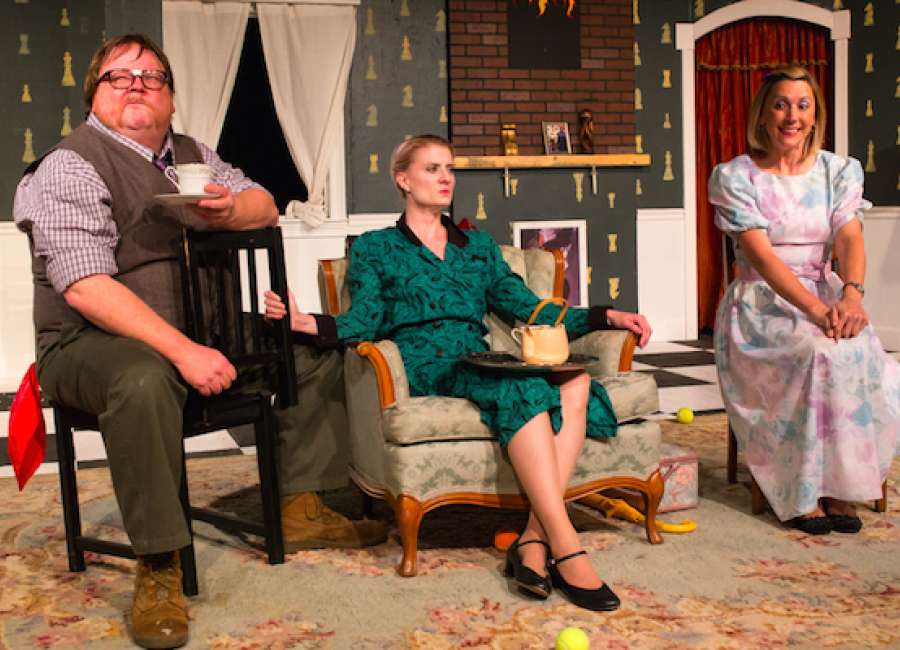 – By Lee Woods, Special to The Newnan Times-Herald

Oh, those Farndale ladies are at it again. Thelma, Audrey, Mrs. Reece and Felicity, the oh-so socially sensitive grande dames of the Housing estate have assayed once more into the breach – and given us an evening of laugh out loud fun. It's midnight at Checkmate Manor, where the reading of the will of the late Squire Bishop precipitates dire consequences for the entire clan. 
Yes, this time around the Avenue it's a mystery – but the mystery is why these tragically inept Guild ladies think they can pull off a classic Agatha Christie-style intrigue. They can't, of course, and that's where the fun comes in. The Guild ladies are… how shall we say it? Well, they're as hopelessly, hysterically untalented as they are blissfully unaware – the scenery is falling apart before the curtain comes up, props appear and disappear at will – would anyone like to explain why an accordion keeps popping up? The ladies in their parts are beyond "bad" – lines are forgotten, transposed, stammered and stomped. The entire evening becomes a celebration of what the British refer to as "Coarse Acting" – do try to remember your lines, luv, even if you can't recall the order they come in; above all try to die in Act One so you can spend the second half in the Pub.
It's a small ensemble at Newnan Theatre Company, but they're clearly having as much fun as their audience. Everyone plays multiple roles – there are a lot of Bishops residing at Checkmate Manor that have to bite the dust in all manner of terrible and creative ways, after all. Megs Free stands out as keeping her poise whilst everything and everyone around her dies more or less efficiently. Andi Laaker is the current reigning "Miss Farndale" and never lets us forget it; she's a hoot, especially as the ingénue daughter Daphne. 
Tony Daniel has the dubious honor of being the only male cast member- an honorary lady, we suppose. He's stiff and right on point as the woefully inept Inspector. His love duet with Daphne is painfully awful in all the right ways. Terri Whitley, playing Farndale matriarch Mrs. Reece - sturdy and determined to carry on no matter what - and Allison Yost, playing Pawn the butler, round out the cast. Everyone works hard and it isn't easy to be so good at being bad. Frankly, the physical comedy beats out the verbal wordplay, rooks down. The two spinster aunts moaningly played by Free and Laaker might have easily stolen the show, except I'm still chuckling at the memory of every death suffered by Whitley, and there were several – and the subsequent exit of each self-propelled body.
Director Mary Caroline Moore has ably directed her group again – she directed the original Farndale production two years ago. She says, and you must believe her, that the group had too much fun the last time not to do this newest offering from David McGillravey and Walter Zerlin, writers of the Guild plays. In typical Farndale tradition, the evening isn't complete without a fashion show – a tribute to decades past (did we really look like that in the '80s? God help us) – and a pop quiz, so pay attention.
Did the butler do it? In the end, who cares? You won't – you'll be too busy laughing.
Show: The Farnsdale Avenue Housing Estate Townswomen's Guild Dramatic Society Murder Mystery
Where: Newnan Theatre Company
Dates: Sept 29 – Oct 9
Website: www.newnantheatre.org