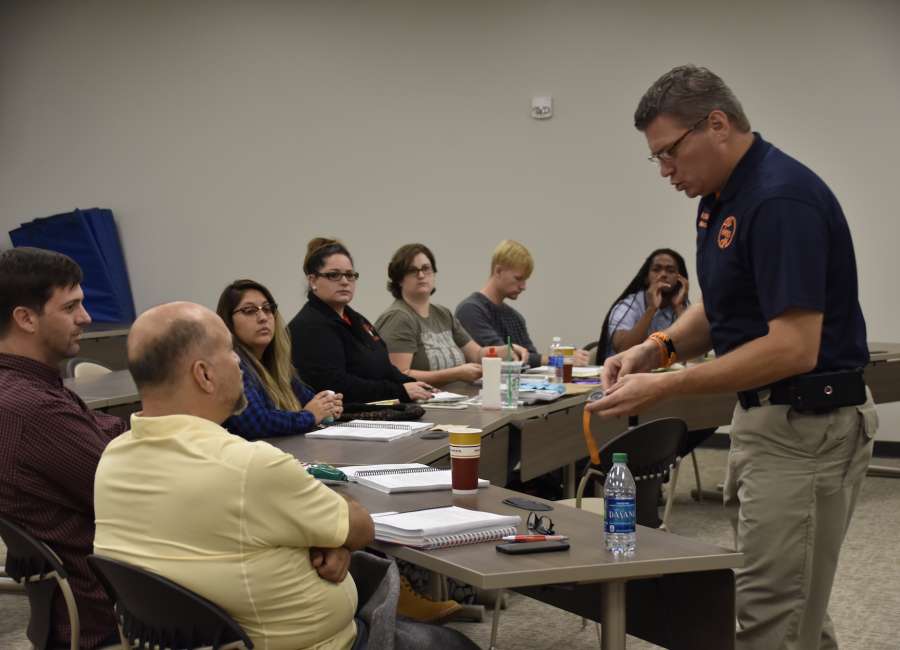 Community Emergency Response Basic Training (CERT) for the Deaf was recently offered at the Newnan Police Headquarters.

For three days, Georgia Emergency Management Agency-certified instructors were able to present information exclusively in American Sign Language to ensure hearing-impaired citizens are equipped with basic skills needed for emergency readiness.
While CERT training is nothing new, the recent class in Coweta was only the second time in the United States the program was taught – not interpreted – in sign language, according to Aaron Shoemaker.
Shoemaker was the instructor for the program, but couldn't take credit for the idea behind Deaf CERT which originated with Bernard King, public programs coordinator in Cobb County.
In an effort to bring first responders together with the deaf community and interpreters, King suggest teaching CERT. Since it's a federal program, it must be accessible to everyone.
Together, they hashed out details for delivering a legitimate program that did not alter the content. The program uses the same manual, the same hours and issues the same certificate.
"This is deaf CERT, it's not just CERT taught in sign language," he said. "We don't water it down. If you want a clear message, you have to present it in the source language."
Shoemaker has been signing his entire life. His father, a missionary with the Church of Jesus Christ of Latter Day Saints, was sent to work with the deaf in Fullerton, California. Once his work was complete, he kept signing – teaching his entire family.
"I was signing as an infant," he said. "Not because I'm smart, but because we're pre-wired for that. Our tongues don't develop as fast as our brains."
Since 2005, he's been working as a full-time interpreter. He's assisted in schools, courts, hospitals and even as the interpreter for Gov. Nathan Deal during the ice storm in 2014 and Hurricane Matthew.
Jay Jones, director of Coweta County Emergency Management Agency, met Shoemaker during a quarterly meeting and was impressed.
"It never struck me that I wasn't reaching everyone, and the unique needs many people have," Jones said. "I told him I wanted this in Coweta County."
With the help of Newnan Police Chief D.L. "Buster" Meadows and Department of Public Health sponsoring the program, the program was a reality.
The initial class in Coweta was attended by 10 people, according to Jones. While he was a little dismayed by the turnout, it was, in fact, double the number who were in attendance for the class in Cobb County.
"We received really good feedback," Jones said. "We're hoping to expand this class next year. It's just another part of the community we need to do outreach for, including the Latino population."
Because the class was held at the police department, the question of interacting with law enforcement was brought up.
In August 2016, a deaf man was fatally shot by a North Carolina state trooper after leading authorities on a high-speed chase. While the investigation remains ongoing, the question struck a chord among the class.
Officer Mark Cooper held a dialogue with the class about how to communicate during a traffic stop. The discussion lasted for a half-hour before it was decided to follow up with a meeting to determine what could be provided for law enforcement and the deaf community in the future.
"That was the most real thing that happened out of the entire class," Shoemaker said. "I was nervous about the question at first, but it became a place for an honest dialogue, and everyone participated. It was unplanned and magical."
The idea for creating a POST-certified workshop to focus on training between the deaf and law enforcement is now on the horizon for Shoemaker.
With the assistance of his wife, Keisha – another missionary who served the deaf – they formed All Hands On Inc., an organization dedicated to fostering relationships between the deaf and emergency responders.
"It was truly amazing what happened in Coweta County," he said. "We're grateful for the opportunity Jay provided for us and the community."
****
Clay Neely: clay@newnan.com, @clayneely