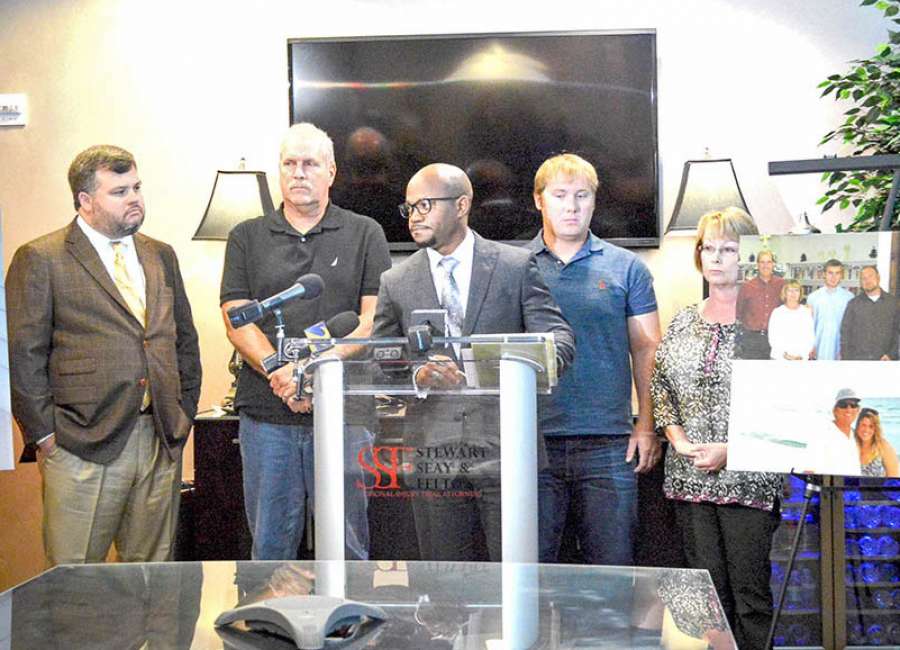 The attorneys representing the family of Chase Sherman criticized the Coweta district attorney's decision not to press charges in Sherman's death at a press conference held Wednesday.

Attorney Chris Stewart called it "one of the most horrible decisions" he had ever seen a district attorney make.
Sherman, 32, of Destin, Fla., died Nov. 20, 2015 along the side of Interstate 85, just inside Coweta County. Sherman had begun acting erratically in the backseat of his family's rented Jeep Patriot, and his mother had called 911 asking for help. Sherman was at times violent, biting his fiancé, and his mother told 911 operators that she was worried he might kill them.
Two deputies arrived and attempted to restrain Sherman. He was shocked multiple times with a Taser, an electrical device designed to subdue violent police suspects. A Coweta firefighter/EMT, Danny Elliot, helped restrain Sherman. While he was being held in the floorboard of the vehicle, Sherman became unresponsive, and was later pronounced dead.
Monday, Coweta Circuit District Attorney Pete Skandalakis announced that he would not be seeking charges against Deputies Josh Sepanski and Sam Smith and Elliot.
The DA's office received the investigation file from the Georgia Bureau of Investigation in February. In early September, frustrated with the time it was taking the DA's office to make a decision, the family asked the U.S. Department of Justice to investigate.
The Justice Department hasn't made a decision because officials were first waiting to see what the DA's office would do, according to Stewart.
"We're extremely saddened and disappointed" in the decision of the DA's office, Mrs. Sherman said. "We're asking the Department of Justice to please, please take the case."
Sherman's parents, Kevin and Mary Ann Sherman, and brother David were in attendance at the press conference.
Stewart, who has represented families in police brutality cases, also criticized the quality of the investigation by the Georgia Bureau of Investigation and the DA's office.
"It's absolutely the worst investigation I have ever seen in my entire career," Stewart said.
Stewart said that media coverage of the incident has mostly focused on the early parts of Sherman's encounter with officers, where he was struggling and grabbing at their Tasers.
"We've all been fooled. Both locally and nationwide," he said.
What really matters is the last few minutes of the encounter "where he was murdered and tortured," Stewart said.
The back floorboard of the Jeep has a console with cup holders, and Sherman was lying over that while he was being held down, with Elliot's knee in his back.
By then, Sherman, "was no longer resisting. He was no longer moving," Stewart said. At one time, he can be heard saying "I'm dying. I'm dead."
The officers still occasionally say "stop resisting."
Stewart called those comments "totally ludicrous … they're saying it just to say it."
"When you're tortured, of course you're still moving."
The encounter and its aftermath were captured on cameras worn by Sepanski and Smith. "The videos tell it all," Mrs. Sherman said.
David Sherman said he thinks that part of the reason for the decision is because Coweta is a small community, and everybody is friends. "He did not do his job right," he said of Skandalakis.
"That's just pure nonsense," Skandalakis said of the accusation. "I have prosecuted police officers, lawyers; I have prosecuted bankers, almost every type of individual you can think of."
That accusation "comes from people who are hurting and lashing out at me right now. I can take that."
Skandalakis said that "I answer to a higher authority than just being an elected official, and I do what I think is right and let the circumstances be what they are."
Skandalakis said he is comfortable with his decision in the case. The decision took time because he went through the file many times and watched the videos many times. He sent the videos to a Taser expert. He researched crimes that require intent and those that don't.
The deputies didn't go out with the intent to harm, and neither did the EMT, Skandalakis said.
EMT Elliot was trying to render aid to the deputies and to Sherman, Skandalakis said.
"If you were to charge an EMT with committing a crime because he's trying to render aid or provide assistance, then you'll have a chilling effect when EMTs show up on a scene. That's another thing I considered."
Skandalakis talked to the state medical examiner, and there were many factors that contributed to Sherman's death.
"You have to prove someone guilty beyond a reasonable doubt. You cannot make that burden with all of these factors," the prosecutor said.
Skandalakis said he felt certain that if he took the case to a  grand jury, the grand jury would have voted not to indict.
"It would be unethical and unprofessional for me to put an indictment before a grand jury when I believe no crime has been committed," he said.
In Monday's press release, Skandalakis stated that his only decision is whether or not a crime has been committed.
"The district attorney cannot, and does not, attempt to decide whether the deputies, EMTs or others could or should have acted differently."
Stewart said he has spoken to two EMT/paramedics who assisted officers with patients acting erratically. Both were able to administer a sedative to the person. He wonders why that didn't happen with Sherman.
"There's got to be a better way to deal with people who are having psychiatric issues," he said.
Stewart plans to file a civil suit against the deputies, the Coweta County Fire Department, the Coweta County Sheriff's Office and Coweta County.
As a white man, Sherman "doesn't look like the typical victim of police brutality," Steward said. But "this could be your brother, your husband, your son."