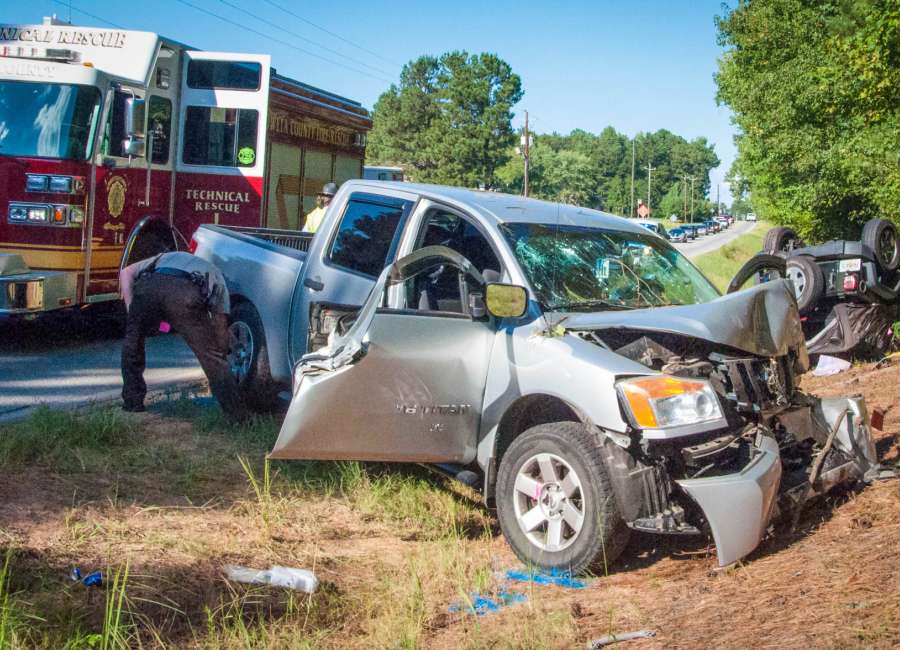 Two drivers were hospitalized in Atlanta after a car accident Friday.

Around 4:30 p.m., a Jeep Wrangler and a Nissan Titan were traveling south on Corinth Road near Millard Farmer Road. 
The Wrangler was slowing down to turn when the driver of the Titan failed to notice, according to Trooper Lindsey Barber with the Georgia State Patrol.
The driver of the Titan rear-ended the Wrangler, causing it to travel onto the east shoulder, where it struck two traffic signs and then overturned. 
The Titan traveled onto the east shoulder where it struck a tree and bounced backwards before coming to a rest, Barber said.
The driver of the Titan, identified as Harry Davis, 39, of Newnan, was not wearing a seatbelt and sustained injuries from striking his head on the windshield, according to Barber. 
Fire and EMS workers helped to remove him from his vehicle.
He was transported by ground to Atlanta Medical Center where his condition remains unknown.
The driver of the Wrangler is identified as Melinda Surfus, 39, of Fayetteville. Surfus was also taken to Atlanta Medical Center. 
Her condition also remains unknown but she was stable and talking at the scene of the accident, according to Barber.
Davis faces charges of following too closely, distracted driving/due care, and not wearing a seatbelt, according to Barber.  
Alcohol was ruled out as a contributing factor and the accident remains under investigation