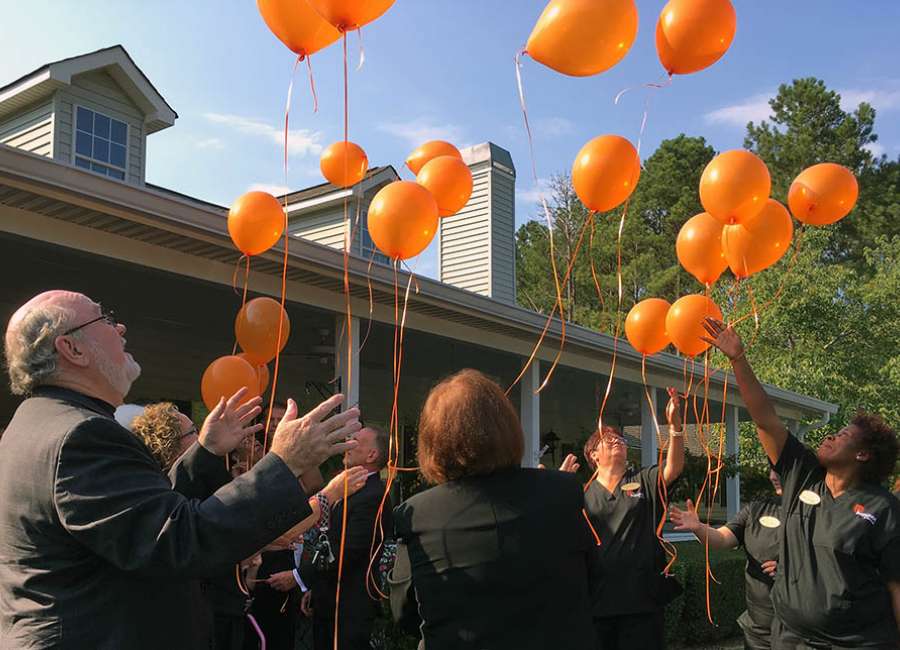 The newly renovated 40-bed facility formerly known as Savannah Court held a ribbon cutting Thursday and announced it is seeking a higher certification from the state.

Business associates, civic leaders and members of the public mingled with the staff and executives of Insignia Senior Living for a champagne reception, ribbon cutting coordinated by the Newnan-Coweta Chamber of Commerce and a balloon release led by the Rev. Dan Akins of Gentiva Hospice on behalf of residents over the years who have died.
"If you can't be at home, this is the place to be," said Newnan Mayor Keith Brady.
The 30-year-old facility got a new coat of paint, new carpet and upgraded equipment – including state-of-the-art information technology, according to Milton L. Cruz, CEO of the Puerto Rico-based parent company. But the biggest investment was in the staff, he said, in terms of benefits, training and consultation.
"That way they will really care for our residents," he said, noting that employee morale has improved and turnover has dropped.
The advanced certification to become an assisted-living community will require greater staff credentials but also provide more flexibility in the range of services the facility can provide.
Insignia has owned the Newnan facility for eight years, the first of five it purchased in Georgia. It was operated under a management contract until Dec. 1 when the company took the management in-house and changed the facility's name from Savannah Court to Insignia of Newnan.
CUTLINE: The Rev. Dan Akins of Gentiva Hospice, left, leads the staff of Insignia of Newnan in releasing balloons in remembrance of former residents of the facilities who have died in the 30 years since it originally opened.