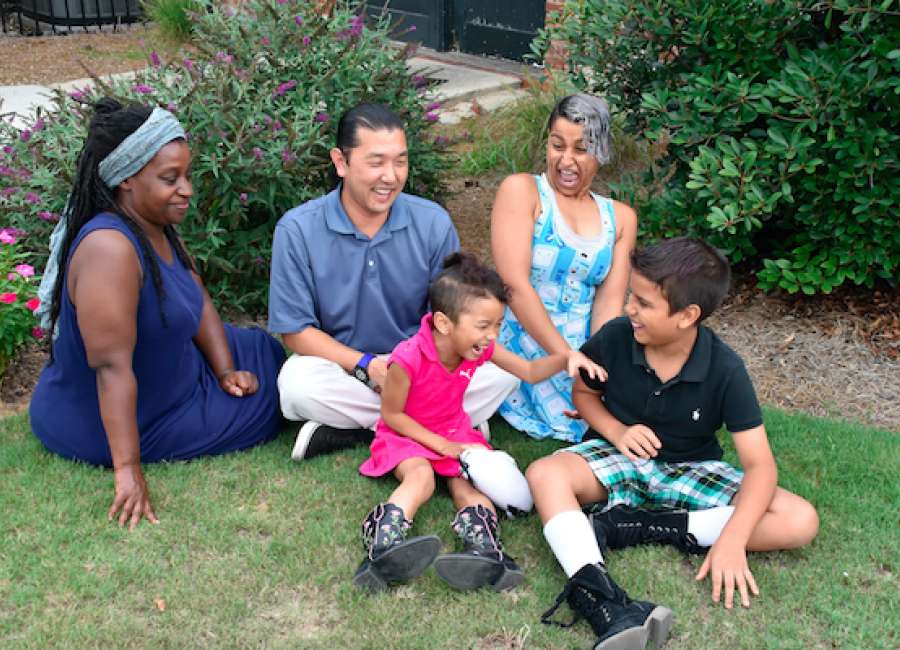 When the Garrigus family goes out in public, other people tend to stare.

It could be because they look like the embodiment of the Schoolhouse Rock classic song "The Great American Melting Pot" – African-American, Norwegian and Irish. Honduran, Choctaw, Korean and French.
It could be the edgy hairstyles with streaks of color, or the fact that one or more of them often is dressed as a superhero or unabashedly wearing something emblazoned with cartoon characters – and that includes the adults.
Or it could just be that 5-year-old Luna is holding court, as usual.
"If we get strange looks, I think it's because either Luna is acting out or we are geeking out at something as a family," Josh Garrigus said. "We, as a family, kind of stick out in general."
Josh and his wife, Samantha, are raising Luna and 9-year-old Diesel – "theatre rats" and dancers – in Newnan, where Samantha says they are less likely to get the kind of stares that once made her wish she was someone else.
"We have felt more welcomed here than anywhere else we have lived," she said.
Josh agreed.
"We have been fortunate to have developed some really good friendships with people who accept us and our nerdy selves," he said.
Josh, an engineer, was adopted straight off a plane from Korea when he was six months old by white Southern parents. He met his wife, Samantha – the daughter of an African-American mother and a Caucasian father – when she was the young, newly divorced mother of a then-preschool son, Diesel, whose father is Hispanic. The couple welcomed Luna in 2010.
"Josh was laughing because he said we are probably one of the oddest couples together and quite the mixed family," said Samantha, a home-schooling mom who, along with her children, is heavily involved in the local arts scene. "We are really trying to raise the babies not to judge, that no matter what is on the outside, it is about loving the person."
The Garrigus family easily fits into an emerging demographic of young adults from multi-racial backgrounds who are increasingly comfortable with their ancestry. According to a Pew Research Center study released last year, 60 percent of adults with mixed racial backgrounds said they felt proud of their heritage, and 59 percent said they felt more open to other cultures.
Josh said he wasn't treated differently because of his race, but things weren't always that simple for Samantha when she was growing up. Like 55 percent of the multiracial adults involved in the Pew study, she was subjected to slurs and jokes because of her background.
"I was called zebra, Oreo, mulatto, house slave…the list goes on," said Samantha, who spent her childhood in the Orange Mound community of Memphis, Tenn. "Being a mixed kid can be hard, especially when you are told your whole life you don't belong or you don't deserve to be human because you don't fit in a specific category."
While Josh said he never felt the need to change himself to fit in, Samantha became a "chameleon."
"You can pretend to fit in anywhere when you're mixed," she said. "I went through a stereotypical black hip-hop phase, a stereotypical white preppy phase and a stereotypical Hispanic phase. I even taught myself to read, speak and write Spanish to fit in. The Hispanic community was one of the first communities that assumed I was 'one of them.'"
Samantha's mother, Mia Grant, watched her daughter's metamorphoses with a mixture of pity and amusement.
"I said, 'Baby, whatever you do, don't work for the CIA!'" Grant said. "I knew she could pick up languages, pick up identities. I just kept telling her, 'Don't lose yourself.'"
Grant was a child of the 70s whose families' stories of oppression and freedom confounded her. She said her great-grandmother – of Irish and Choctaw descent – chose her mate based on what seemed sage advice for that time.
"She was told that she would never get a decent man, so she might as well get a black man," Grant said. "I heard my great-grandmother tell that story."
Grant was the only black girl in her Catholic school from first through eighth grades.
"I was used to being alienated," she said. "I was a tomboy, so I hung out with the black boys playing kickball and running and jumping."
In the mid-80s, Grant was living in Memphis with the white man who would become her husband and the father of her children. Her mother called her often, she said, crying and begging her to rethink her choices.
"My mother's generation had a fear of white people," Grant said. "I was very determined not to be afraid. I think that's why I was not hesitant about my husband. There was nothing to be afraid of. He was just a guy. I went to school with people like him. That was just my life."
Grant "handled the race thing" with her children by creating the Mid-South Interracial Interaction Association in Memphis. With 70 or 80 children and 40 couples, the association gave mixed-race children a chance to interact with others with the same unique set of experiences.
"We wanted our children to know, because of the identity situation, that there were others like them and that they were like each other," Grant said. "It was the most beautiful thing."
Samantha's teenage years were trickier. Her parents' marriage broke up just as she was starting high school, but Grant said in many ways her daughter was like any other teenager.
"They want to be an individual, but they don't want to be different," Grant said. "You know that world: 'I'm my own person, but everybody else isn't wearing that jacket.'
"I just always instilled that family is your foundation, no matter what you go through in life," she said. "You're gonna go through trials and tribulations, but as long as you've got that foundation of family you can always run back to, you're good."
When she had children of her own, Samantha said she began to see herself differently than she did as a teenager.
"I never fit any mold," she said. "I've always been unique. But I ran away from it for a long time because I was told I should be ashamed I wasn't like everyone else. When I realized I had worth in being myself, I was finally able to take off all of the masks I was hiding behind just to say I belonged."
Newnan is a place where Samantha says her family feels the sense of belonging she didn't have.
"We came for Josh's job but we stayed in Newnan because it's where we felt like we could safely raise the babies," Samantha said. "It's also a place where we can provide them a home where they can grow and nurture their talents."
Diesel is in rehearsals for Newnan Theatre Company's upcoming "The Addams Family: A New Musical," for which Samantha is stage manager. Luna and her brother also train at Southern Arc Dance Center, where general manager Will Slay said he and partner Paulo Manso de Sousa – the studio's artistic director – admire Josh and Samantha's dedication to their children's future.
"It's refreshing to see a young family place that kind of value on the arts," Slay said. "So many of us don't understand the value of our kids' dreams at that age, and I admire and respect them for that."
Understanding something's value is a problem Samantha said she no longer has.
"I never identified fully with anything because, in the end, I am a lot of things," Samantha said. "When I gave myself permission to be proud of being everything, I was able to love myself. And, in turn, I was able to love Josh and the kids that much stronger."