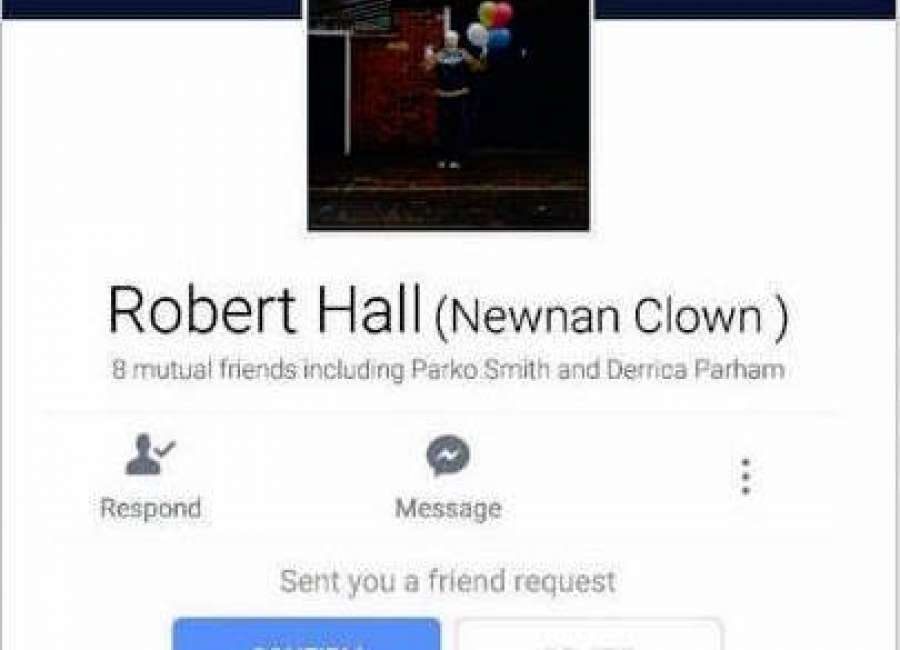 The phenomenon of creepy clowns across the Southeast is now making several Coweta residents nervous.

On Tuesday afternoon, a Facebook profile with the name "Robert Hall (Newnan Clown)" made several veiled references to child abduction.
While the profile hasn't explicitly threatened violence, it mentioned knocking on doors in Highland Park and also attending the upcoming fair.
In his Facebook biography, the individual claims to be from Newnan and says, "If I see you, I will get you. I want kids and all."
The account appears to be listed as private, so a search will not turn up details. While the profile appears to be fake, it's not stopping police from taking notice.
On Wednesday, Newnan Police Chief D.L. "Buster" Meadows confirmed that patrols were increased in the Highland Apartments area Tuesday night because of the threat. The police are actively investigating the threats, according to Meadows.
"We did have a name supplied to us, and we're attempting to locate this individual if he's local," Meadows said. "If someone sees a threat online, please email us the link or take a screenshot of the information and email that to us along with where the information was displayed."
On Monday, a Facebook page of clowns threatening children made headlines in LaGrange but was subsequently taken down. Those reports have been checked by police officers and are unsubstantiated, said Lt. Dale Strickland, commander of administrative services at the LaGrange Police Department.
Police posted to Facebook that they "received several calls about clowns in a van and in wooded areas trying to talk to children."
"This behavior is not cute or funny," the department posted. "Understand that if officers see this behavior, you're going to have a conversation with them. And, if applicable, you may face criminal charges."
On Tuesday morning near a school bus stop in Macon, clowns appeared emerging from the bushes of a nearby abandoned house, and began chasing children, the kids later told investigators.
Lt. Randy Gonzalez from the Bibb County Sheriff's Office said that while none of the children reported making physical contact with any clowns, the kids were still frightened.
"Somebody was chasing them,"  Gonzalez said. "They said they were scared, which is natural."
Last month, a variety of similar clown sightings were reported in North and South Carolina.
In August, a boy spotted a person dressed in black, wearing a clown mask and walking toward the back yard of a home in Greenville, S.C.
Later that same day, a 45-year-old woman said that a middle-aged man, wearing clown-like face makeup and red hair, "was standing outside the laundromat, and stared at her as she exited," according to a statement released by police.
Police were unable to locate the people in the costumes and said there had been no indication that anyone had attempted to contact or lure children into the woods in those cases.
The sightings prompted the city police chief, Ken Miller, to issue a warning, The Greenville News reported.
At a news conference, the chief said: "It's illegal. It's dangerous. It's inappropriate, and it's creating community concern, so it needs to stop," according to The News.
While no actual clowns have been discovered yet, the theory of public hysteria is certainly a possibility.
In an interview with The New York Times, David Myers, a professor of psychology at Hope College in Holland, Mich., said fears can spread as people's thoughts and feelings feed one another.
"Sometimes this can create a 'mass hysteria' as perceived problems, such as presumed rashes, spread throughout a population," he said.
In Newnan, Meadows said he's familiar with the reports from other areas. He's not amused by the potential presence of clowns in Newnan, he said.
"We will not put up with this and will seek to press charges against anyone that alleges to try and lure children into the woods, vehicles, or any other place," Meadows said.
"If anyone sees anyone acting strange where children are at, whether they are dressed as a clown or not, please call 911 right then so we can respond."
****
Clay Neely: clay@newnan.com, @clayneely