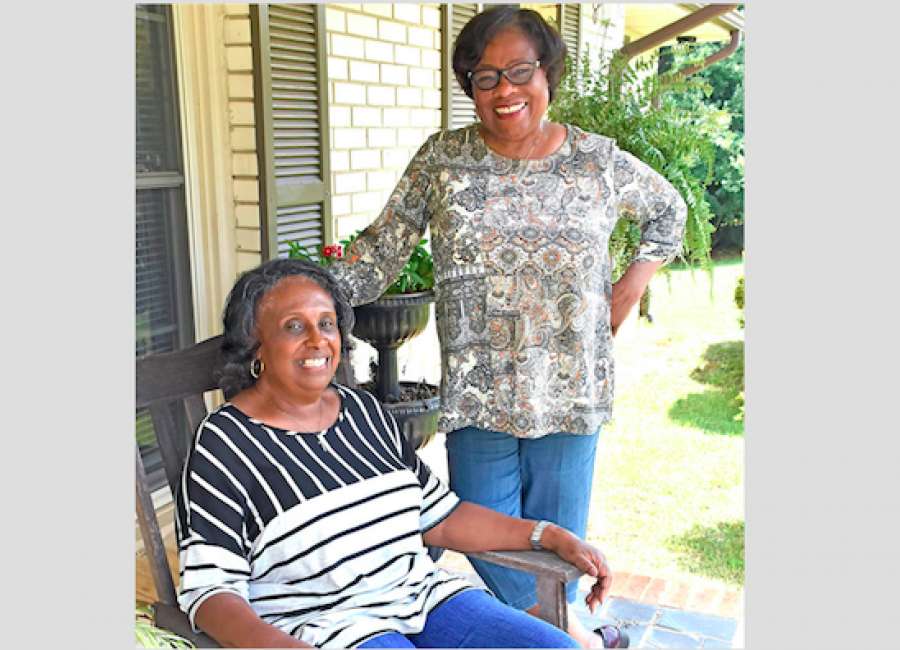 As a child of Newnan's Chalk Level community, Carole Newell rarely saw white people.

She was the daughter of a prominent black family headed by her father, Dan Moten, who for half a century served as a funeral director for black-owned Roscoe Jenkins Funeral Home. 
A World War II veteran who'd been brought up during the Great Depression and educated in the same segregated Coweta school district his children attended, Moten worked hard to raise his children in safety and prosperity, according to his friends.
Little Carole lived on Savannah Street and walked to Howard Warner School every day under the watchful eye of her neighbors.
"The older people came out and made sure you got to school all right and got home OK," Newell said.
On her way home, they would ask about her day and whether she had gotten into any trouble.
"My answer was yes, every day," Newell said with a chuckle. "I got in trouble for talking every day."
While she was busy fretting over her less-than-desirable grades in conduct throughout her primary and high school years, Newell was blissfully unaware of the turmoil gripping the rest of the country during the 50s and 60s – talk of the Vietnam War, the civil rights movement and Jim Crow laws hardly touched her young ears.
"I grew up in a time when everything was separated," she said. "If that's the way you live, you don't know about what's happening on the other side because it's not a part of your life."
Newell earned her only A in conduct at the same time she received her diploma from Central High School. She and her fellow graduates celebrated at the new Fairmount School with a big party given in their honor by their former elementary school teachers.
"Can you imagine that happening today?" Newell marveled. "Your elementary school teachers throwing you a high school graduation party? But that was just the time."
It was also the time of violent anti-war protests and clashes over equal rights for black Americans. The death of Jim Crow and the integration process had begun, but the waves were only barely beginning to touch the toes of the insulated Newnan student as she entered Clark College in Atlanta.
"I was so innocent, so wide-open to everything," Newell said. "When I graduated, I had no prejudices at all."
Hattie Dunn started school with Newell at Ann Sellers' kindergarten on Pinson Street, and the two graduated from Central together.
"We never went to school with any white children," Dunn said. "It was always black. It was just the way it was. We weren't taught anything about not liking people because of the color of their skin. For us, it was just about accepting and being positive of everyone we encountered."
The two women, and fellow Central alum Charlie Martin, headed to Clark University, where Dunn and Martin studied education. Newell majored in speech and theatre but got a much broader education than she expected.
"It's where I first learned about protesting the Vietnam war and the ugliness of racism," Newell said. "I thought everybody grew up like I grew up. When I went to college, I found out they didn't. Clark College was a mecca for kids from the North, so I was exposed to urban thinking. 
"I kept saying, 'What are you talking about?' because I hadn't experienced life as they had in the inner cities of Chicago and New York and places like that," she said. "I'd just been… living in Newnan."
Horizons expanded, the trio returned with degrees in hand in 1970 – the year Coweta County schools became fully integrated. After securing teaching positions, Dunn and Martin urged Newell to apply as well.
"I said, 'No, I'm going to NYU! I'm going to be on Broadway!'" Newell said.
"Carole was dramatic, always good at bringing the tears," Dunn said. "She wanted to go to NYU, but her mama wouldn't let her."
Newell relented and headed down to the county office, where Superintendent O.P. Evans – a white man who knew her father – offered her a teaching job on the spot. It wasn't until later that she learned many white teachers had left their positions in protest of integration, she said.
"When I first started teaching, I didn't know anything about racial animosity because I'd been protected from it," Newell said. "The white people I'd come into contact with were very kind, caring people."
"She really wasn't prepared because she didn't student teach, and that was an experience that sort of prepared me for a little bit of what to expect in a classroom," Dunn said.
Dunn's first job was at Arnco-Sargent School.
"I'd been told it would be a difficult place because they didn't want black teachers out there," she said. "But I had the best seven years of my life there. I was there to do a job, to do my best, and they worked with me."
Despite not having a background in education, Newell was a popular teacher with both her black and white students at Eastside.
"We had fun," she said. "I thought going to school and teaching was fun."
Her students didn't always feel the same way. Newell once left school to see about a truant white student, driving to his house to check on him. The student's mother asked Newell to go get the boy out of his bed.
"I went upstairs and got him and took him to school in my car," Newell said. "I didn't even think about it. (My students) were my family."
One of her students at Eastside was Steve Humphrey, who went on to earn his doctorate and is now the work-based learning director and SkillsUSA advisor at the Central Educational Center.
"Mrs. Newell's combination of intelligence, humor and compassion were just the prescription needed for rambunctious seventh-graders," he said. "With one well-deserved scolding, she could let you know that she was equally disappointed, exasperated and amused."
Her original plan was to teach for one year and then make her case for New York, but Newell ended up spending three years at Eastside and earning her master's degree from West Georgia College – once again, alongside Martin and Dunn, who had become convinced that the only way black teachers would keep their jobs was to go back to school.
During her long career in the Coweta County School System, Newell taught at East Coweta and Central high schools, Ruth Hill Elementary School and O.P. Evans Middle School, named for the man who'd hired her in 1970. She retired from Newnan High School in 2009 after spending 15 years teaching English, speech and drama and facilitating graduation testing.
She also served as lead teacher for the evening high school at CEC, where she worked with Principal Lillie Smith.
"The students loved her because she is so outgoing," Smith said. "She not only taught English, she was available with things like career planning. Whatever the students needed, she was available. Whatever she decides she's going to do, she puts her whole self into it."
She never gave up her flair for the dramatic, serving as Newnan High's drama club sponsor and casting "all kinds of mixed up families" sometimes.
"I would cast people, and I didn't pay any attention to them being black and white, just because hey, this child fit this role," Newell said. "I wasn't thinking about integration or anything of that nature, and the parents I dealt with just went along with it."
While she said some of the recent events involving racial unrest are "shocking," Newell also said she sees people attempting to move through it with grace.
"We have problems, but we are trying to connect with each other," she said. "We're talking to each other more, and we're talking about things we don't normally talk about. Things like, 'No, everybody may not live in the same neighborhood, but it doesn't mean they don't care about where they live.' They care about having their grass cut and their street paved. Everybody cares about the same things."
It's not so very different from the original intent of integration, Newell said.
"I never wanted to live on Jackson Street, and I never knew anyone who necessarily wanted to live on Savannah Street," she said. "When things became integrated, it became 'I don't have to stay on Savannah Street all my life unless I choose to do so. I can move wherever I want to.'
"I think people want the same things they've always wanted," Newell said. "They want to be able to make a decent living and have decent housing. They want equal opportunity to go as far as they can go, as far as they want to go."