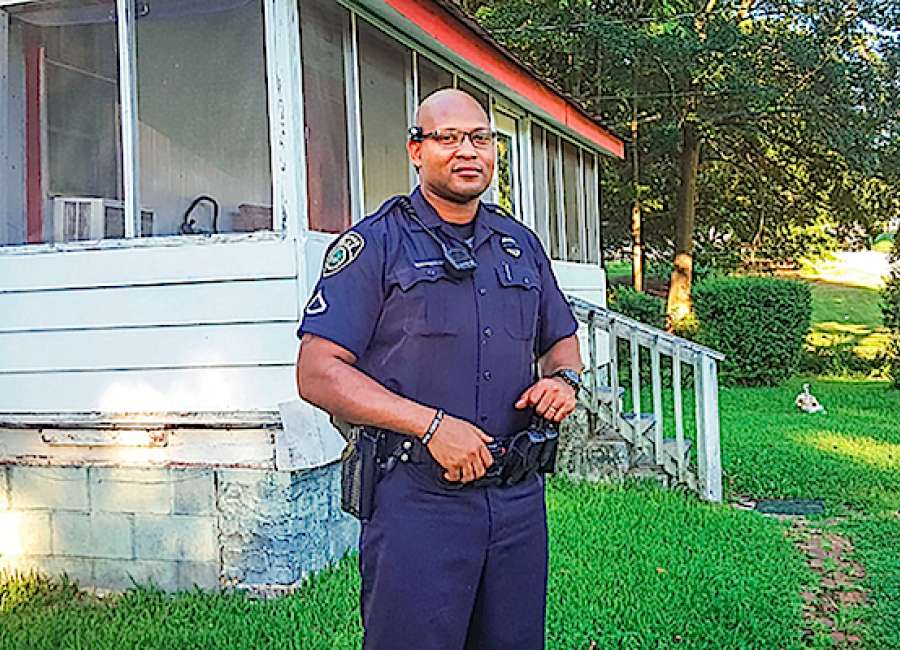 Officer Clifton White now patrols the streets he grew up and played on.

For over 15 years, he's been involved in law enforcement in Coweta. He occasionally runs into a few friends that still live in the area, but many of the original families who occupied the homes in the Rocky Hill area have either passed away or moved elsewhere.
He grew up in Newnan's Rocky Hill neighborhood where he lived with his great-grandparents. The couple served as White's greatest influence growing up.
In their small house, built in 1901 by his great-grandfather, the family always took care of those who showed up on their doorstep.
The police department now sits on the site of the Hannah Homes housing project – an area where White spent his adolescence, watching the residents and police interact on a daily basis.
He spent endless hours on the basketball court, and watched as drug dealers would hide their stash in the bushes while they shot hoops with him.
His first direct contact with police came after he was stopped at Kroger. White and his friends were suspected of shoplifting.
"I was terrified because I had no prior first-hand experience with police. My parents never talked to me about them, and I always had a fear of police," White recalled. "I never once remember saying 'I want to be a police officer.' My goals were to get into business and become a CEO. That's what I told myself I wanted to do."
But as a young man, White bounced from job to job, playing basketball in a church league when he wasn't working.
Through the league, he began interacting more with members of local law enforcement. One day, a deputy at the Coweta County Sheriff's Office asked him if he was open to a career in law enforcement.
"I'd never considered it," White said. "But they said I had the right personality and a good head on my shoulders."
After a successful interview, White had the job. There was just one stipulation.
"Bubba, you gotta cut those cornrows," he recalled. "I cut my hair, and 15 years later, here I am."
A badge and a new perspective
However, his perception of the world has changed greatly as a police officer.  A self-admitted bleeding heart, White believes he's given far more warnings than tickets in his career.
It's a profession White has enjoyed, but he's learned a lot about himself and his community.
"I've come into contact with friends and family members while on patrol, and I'm still amazed how people get out here and behave sometimes," he said. "But you know, that's their choice. They've made their choices, and I've made mine."
As an African-American in law enforcement, White said he understands the uncomfortable relationship shared by police and many in the community. A fair share of his calls are from Eastgate and Westgate – two predominantly African-American communities – but he believes that all officers have biases, whether they want to admit them or not.
"A large number of crime does comes from Eastgate and Westgate, but there are some really good folks over there, too, only because that's where their economic level is right now," he said. "You have to see beyond that."
One of the hardest aspects of patrolling a community, White believes, is keeping yourself from becoming desensitized and jaded. After 15 years of answering similar calls, keeping an open mind and positive outlook is often hard, but vital.
"Sure, I get tired of going to some neighborhoods and seeing 2- and 4-year-old kids out in the middle of the night," he said. "But we can't allow that to keep us from trying to change things."
White said he feels the disconnect between the community and law enforcement, but stressed it's like any other line of work. You work with the good and bad apples, and you can't generalize.
"The bad apples don't last long out here," he said.
One of White's secrets to being effective is the ability to communicate with anyone he encounters. Communication is one of his greatest assets as an officer.
"When you're sincere, they know it, and that wall between you two can come down," he said. "I can tell them that I know what they're going through, and that I've been there myself."
Newnan Police Chief Douglas L. "Buster" Meadows knows the ability to communicate is one of the strongest tools an officer can possess. To him, White is a great example of a streetwise cop who can talk to anyone.
"He's level headed and doesn't mind getting out there and talking to people," he said. "Those kinds of people are few and far between, but people will spill their whole life's story out to them."
Black Lives Matter disconnect
As a policeman and a citizen, White has a problem with Black Lives Matter.
"I say 'all lives matter' because that's how I was raised and that's what I believe in," he said. "I'm all for peaceful protests, but when you talk about your life matters because you're black, you're separating yourself because of the color of your skin."
"Instead of the political jargon, we need to be honest with one another. Stop blowing smoke and just be real, " he continued. "The grass isn't always greener on the other side, and there's no perfect precinct."
A call for more community-oriented policing has been cited as one way to help reduce crime and create a better working relationship between police and the African-American community.
White could be considered an ideal poster child for proactive, community policing.
"People like a familiar, smiling face, and I try to get out and shake hands with everyone," he said. "Just because some people made bad choices doesn't mean they're bad people. There are so many sides to the story, and then there's the truth."
With more manpower, the force could achieve more community outreach, he said.
Increases in call volume and low recruitment numbers make new initiatives a stretch.
"We're trying to keep up with the current workload, or we're playing catch up," he said. "We do good with what we have, but our community is growing, and we can only do so much with our current numbers."
****
Clay Neely: clay@newnan.com, @clayneely