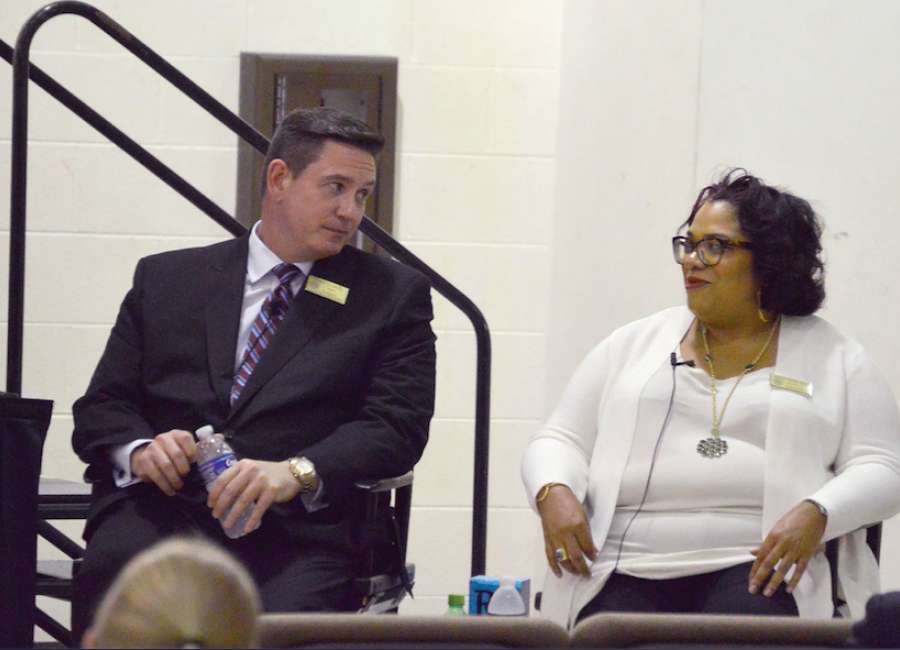 Being a child-welfare social worker is a tough job – and in Georgia, many social workers don't last long, according to state officials. 
Currently, the Georgia Department of Family and Children's Services sees a 32-percent employee turnover every year, said Director Bobby Cagle. 
"That's an improvement over what we had when I came aboard – it was 36 percent," he said this week in a visit to Coweta. 
Cagle, along with several other state and local department officials, met with the public, churches, foster parents, court workers and law enforcement as part of the agency's "blueprint for change roadshow." 
One reason for the high turnover is that many case works are handling too many cases due to a staff shortage.
"At one point in 2014, we only had 55 percent of the caseworkers that we needed," Cagle said. 
The state budget that year provided for the hiring of 628 additional case workers. 
"We are a very different agency today, for a number of reasons," he said. 
But the agency is still short staffed, with just 77 percent of the workers needed. 
"I can tell you, as a social worker, it is not possible to carry a caseload that is twice as large as it should be and do quality work," Cagle said. 
Instead, the job is left to handling emergencies and putting out fires. "You can't do the things that are best for children and families."
"My chief mission has been to make sure that people understand the need for staff," Cagle said. "This is such important work. In today's times, if we don't do this work, children will die, and there is no doubt about that."
It is a message Cagle has been taking to legislators, the governor and the public to provide perspective on the job caseworkers do and the challenges they face.
But even if they weren't overworked, caseworkers often burn out. Those with social-work degrees can get a job at a hospital or other organization and make more money with less stress and better hours, Cagle said. 
"There's nothing like walking up on a family's porch, knocking, and tell them you're there to investigate them for child abuse or neglect," he said. 
"You learn about things that are done to children that are unspeakable. After you see that time and time and time again, that begins to wear you down. If you couple that with large caseloads, it wears you down more quickly."
Cagle said that when he was a case worker, he could handle 20 or 25 cases effectively. "When I got above that, I began to lose sleep. I would go home and look at the ceiling thinking 'I didn't get to see that child or that child.' And you wonder, 'Are they going to be safe until I see them the next time?' That kind of thing will wear you out completely, mentally and physically."
"We know this job is like that. Part of that is inherent, and we will never be able to change," Cagle said. 
But, "what we can do is make sure we have reasonable caseloads, staff that are trained to recognize their own signs of being stressed, supervisors that can help," he said. 
Cagle said that the agency had gotten to where it was so driven by policy that caseworkers were just expected to know how to make that knock on the door and approach families. 
"There's a way you can go about that that makes it more likely they will want to work with you. Or I can stand up there and offend them, belittle them and talk down to them, and people will refuse to work with you," he said. 
"We have to, as an agency, have a way to engage people in such a fashion that they want to work with us, that they trust we're not there to take their children, that we're there to help them as a family." 
The entire agency is moving toward "Solution Based Casework" as its practice model and began training workers in a few counties earlier this summer. The switch will be done gradually, and reorienting all employees will be a 28-month process, Cagle said. 
Solution Based Casework is supported by research, Cagle said. 
According to SolutionBasedCasework.com, the model has three major assumptions: that full partnership with the family is a critical and vital goal for each and every case, that the partnerships for protection should focus on the patterns of everyday life in the family, and that solutions should target the prevention skills needed to reduce the risk in those everyday life situations. 
Ginger Pryor is the deputy director of DFCS and oversees child welfare. She hears her staff sometimes say they wish they could "get back to doing good, old-fashioned social work, what we feel we were called to do."
Instead, things have gotten to more of a "I check this off, I check that off. Because a lot of staff are overwhelmed. We're trying to create a culture where we are engaging with families," Pryor said. 
"I believe if I can meet families where they are and work with families to be a part of the solution, it's going to change the trajectory."
She wants the agency to improve its relationship with the community and how it communicates. And the department leadership is open to suggestions. 
Improving trust between families and the agency is crucial. 
"You can really never achieve anything unless you have at least a modicum of trust," Cagle said. 
Part of establishing that trust is showing respect to the family. 
"Let them know that your responsibility is to protect the children but our goal is to make sure that child is protected in their family, because we know that children do best with their parents."
People won't remember what you say, but they will remember what you do or how you make them feel, Pryor said. 
"Trust is earned each and every day. It takes a lifetime to build it and takes five seconds to tear it down. Sometimes we have hard things we have to deliver to families, things folks don't want to hear. But I think there is a way to deliver a message that show you still care about a family."