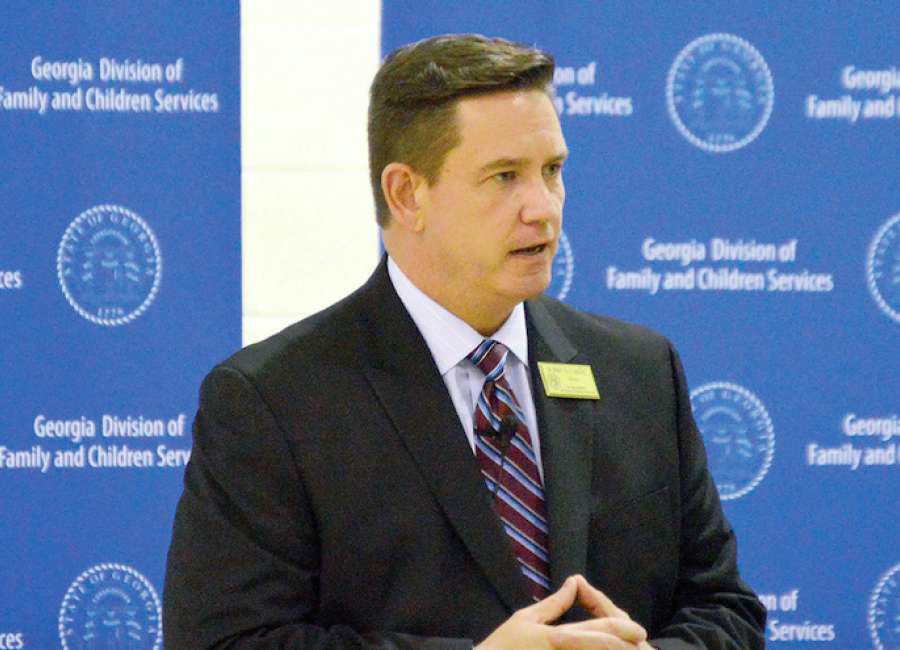 For the director of Georgia's Department of Family and Children's Services, child-welfare work is a passion that comes from his own life experiences as an adopted child. 
When Director Bobby Cagle spoke to a group discussing the agency's Faith and Community Alliance in Coweta this week, he started with a story. 
A story of a young couple in western North Carolina who tried for seven years to have a baby. 
"As they went along, the lady got increasingly discouraged and began to pray," Cagle said. Her family started praying, and as time went on, the church got involved. 
"Before long, word got out, so other churches began to pray with her. At the end of that seven-year period, a lady who was a new social worker happened to be in one of those churches. She heard this prayer," Cagle said. 
He believes that it wasn't by chance. Because the social worker knew of an infant in an orphanage in eastern North Carolina who needed a home. So she started to do the work to bring that baby together with the couple. 
The baby was Bobby Cagle. 
The caseworker eventually became the director of social services in Cagle's home county, and continued to be his mentor. 
"That is where the calling comes in," Cagle said. "I really tried to do many different things as I came along." 
He was talking to his mentor one day, and she asked him what he was thinking of doing with his life. 
"I said I might want to be a social worker. She said, 'You couldn't find anything more rewarding.'"
So he became a child-welfare social worker. He came to the Georgia Department of Family and Children's Services in 2006 to work on policy. 
He left the field twice, to work in adult corrections. 
"Then the calling came again." He was appointed by Gov. Nathan Deal to head Georgia's Department of Early Care and Learning, which regulates the state's daycare centers. 
In the summer of 2014, Deal asked him to switch to become the head of the welfare agency. It was a period where the agency was being stressed by news reports of the deaths of children whose families had had dealings with the agency's social workers. Deal needed someone he could rely on to restore public confidence, and Cagle's track record at Early Learning made him a prime candidate. Plus, he had already worked in the welfare agency, was liked and respected there, and he could take charge right away.
He had been running the state's popular Pre-K program, regulating private daycare centers and launched a program to voluntarily boost quality at each facility.
"Commissioner Cagle has been a longtime champion of child care and early education, playing a vital role in administering our nationally recognized Pre-K program alongside a number of other responsibilities," Deal said in announcing the appointment. "I have no doubt that Commissioner Cagle will serve our state well in his new role."
For Cagle, it amounted to a homecoming of sorts.
"Now I think I have gotten the message that I'm in the field that I need to be in," he said. "The last two years, although they have been difficult times, have been wonderful times. I've seen people in the worst of circumstances bond in the best ways."
"The job I'm doing now is really a fulfillment of the life purpose that I have, to assure that children have the very best of what we can give them."
In making Cagle's appointment, Deal stated that there was a need for reform in the child-welfare system. 
Cagle and many members of his staff have been traveling around the state, meeting with foster parents, social workers, law enforcement, juvenile court officials, churches, and the public to get feedback and talk about the crucial issues – and needs – of the agency. It's called the "blueprint for change roadshow."
"I've learned something new in almost every single meeting," he said. "I've learned something I would have never learned sitting in Atlanta."
Cagle said his goal is for the Georgia Department of Family and Children's Services to "not just be an average child-welfare agency, but to be the best in the world.
"My job is to make sure that everybody understands what the problems are and how we can fix them. If we don't do this, it's not on my staff. It's on me."