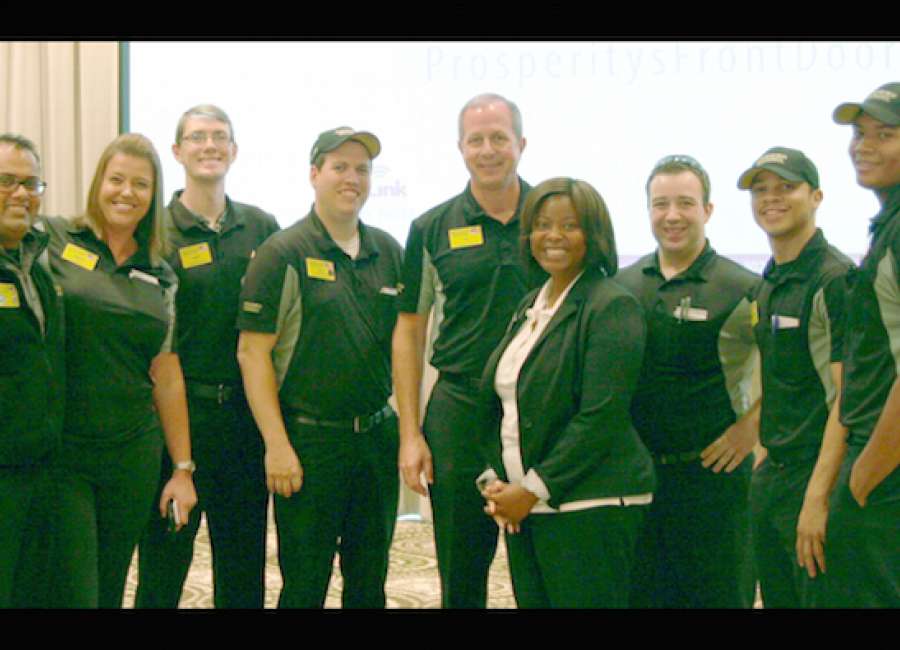 For Waffle House CEO Walt Ehmer, the key to success is no secret, just merely remembering some basics.

"We're in the people business. We really pour into our people," he said. "We don't have any big secrets. I always tell people, it's just bacon and eggs."
Ehmer, head of the Norcross-based chain of quick-serve restaurants, was the headline speaker at the NuLink Early Bird Forum last month hosted by the Newnan-Coweta Chamber of Commerce. He, along with other Waffle House employees, were dressed in their uniforms and looked ready to serve, although they were the ones actually being served breakfast that morning.
The CEO said Waffle House has a pretty simple philosophy and way of doing business.
"We do what other people won't," Ehmer said. "We're open 24 hours, and we cook our food cooked to order. … One thing we do is replicate the procedures in every store, so people can go to a Waffle House anywhere and get the same experience.
"There was a lady that asked me what was our secret to success. I helped her find the nearest Waffle House located near her home and told her to visit that same restaurant on the way to work every day for a week, and at the end of the week, she will know what our secret is. Three days later, she called and said I've got it.
"On her first visit, she ordered coffee and her usual dose of cream and sugar and was warmly greeted the by Waffle House staff. The next day when she walked in, the same server recognized her and said, 'I remember you. You were in here yesterday. Two sugars and cream, right?' The third day, the woman walked in, and when she sat down, a cup of coffee was waiting for her, exactly the way she liked it. Before she left, they knew each other's names, family members' names and a few common interests."
Ehmer earned his bachelor's degree in industrial and systems engineering from Georgia Tech in 1989 and began his career as a sales engineer for Allen-Bradley Company in Milwaukee. He joined Waffle House in 1992 as a senior buyer in the purchasing department before he was promoted to director of purchasing in 1996. He was then promoted to vice president of finance in 1999, chief financial officer in 2001, president in 2006, and CEO in 2012.
Ehmer took a trip down memory lane and gave attendees the history of the restaurant chain, which has been serving their signature waffles since Labor Day 1955.
"Joe Rogers, Sr. had just completed his service in the Army Air Corps during World War II and came home. He really wanted to be a business owner, so he decided to enter the soft-drink business. He went to the bank to talk to Fred Smith about his soft-drink idea, but he told him he wouldn't give him any money for it. Instead he told Rogers about his Toddle House restaurant chain and offered Joe a job with his restaurant. He told him he'd be good at it and could move up pretty fast."
Ehmer went on to say that Rogers ended up moving to Atlanta for work and settled in Avondale Estates, where he met Tom Forkner, a successful real estate broker who would later become a business partner.
"Joe and Tom became good friends, and Joe told him about his idea to open a restaurant based off of the Toddle House setup," Ehmer said. "Tom told Joe he owned a piece of land that would be ideal for the restaurant location. It didn't take long to see that the Waffle House was popular, but it wasn't in the plan to grow a chain of restaurants."
Rogers sold his interest to Forkner to avoid conflict with Toddle House, because he was still working there. Toddle House refused to sell Rogers any equity interest in the restaurant, which is when Rogers quit and decided to grow the restaurant chain."
Ehmer noted that not only does Waffle House have good food and service, but the restaurant has rather bizarre happenings late at night.
"When you're open 24 hours a day, all kinds of people show up, and all kinds of things happen," he said. "Everybody has a late-night Waffle House story. You people do some really strange things late at night," he said jokingly.
Waffle House founders Joe Rogers, Sr. and Tom Forkner and their wives are still alive and well and in their late 90s.
"It's the fountain of youth," Ehmer said. "Eat at the Waffle House every day, and you'll live forever."
Waffle House now operates 1,800 restaurants in 25 states. According to Ehmer, the majority of their restaurants are corporate-owned. Many of the top company executives have previously worked in a restaurant location.
Waffle House serves about 145 waffles, 127 cups of coffee, 341 strips of bacon and 238 orders of hashbrowns per minute.
"We love this area of Newnan," Ehmer said. "This is one of our favorite territories."