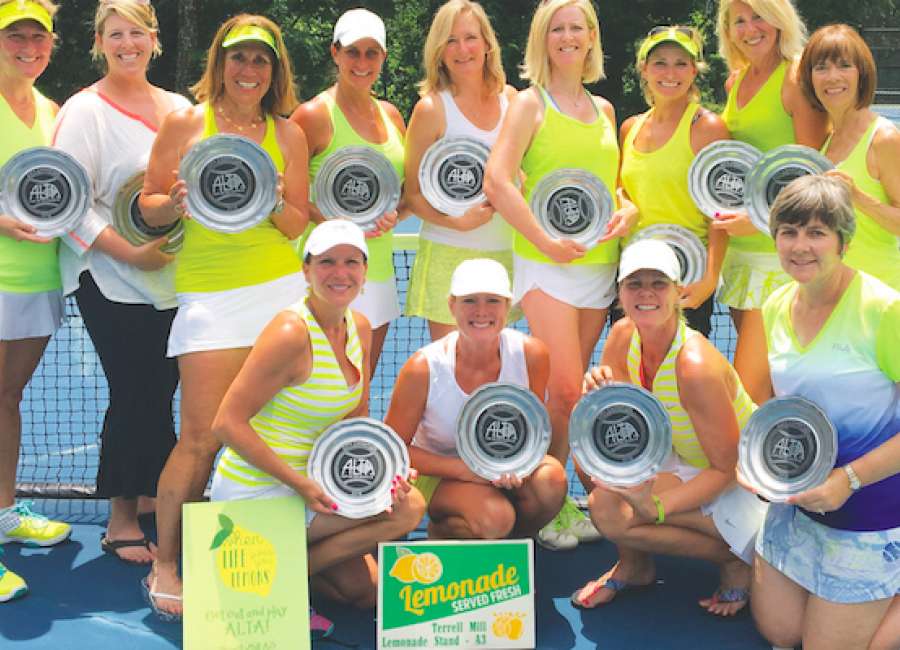 There's nothing worse than dealing with pain.

Former Newnan resident Christy Sheahan ought to know.
The pain in Sheahan's right knee got so bad nearly four years ago, it forced her to give up tennis, the game she had played at a high level for several years.
However, thanks to family friend Dr. Michael Gruber of Georgia Bone and Joint who performed full-knee-replacement surgery in 2015, she is as good as new.
"It was just bone on bone," she said.
Recently, Sheahan showed she had completely recovered when she and her tennis team out of Terrell Mill captured the Atlanta Lawn Tennis Association A-3 city championship.
At first, doctors weren't sure if she was a candidate for the surgery, since it's usually reserved for somebody older.
However, Gruber agreed it was the next logical step to elevate the pain.
"She is an exceptional athlete, and she did very well after her surgery," he said.
Sheahan blames the knee problems on an ACL tear in high school years ago while playing high school basketball. Over the years, the pain got worse, and she thought she might never play tennis again.
"I didn't think I was ever going to the return to the level where I once played," she said.
Like most patients after knee replacement procedures, Sheahan had plenty of post-surgery doubts.
"I sort of questioned whether it was worth it," she said. "Dr. Gruber kept telling me I would be glad I did it in the long run. He was right."
Within four months of the surgery, Sheahan was back on the court, and within six months she was playing the game better than ever.
"By last summer, you couldn't even tell I had surgery unless you asked," she said.
Gruber wishes he could bottle her motivation.
"She was very self-motivated, so she did great in rehab," Gruber said. "Being able to make a difference in the lives of my patients is why I love orthopedics."
"I am playing better than ever. I think I might even be a little bit taller," she said.
Sheahan has no doubt her knee surgery was a success.
This winter, she and her husband, who is also a doctor, went snow skiing in Utah.
She also wake surfs at Lake Martin in Alabama.
"Life is really good right now," she said. " I am so glad I went through the surgery. I would recommend it to anybody who is in knee pain, and I would recommend Dr. Gruber. "This has totally given me my life back."
Cutline: Christy Sheahan, pictured second row, third from the left with her teammates, won the ALTA A-3 city championship. Sheahan was sidelined for a time, but returned to the court after knee replacement surgery.