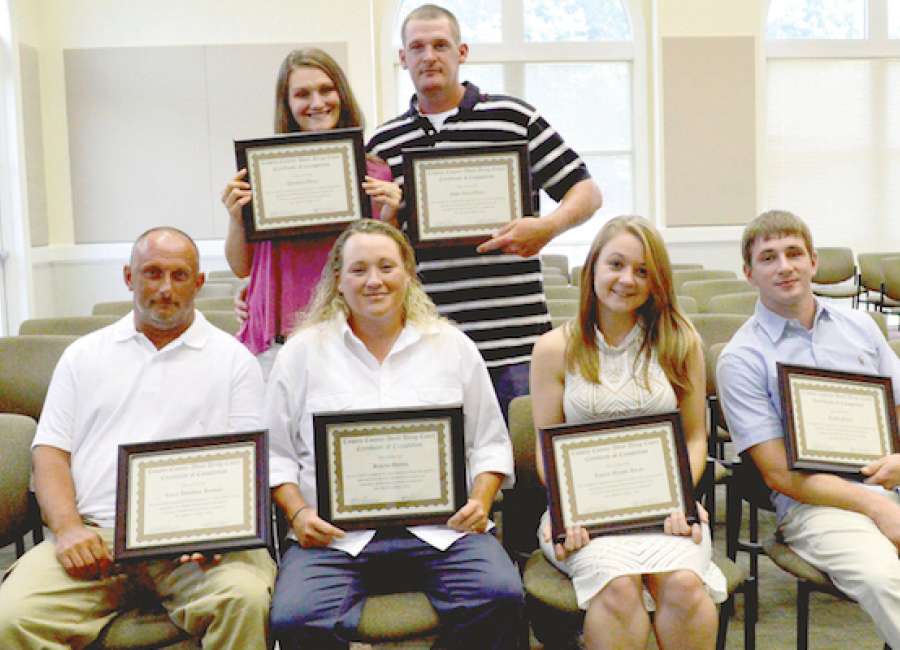 Regina Huling said she had to fight to get into drug court.

"The (prosecutor) was against me because of my record. I don't really blame them," she said.
While fighting to get into court of any kind might seem unusual, Huling, and the other six graduates this month, volunteered for the intensive scrutiny and personal assignments to fight their struggles with substance abuse because the challenges were still preferable to going to jail. That's because all were facing felony drug-related charges and could have spent time behind bars as a result if it weren't for being sent to drug court instead.
Seven drug court participants were recognized for completing the intensive program at the July graduation, which is held once a quarter. It was the biggest class for the Coweta County Drug Court since it began in 2010.
Drug Court is one of Coweta's "accountability courts" and is an alternative-sentencing option for those with felony drug charges. Completing the program requires group and individual therapy meetings, frequent drug tests, projects, and required attendance at addiction-recovery meetings.
To complete the program and attain recovery, "you have to want it," Huling said. "These people will help you so much, but you have to want it. You have to do it for yourself. They can't do it for you."
Huling said she was grateful for the opportunity to find herself.
"I was lost. I was living a life that wasn't even meaningful to me. All I did was hurt my family and the people who care about me. Now, I have my family back; they trust me. I wouldn't do anything to break that bond," she said.
She thanked the drug court staff and Judge Joe Wyant. "They went the extra mile. If I needed something, they stuck their necks out for me. All they asked from me was 100 percent."
"[Huling] came to us ready for change, and so much has happened in her life," Wyant said. "What I'm most proud of is her honesty. That is her hallmark.
"I'm proud I've been able to be part of your recovery," he said. "I think you're going to do remarkably well."
Lawmakers funded a variety of accountability courts around the state because they are less expensive than incarceration and more effective in addressing addiction, according to research. But the key, experts say, is in selecting candidates who will make the necessary effort.
"If you're in the program and you work it to the fullest, then you get a lot out of it," said graduate, Jonathan Russell.
Because accountability courts operate differently from conventional criminal courts, staffing has to be different as well.
"You will never find another place where you will get what you get out of this staff," said graduate Robby Green. "If you get half of what I did out of it, you'll be successful."
The featured speaker at the graduation ceremony was Hank Arnold, founder of the Coweta Recovery Community Organization, a new group working to support people seeking recovery from addiction.
Arnold, who now works as an addictions counselor, got clean thanks to a drug court.
"Recovery comes from the community. It is going to be from each other. Support comes from one another," Arnold said.
His long-term vision is to establish a resource center in Coweta to support people in recovery, which will be staffed by people in recovery.
For more information about Coweta County Drug Court, call 770-683-0205.
For more information about the Coweta Recovery Community Organization, search for the organization on Facebook or email Arnold at Hank.Arnold78@gmail.com .