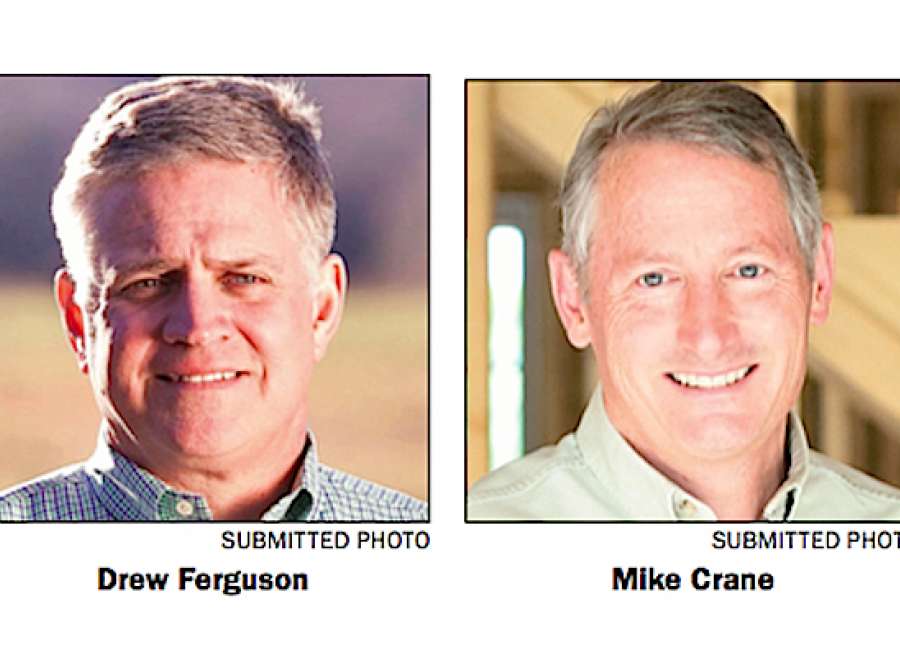 The day after six law enforcement officers were gunned down in Dallas, Texas, many Cowetans found a campaign mailer in their mailboxes saying that state Sen. Mike Crane encouraged people to shoot police officers.

The mailer was put out by Crane's opponent in the U.S. Congress District Three runoff, Drew Ferguson of West Point. On both sides, it says "Mike Crane called for citizens to Shoot Police Officers." On one side, it also says "Congressional Candidate to Cops: 'I'll shoot you dead.'"
The Republican runoff election is July 26.
A related television advertisement also started running late Thursday night/early Friday morning, though the Ferguson campaign tried its best to delay the airing of the commercials after news of the Dallas shootings broke, said Dan McLagan, Ferguson's campaign manager. The commercials were delayed until Monday.
The mailer and commercial featured Harris County Sheriff Mike Jolley, talking about comments Crane made during a Republican meeting in Newnan in February. Crane was talking about the use of "no-knock" warrants, and told the group "If you come to my house, kick down my door, if I have an opportunity I will shoot you dead. And every one of you should do the same."
In the commercial, Jolley says "politician Mike Crane said if police came into his home with a warrant he would shoot them dead. Then he encouraged others to do the same. … Telling people it's OK to shoot police officers will get people killed. It's wrong."
Crane's campaign responded with another ad, calling Ferguson's ad despicable and disgusting. Crane's father Bill is a former police officer in Virginia, and his uncle is a retired police chief in Florida.
The Ferguson campaign then released another commercial, with footage of Crane's speech to the Republican group.
Though the mailer arrived the day after the Dallas shootings, it had been in the works for quite some time.
"We were in the studio weeks before with Sheriff Jolley," McLagan said.
"Crane made his comments some time ago, and they were well-covered. It was such a terrible thing for him to say," McLagan said. "It involved someone who is not talking like a leader… because leaders don't speak like that," he said.
"Mail pieces take a while, and TV ads take a while. They just happened to both land on the day that Dallas shootings happened."
"What he said was terrible any day. It was particularly terrible in the days right after Dallas," McLagan said. "Which is why we pushed it back a few days."
Crane called the campaign mailers and commercials "character hit pieces that are false," including a recent one saying he "turned his back on our veterans" by voting against a bill in the Georgia Senate.
"They're designed to take folks off the real issues," he said. "I love our veterans. My father and uncle are veterans. I love our law enforcement community. My family is law enforcement.
"I think think these type of hit pieces – when folks see them it says a whole lot more about the person who sent it than they lies they are telling on the piece," Crane said Friday.
Crane's comments at the Republican meeting were related to no-knock warrants.
"I believe the Fourth Amendment is clear that we are secure in our homes against unreasonable searches and seizures. I believe no-knock warrants are a danger to our wonderful people in law enforcement, and to the folks on the other side of the door. And I think there is a better way to serve warrants in dangerous situations," Crane said. "I was emphasizing the fact that people need to be confident that they can be secure in their homes."
But the Ferguson camp argues Crane is doing more than making a legal point.
"He's not just saying that is what he would do. He's telling everybody else to do the same thing," McLagan said. "It's obviously very dangerous for police officers, and secondly, it's pretty darn dangerous to the person shooting at the cops."
But "I think the more important part is that leaders just don't say things like that. You can't call on people to shoot police officers. You just can't do that," McLagan said.
As for the vote regarding veterans, the bill would have permitted employers to create a preferential hiring policy for veterans.
Crane said he voted against the bill because it "says that as a business owner, I need permission from the government to be preferential in my treatment towards veterans.… I don't need the government's permission to be preferential in treatment for veterans. I don't need their permission to be preferential in regard to values and character traits and personal habits. No one does. We should be very concerned when we start saying that we do," Crane said.
In response to the mailers and commercial from the Ferguson campaign, Crane said that "we're trying to make the campaign about the issues and not about trying to assassinate someone's character."