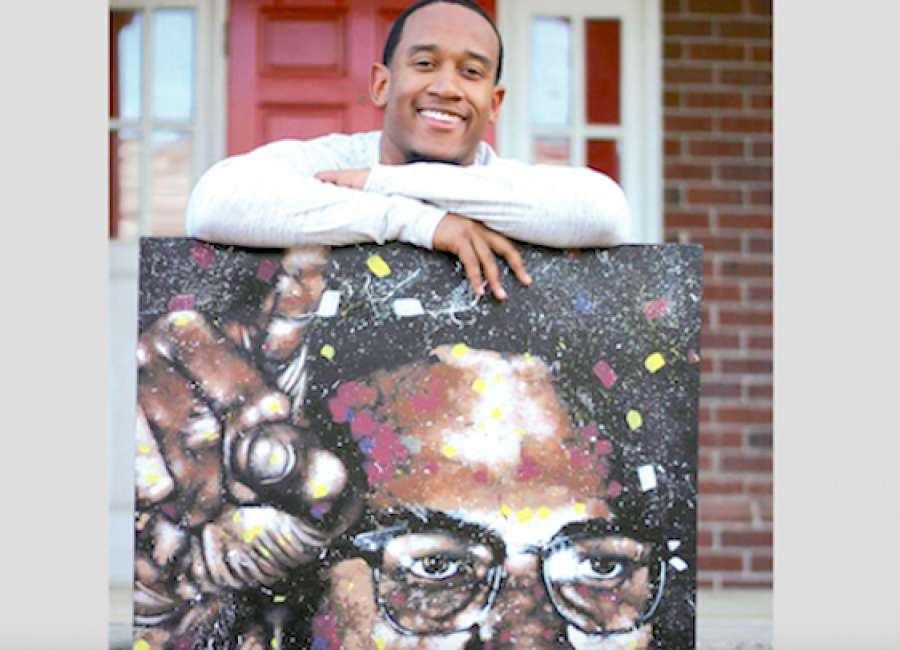 An artist was stationed almost as though he were on display at a local community forum held in Newnan. The young man created an original painting which depicted a white, male police officer embracing a black male, all while forum participants filed in to St. Smyrna Baptist Church, where the gathering was held.

The forum, an opportunity created to allow open discussion between community leaders and local law enforcement, was organized by St. Smyrna's pastor, the Reverend Tamarkus Cook. This is not the first time the well-known Newnan pastor has requested artist Caleb Brown's presence.
"Pastor Cook used to be a pastor at my home church in college Park," the 21-year-old painter explained. "When he found out that I was painting, he asked that I come and be a part of a church service."
Brown explained that Cook enjoyed the idea of having a different perspective during services. Brown would provide another expression of the inspiration many feel while attending services.
The local artist added that this sort of "performance art" is one aspect of his budding career that he enjoys most.
"I played football at Mercer where I attended college," Brown said. "I played with thousands in the stands watching — I have no problem with painting in front of others or in a crowd."
Despite his confidence in his ability, it may be shocking to learn that Brown only recently began painting. In fact, the up-and-coming artist took his first art class begrudgingly.
Brown attended Mercer University in Macon where he studied psychology and hoped to pursue a career in sports medicine.
For his final year, Brown learned that he would need to complete an elective course, such as art, in order to graduate from the university.
"I had tried art classes before, in high school, and I just didn't like it," Brown explained. "I've always drawn and sketched, but really had no desire to pursue art."
Brown enrolled in a painting class and continued to loathe the study until his final assignment, when, finally, his hidden talent emerged.
Brown explained that for the last in-class assignment, he created a copy of "The Fall of Man," originally painted by Michelangelo on the ceiling of the Sistine Chapel in the early 1500s. It was the first piece Brown had completed that allowed the artist to feel as though he was able to paint. So, he did.
Brown went on to minor in Fine Arts at the university and has continued to pursue painting as a career after receiving his degree earlier this year.
"I'm definitely interested in influencing others with my work," Brown said. "Artists have a unique ability to offer a perspective no one else can give."
As for his immediate goals, Brown said he wants to establish himself as the go-to artist in his current home town of Macon, where he continues to reside after completing college.
The artist hopes to one day be a celebrity portrait artist.
"I would love to get into the music market, as in, I want celebrity artists and actors to think of me when they think of art," Brown said.
The painter noted that his family is entirely supportive of his work as an artist, though his parents are practical and encourages Brown to make smart decisions for the future.
"There hasn't been pushback from my family for the most part, and I am truly grateful that they are so supportive," Brown said.
Brown added that his sister, with whom he is very close, has requested a bathing suit painted by him — and it isn't the first "odd" commission Brown has had..
"I've painted on a few different surfaces," Brown said. "I painted my graduation cap and several other students' caps as well."
The artist has also created a "brand" for his work. "FINAO," describes his attitude, his inspiration, and his style, Brown noted.
"'Failure is not an option' is the idea of eliminating excuses and simply executing the goal," Brown explained. "Do not let yourself accept failure or your own shortcomings. That is the key. I will not accept mediocre."