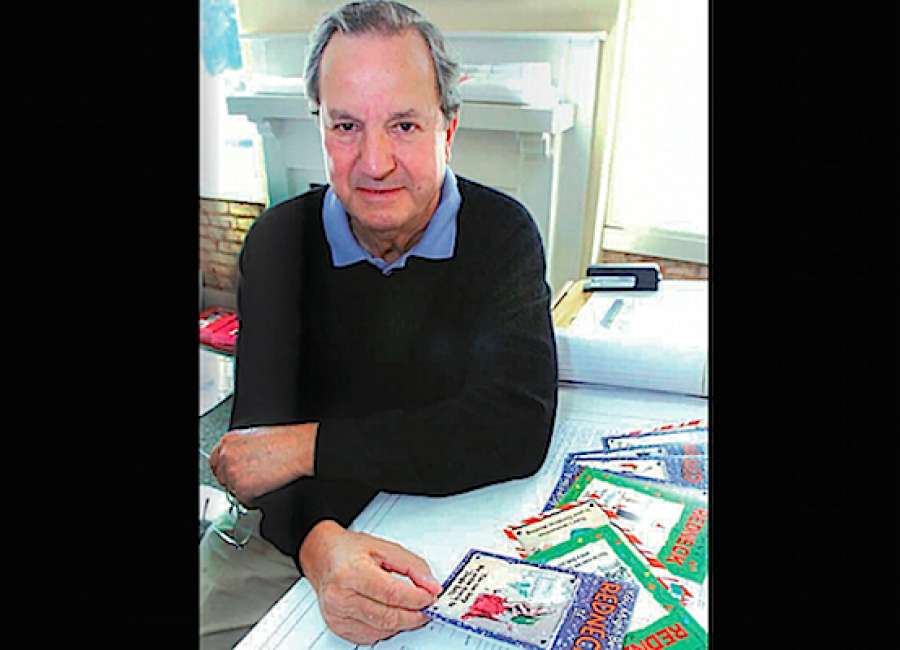 – By Alex McRae, Special to the Times-Herald
Today, The Newnan Times-Herald is losing a little piece of its heart. David Boyd, whose first political cartoons were published in the Times-Herald in 1968, is retiring from the cartoon business.

A retrospective of his work appears in this issue of the paper, along with his last "official" cartoon.
"David Boyd's cartoons have been one of the most popular parts of this paper for longer than I want to remember," said Billy Thomasson, president of The Newnan Times-Herald. "David is a great cartoonist, but most of all, he is a great friend. We wish him all the best."
Boyd became an award-winning cartoonist almost by accident. After graduating from The Citadel, Boyd served with the U.S. Army. Upon leaving the service, he peddled his art from the back seat of his car and dabbled at a few other small jobs before coming to Newnan to head the Newnan-Coweta Chamber of Commerce.
Boyd then had a fling with private business but quickly realized he wasn't corporate material.
He decided to take some time off to ponder his future. Most people would have gone to the beach. Boyd went to Australia. When he wasn't dodging kangaroos, he entertained the locals with his caricatures and cartoons.
Several people told Boyd he was as good as Pat Oliphant, the Australian native who had moved to America several years earlier and became a Pulitzer Prize-winning political cartoonist.
Boyd came back to Newnan and decided to give cartooning a try. He showed some of his ideas to the Thomasson family, owners of The Newnan Times-Herald. They said, "It's not awful," and a career was born.
"I'm lucky that it all happened," Boyd said. "I started drawing cartoons because, to be honest, it was the only thing I really knew how to do. Once I got started I didn't know how to quit. I can't thank the Thomassons enough for taking a chance on me. It was really the best thing that ever happened to me professionally. The Thomassons became dear friends, and that has meant more to me over the years than anything else."
His cartoons were a smash hit in Coweta County, so Boyd hit the road and sold his work to several other Georgia papers. He eventually teamed up with close friend and local attorney Gus Wood to form Mark-Morgan Features, a syndicated newspaper service that, in addition to Boyd's cartoons and comic strips, offered a political column, crossword puzzle, horoscope and church page. Mark-Morgan cartoons and features were eventually published in over 200 papers.
"It's hard to say enough about Gus Wood and what he did to help get me started," Boyd said. "We got into this thing together, and he kept me on track when I needed it, and I couldn't have done it without him."
Boyd's cartoons grew in popularity, and professional recognition followed. In 1982, he received a coveted Green Eyeshade award for excellence in journalism. Boyd was the first self-syndicated artist to win the honor.
Author and Newnan resident Keith Dunnavant has been a close friend of Boyd's for decades. He says Boyd's success was no accident.
"I would argue that the impact of Boyd's political cartooning was twofold," Dunnavant said. "First, the cartoons themselves gave voice to a contrarian viewpoint in the traditionally liberal newspaper business, especially in the early days. They reflected a rising tide of conservatism, and in this sense, he was part of the same grassroots wave that would eventually send Reagan to the White House and give birth to talk radio, Fox News and other institutional media reactions to the left-wing tilt of the Eastern elites. At the same time, Mark-Morgan Features, the company he and his partner formed to syndicate his cartoons, succeeded for a very simple reason: it captured a niche ignored by the big syndicates. That sounds simple, but it wasn't. By correctly identifying and tapping into this significant audience, he was essentially creating his own market."
One of the stars of Boyd's syndicate stable was Mike Steed, of metro Bowdon, Ga., who cranked out award-winning columns for Boyd for 14 years.
Steed and Boyd became close friends, allowing Steed to observe some of Boyd's more unusual traits close up.
"They say creativity comes from the right lobe of the brain," Steed said. "David Boyd has two right lobes. Don't ask him to balance your checkbook, but if you need some art, he's your guy."
Like so many others, Steed wishes Boyd well as he pursues other interests or takes more naps.
"I'll miss his cartoons," Steed said, "but I'm happy that he is now going to be free to create and do so without a deadline. Forty-seven years 'on deadline' is amazing. He deserves to do his doodling, drawing, painting, sculpting and story telling without the pressure of a deadline. It will be fascinating to see what he creates."
Over his career, Boyd's portfolio grew to include sculpture, a few works loosely described as "fine art" and a vast collection of illustrations for books, magazines and greeting cards.
His work has appeared in books by the legendary Lewis Grizzard, and the characters he
created for Jeff Foxworthy's series of "You Might be a Redneck" books, calendars, CDs and greeting cards can be found in bookstores, trendy gift shops and truck stops from coast to coast.
At the height of his cartooning career, Boyd made enemies of politicians and public figures from every point on the political spectrum.
"I loved it," he says. "A few of those folks contacted me and I got to know them, and we became friends."
One memorable Boyd episode happened in 1982 when Georgia Public Service Commissioner Billy Lovett challenged Joe Frank Harris and a mob of others for governor.
Georgia state Sen. Roscoe Dean was also mounting a charge on the governor's office, but that effort was derailed when Dean was accused of several acts of political stupidity—including allegations that he and a South Georgia buddy tried to talk a Colombian drug lord into funneling 10 million cocaine-stained dollars into Dean's campaign.
The charges were outrageous—even by Georgia standards—and Boyd decided to characterize such questionable judgment by drawing Dean with a huge hole in the middle of his forehead.
When Billy Lovett entered the governor's race and made some intemperate remarks of his own, Boyd drew a cartoon of Lovett bearing Dean's signature hole in the head.
The next week, Lovett was at The Newnan Times-Herald schmoozing the management and staff. Boyd got a call saying Lovett wanted to meet him. He took a bath and wandered over. The two talked and what could have been an ugly incident went well. Boyd and Lovett became friends.
"He was really a nice guy when I got to know him," Boyd said. "We got along really well."
Keith Dunnavant is convinced Boyd's story serves as a great example for anyone who wants to succeed in life.
"Boyd's life has demonstrated something rather profound in the American character," Dunnavant said. "After spending time in the military and with a couple of other jobs, he decided to take a very gutsy leap: to try to make a living doing something that lit him up inside. At the time, he didn't know if he had what it took, but he decided to take that leap, and he will tell you it made all the difference. It was that passion for cartooning and illustrating that made him good and, eventually, successful. There's a lesson in his life for people of all ages: Do what you love, aim high, work your butt off, and good things will happen."
David Boyd will be taking a break from cartooning but doesn't plan to go into seclusion.
Boyd's son, R. David Boyd, Jr., an acclaimed artist in his own right who once teamed with his father for several years in the cartoon world, believes stepping back and slowing down will do his dad some good.
"I know he looks forward to the next chapter of his life," Boyd Jr. said. "He'll have more time to enjoy his six grandchildren, his beautiful, supportive wife, Rosalyn—who deserves a medal for putting up with him—his daughters, Bonne Boyd Bedingfield and her husband, Jason; Rosalyn Moore Boyd McKoon and her husband Randall; and me and my wife, Julie, and our son, David.
"The family eagerly anticipates visits with him that don't include him yelling obscenities at the news or frantically trying to find something to make him angry enough to draw about."
Boyd is eager to start the next chapter of his life. "I've always said the most important thing about being an artist is knowing when to quit," he said. "I've enjoyed every minute of what I did, and I've always been flattered by the attention and warmth from the people I know. I loved who I was, but I won't miss the deadline pressure. All in all, I have to say it's been nice."
With any luck, what's ahead will be even nicer.